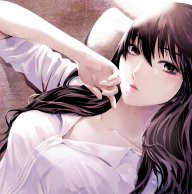 Bookworm Librarian with a pen
Original poster
Invitation Status
Posting Speed

1-3 posts per day
One post per day
1-3 posts per week
One post per week
Preferred Character Gender

Male
Female
Futanari
Genres

Fantasy, romance, yaoi/yuri, vampires (non-twilight vampires preferred) though right now I'm VERY interested in finding a romance fantasy
The woman sat at the bar with her back to the common room. She could hear the noise of the bar. Vampires hitting on other vampires, vampires hitting on humans, and humans hitting on vampires. It disgusted the woman. That was all that it did now that -- She cut that thought off before it could form and pulled her fine crystal glass up to her lips and took a deep drink of the dark red liquid. O she thought to herself as she let it swirl around her mouth for a moment before swallowing like a wine expert would to test the different parts of the wine.

She put the glass down and beckoned the bartender over. Her green eyes were hollow when she looked at the man that came over. "I told you to put a little bit of brandy in this. There isn't any," She pointed out as she let her right hand reach up and play with a strand of her golden-brown hair. The bartender looked nervously at her as she pushed herself up from the stool to sit on the counter next to the glass.

"Why didn't you put any in there?" she asked, her voice darkening as her eyes lit to life with a ferocity that hadn't been there a moment before nor in her all evening as she sat there. It was well on eleven and she had arrived a good five hours before when the sun had gone down.

"Because you have had ten glasses so far ma'am," the bartender said, trying to sound confident though she could smell the fear coming off him. She snorted and hopped down from the counter, holding onto it so that she wouldn't fall over in her heels.

Glaring over her shoulder she threw a few bills onto the bar before she wobbled off. Be it the ten glasses of blood and brandy, or the three inch tall heels, the vampire was having a hard time getting to the door. She bumped into several 'human only' tables on her way out. Being the 'rude vampire' that her species was thought to be she didn't even look over even though she heard curses and glasses tipped over.

She finally made it out and moved down the sidewalk at the same wobble. The night was young and she wanted to simply call it quits. When she heard the undeniable sound of sneakers following her, she switched her hips and turned down an alleyway and waited. She had time enough to decide that she was being rather corny and working with the thoughts of old vampires before she was pulled deeper back towards the middle of the alleyway. Her mind snapped to attention and she reached up and clawed at the hand over her mouth.

Her fangs elongated and she bit into the hand. The taste of A+ blood spilled into her senses and her eyes flashed with pleasure. She pulled the hand away and threw him over her tight dress covered hip. That done, she looked at the individual. With disgust she noted that it was simply a teenager. Stepping over the body she bent and searched it. Finding a packet of cigarettes she picked it up and the lighter she found and lit one up looking down at the teen. Now what?

The human had obviously been knocked unconscious by a blow to the head though her hearing told her that it was still alive.

"This is just great," Odella said as she took a long breath from the tobacco filled object in her hands. "Not even in town for a day and I've already hurt a human. This won't go over well with the local Bloods Anonymous group."