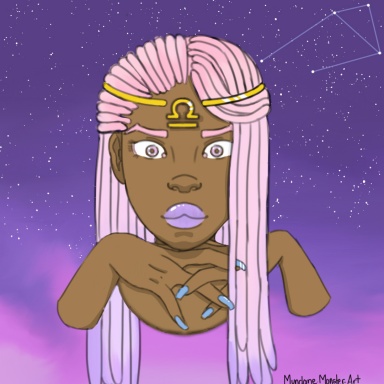 The most uninspiring of monsters
Original poster
In Gamma City, you can be one of three possible things;

The first one is a
citizen
.
A regular person, with a regular life who is often made to experience events of a horrifying nature by irregular beings.
​
The second one is a
hero
.
A spectacularly irregular person who saves the above citizen, from those creators of the events of horrifying nature.
​
And last but not least, you can be a
sidekick
.
A person who--Well you're basically--Uh. Okay. Well you aren't a hero and you aren't a citizen, but you aren't really spectacular. You're kind of like...A helper. You help the heroes do their hero-ing, and you stay behind the scenes and make the hero look good.
But what if you can't do that? What if say...You're supposed to keep citizens behind the yellow tape, but one slips through and gets smushed by Giant Insectoid? Or what if you were supposed to get your assigned hero, a low fat vanilla soy latte with no foam, but you accidentally got them a low fat hazelnut latte with no foam and they had an allergic reaction and their powers went all wonky for a few days?

Well...You get fired and you have one of two choices to pick from;

You can either get a job at the Hero Academy as a test dummy or janitor, serving the most obnoxious young heroes in the city.

Or,

You can stop using your powers and assimilate into average citizen life.
Neither one sounds promising right? But hey, you're a sidekick. ​
But what if you didn't want either of those lifestyles? What if you wanted a second chance but not as a sidekick and not as a hero, but as something more. Something with a different game plan and less restrictions.
Well, if you're interested, I can give you that.
You see, this world is screwed up big time. The heroes are assholes that only go after the big fish. Like Mademoiselle Mirror or Bot Ton. They see the little guys, the ones like Smudge and Rhinostone, and think that they won't amount to anything. But you and I know different, don't we? We know that it's the little ones, you have to look out for, cause if you let'em run around unattended for awhile, they turn into big motherfucking problems.

So, lemme ask you this? Do you want to submit to a shitty lifestyle or do you want to join the Rev-Squad and protect this city from the little guys?
Huh? Why do I want to help you? Well...

The name's Tea Lens, and way back when, I was the founder and leader of the Gamma Council, but as I got older, I became less and less relevant and people stopped listening me. My own team, started going behind my back and well...They had a vote and gave me the boot. Serves me right for creating a team of pompous glorified heroes, right? And that's why I've created the Rev Squad. To start anew and hopefully do some good this time.
Anyway, quite pussy footin' around and asking so many questions. Are you joining or not? If no, get the hell out of my face and quit whining.

If yes, come to 43 Lam Rev Drive, key in the code 281922 and pick a room. Then head down to the dining room and we'll get things started.
------
No Godmodding

No Special Snowflakes, Mary Sues etc.

Two characters per person.

Powers absolutely cannot be kick ass. I mean they don't have to be like fart manipulation or something, but they have to be kinda lame. Check out Fly High if you need a reference to sidekick powers.

Eight sentences per posts and third person, past tense for IC posts.

Put 'Anagram' at the end of your CS to prove you read the rules.

There will be a shit load of cursing in this rp. Just kidding, but there will be a fair amount.

No anime.

Check out Powerlisting.wikia for power ideas, if you're at a loss.
------
​
Character Sheet
(Delete everything in parentheses. And please use my CS.)
(Real Appearance)
(Name)
(Sidekick Name)
(Age: 18-31)
(M/F/Other)
(Sexual Orientation)
Power: (Only one. You're a sidekick remember?)
Side Effects: (Ex: transforming into a monkey makes Jack want to pick lice out of people's hair etc)
Limitations: (At least 3. Ex: Jack can only turn into a monkey and nothing else/Jack can only turn into a monkey for three hours or he'll get stuck)
Former Assigned Hero/Power: (Ex: Mercury Man/Temperature manipulation)
Reason(s) why fired: (Ex: Jack projectile vomited on Mercury Man. Twice.)
Personality: (Give me some detail.)
Biography: (Give me even more detail than you put in the personality section.)
(Picture of super suit)
(Picture of room in Rev Squad HQ)
Pearl Owens
(Ha-ha, yes. Purr-l, yeah. She gets it. Shut up.)
Katastrophe
(She did not name herself. She wanted to be Kit Kat, but when life gives you lemons, or when your assigned superhero is a passive aggressive douche nugget...)
20
F
Pansexual
(No, that does not include cats.)
​
Power:
Feline-lingualism. It's like Zoolingualism, except instead of being able to talk to all animals, she can only talk to cats.
Side Effects:
The sucky thing about her social life being 75% cat is that she starts to pick up their habits. Like grooming herself on occasion, or other people, even strangers. She has a bit of a thing about messy hair and she will try to smooth any loose hairs out.

If she's been talking to a cat for more than 20 minutes, it'll take her about an hour to switch back to human speech.

She doesn't laugh, she um...She purrs.

She absolutely hates water and can't stand to be near large bodies of water.
Limitations:
For one thing, she can't persuade or summon cats in any way, she can only talk to them and try to get info, but her success depends on how cooperative the cat is.

She can only talk to domestic cats like house cats or strays. Lions, and tigers speak a different type of cat.

She can't speak to more than three cats at once.
Former Assigned Hero/Power:
Lady Life/Plant Manipulation and Zoopathy
Reason(s) why fired:
Well for one thing, Pearl was a pity hire. Her sister Harriet aka Weather Witch has always looked out for her and didn't want her to get stuck with a lame janitor job, so she called in a favor and got Lady Life to claim Pearl as her sidekick. Lady Life appeared friendly at first but only when other people were around. She was actually super passive aggressive and constantly ruined Pearl's social life

(like when she interrupted Pearl's unveiling interview and said Pearl wanted to be called Katastrophe. Also when she seduced Pearl's boyfriend. And then when she turned Pearl's cat friends on her via Zoopathy...)

Anyway, fast forward three years and Pearl's life is miserable. And one day, Pearl is bringing Lady Life her boiling hot caramel latte, when she trips over her own feet

(because she's dead tired from writing thank you letters to all Lady Life's fans, all night)

and spills lava temperature latter all over Lady Life's shirt.

(Oh and she was wearing a scoop neck.)

The only reason Lady Life didn't strangle her with poison ivy right then and there was because Weather Witch

(Pearl's sister)

was still her best friend.
Personality:
On an average day, Pearl is a reserved young woman who just wants to get through life without any problems. She hates being inconvenienced and will sink into a pretty bad mood when experiencing such. She can be snippy and sarcastic on occasion but in more of a passing though way and not an intentional way. The past few years working as a sidekick to Lady Douche Canoe has turned her into a pessimistic and skeptical person. She's the 'glass half empty and about to be shattered on the ground type', so she's a little paranoid. If something is going crazy well, she automatically assumes something or someone is going to ruin it, so she tries not to get too excited about things. However there are days when she let's go of her paranoia and becomes a fraction less gloomy, and she can be talkative and standard, but that rare.
Biography:
Conception
Pearl was an accident. Her parents had already had one kid

(Harriet/Weather Witch)

and they weren't planning to have any more. However after a night of wine tasting and heavy petting, they got pregnant.

(Pearl's mom, not her dad. He may be called Colonel Seahorse, but he couldn't do that...You know what I mean.)
Birth​
Even though she wasn't intentional, Pearl's parents planned and awaited Pearl's arrival in to the world with eternal optimism. It should be noted, that Harriet was also eagerly awaiting the birth of her sister because she was in that whole 'baby dolls are everything phase.'
However on the night of Pearl's birth, some complications arose and Pearl got tangled in her own umbilical cord. She almost choked herself to death, so she had to be sent to the ICU as soon as she was cut out of her mother's stomach

(yeah, she also tried to come out sideways, so C-section to the rescue!)

Pearl had to stay in the ICU for three months because other health problems kept popping up, so going home was out of the picture. However, on the third month, something incredible happened:
And after the initial 'Oh my God where the hell is my baby!' phase, her parents got super excited thinking that there daughter had inherited teleportation powers or something.
Some other baby had inherited teleportation powers and accidentally teleported Pearl into the alley behind the hospital, where the girl was then adopted by a gang of cats. She lives with the cats for two days before her parents found her, but during her stay with her feline foster family, Pearl discovered her superpower. Err--Sidekick power; The ability to communicate with cats.
Childhood​
So Pearl didn't have any kick ass powers, but her family still loved her. As a child, Pearl was shy and kind of clumsy so her sister always looked out for her. Despite her sister's watch dog personality couple with Pearl's shyness and lack of grace, Pearl was able to integrate nicely into the life of a regular kid because her power didn't interfere with her schooling. Pearl managed to maintain a small group of friends who didn't mind that she spent half her time talking to the cat that lived in the boiler room, or that she often tripped over her own feet. Yes. Life was pretty sweet for young Pearl.
Teenage Years
Her teenage years, were very different for Pearl. The Gamma City School Board decided to change the school zones the year she graduated from middle school, so Pearl ended up attending a high school all by herself while her friends went to the school that she should have gone to. At first, Pearl didn't worry about the sudden change, she just assumed she would make friends as easily as she had in middle school, and if not, she could just talk to any cats she met. She was wrong on both accounts. First, this highschool had no stray cats wandering about. And second, high schoolers were crazy mean. After the first week of school, Pearl already had a nickname and it wasn't 'pretty shy girl.' Nope. When you trip in the cafeteria and spill chocolate milk all over the resident Queen Bee, you don't get nice names like that.
So for all four years of her high school life, Pearl had to deal with being called Miss Dipshit by just about everyone. It didn't help that she spent her lunch period in the bathroom. But, high school is only a tiny fraction of life and there was always the bright years of young adulthood!
Now​
After graduating from school, Pearl was pretty much heading towards janitor life, since she'd been an average student with no extracurricular activities, but her sister stepped in at the last minute and asked her best friend, Lady Life to take Pearl as her sidekick. That lasted for about three years until Pearl got fired, however she was too embarrassed to return home so she returned to the alley where she first discovered her powers, and has been living there.
This is him after his daily cut and shave. So basically he has hair everywhere except for his nostrils, eyes and mouth. He looks like Cousin It with black hair. He uses pony tail holders to keep the hair out of his face.
Eric Khan
Monster
25
M
Bisexual
Power: Hair Manipulation
Side Effects:
He sheds. A lot. Like he needs his own personal bathroom because his hair clogs the drain. It's disgusting.

Hairballs. Yup. And not even like, when he's eating. Sometimes during battle, he'll feel the regurgitating urge and need to...Expel. If he doesn't he'll choke.

He has to cut his hair everyday, but by the end of the day, it's all back.

Limited visibility. He uses pony tail holders to keep the hair out of his face, but sometimes they don't work.
Limitations:
He can only manipulate his hair.

Fire can pretty much render him useless, as his hair isn't fire proof. If he catches fire, he'll instantly become a blazing hairball and suffer serious burns.

Any sharp blade can cut his hair, so if his enemy has a butcher's knife or something, he's pretty much screwed.
Former Assigned Hero/Power: Mr. Media/Digital Form and Manipulation
Reason(s) why fired: He flooded the suite by accident (his hair clogged the drain) and the water damaged all of Mr. Media's gadgets.
Personality: Despite his unfortunate everyday appearance, Eric is a pretty fun guy to be around. He's always trying to make people laugh if they're down and he's always telling people to look on the bright side. He likes to think that if someone's life is crappy, then it's because something crazy good is on the horizon. Yup. He's an eternal optimist. Which is probably why he doesn't have any friends. When you live in a place like Gamma City, people want to feel bad about themselves and talk shit about others, and you can't do that with a guy who had the heart of a five year old pre-no-tooth-fairy discovery.
However since he is only human (kinda) Eric gets sad just like everyone else, his sadness just doesn't last as long and it's easy for him to bounce back. He's also the type of guy to count to ten instead of blowing up at people. (He also likes to play those horrible road trip ABC games)
Biography:
Eric wasn't born hairy. In fact, up until his eight birthday, Eric was completely, one hundred percent human. He had a bit of a weird childhood because his mom was one of those new agey-read every parenting book- women and so he was exposed to a lot of weird crap. But he turned out okay! He was pretty smart, and had a knack for languages and a strong interest in science.
So on his eleventh birthday, his mom got him a pass to tour the Gamma Aeronautics and Space Administration (GASA) and Eric was thrilled. Everything was going fine until Eric got too excited and wandered off. And this was a new thing. Eric was an obedient boy, he was always polite and he never spoke back to anyone. But this one time...Maybe it was puberty, maybe it was because he knew he would never get back into GASA, but Eric wandered off. He waited until his mom, the tour guide and the rest of the tour group weren't looking and he ran down a random hallway. He only wanted to see some things without the boring tour guide droning on and on behind him. He didn't mean for anything bad to happen. But when he saw that open door, and nobody around to stop him, Eric couldn't help walking in. And when he saw that red vial on the table, he only wanted a closer look.

As he was examining the red liquid, a scientist (probably the one who left the door open) rushed in, scaring Eric and causing him to drop the vial. The glass shattered and a cloud of red smoke swirled around both Eric and the scientist, causing them both to pass out.

When Eric woke up, all he saw was darkness. Until his mom pushed the hair out of his face, and he was told that the red liquid had made him super hairy and possibly given him superpowers. Eric was thrilled at first, but he soon realized the repercussion of his actions. He had to be pulled out of school, because his constant hairballs frightened the other students as well as his appearance, and his mom had to spend more money on special shower drains to avoid clogging. After about three years, Eric became depressed. He had no social life, he was an eleven year old who had to shave everyday, and his mother never smiled anymore.

When Eric was sixteen, his mother just up and left one day without even a goodbye or leaving a note. Eric was devastated and turned to suicide to ease his pain. However right before he was about to jump off the Gamma City bridge, he was grabbed by a familiar looking man who introduced himself as Mr. Media and the scientist from eight years ago. Mr. Media told Eric that his curiosity was the best thing that ever happened to him, because his life had been really shitty back then, but now as a superhero he was universally loved and his life was awesome. He told him that he wanted to repay Eric by taking him on as his sidekick.

Eric took on the name as Monster and stood at Mr. Media's side for nine years. Living with Mr. Media who was pretty much a father figure to him, healed Eric in many ways. Mr. Media made him promise to never turn to suicide again and Eric adopted the personality he has today. However one fateful day, Eric slipped up and forgot to clean the drain in their small apartment (Mr. Media preferred to live in modesty) and the ensuing flood damaged all of Mr. Media's gadgets. Mr. Media exploded with rage and sadness and fired Eric on the spot. Eric fled the apartment, but not two days later, Mr. Media contacted him and apologized for losing his temper and asked for him to come back. However Eric told him that he needed time alone to figure out what he wanted to do in life.
(It has tiny holes all over it to allow, Eric's hair to pass through. Mr. Media made it and let him keep it.) He also has black running shoes and a half mask.
Last edited: