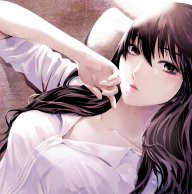 Bookworm Librarian with a pen
Original poster
MYTHICAL MEMBER
Invitation Status
Posting Speed

1-3 posts per day
One post per day
1-3 posts per week
One post per week
Preferred Character Gender

Male
Female
Futanari
Genres

Fantasy, romance, yaoi/yuri, vampires (non-twilight vampires preferred) though right now I'm VERY interested in finding a romance fantasy
The young woman was frightened. Anything with a good sense of smell could tell it without looking at her face. She stood in the middle of a village—that was the only term that could have been used to describe the small area in which the dwellings occupied. Where on Earth was she?

She closed her eyes and tried to remember what had happened that morning. The twenty year old young woman had been heading to her college class. And then a man had shoved her in the direction of a whole into which she tripped. And then she had woken up in the middle of a rather deserted village.

She opened her eyes and hoped that it had all been some kind of weird dream, but no. She was standing in the middle of a dirt street, the light breeze trying to blow her knee length dress up and reveal even more skin.

She grabbed her back tightly and pulled it close and started to walk slowly in her flip-flops down the road. Grey-green eyes were framed by locks of black hair as she looked around. Where was she?