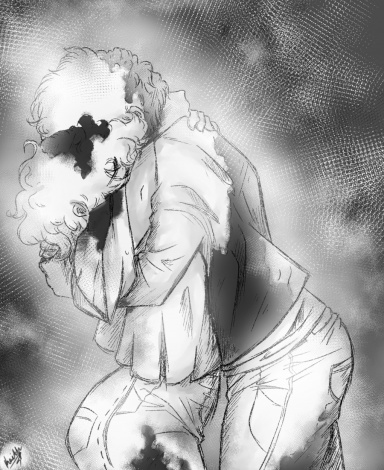 Consume. Smother your doubts. Be fulfilled.
Original poster
DONATING MEMBER
Roleplay Invitations

Group Roleplays, One on One Roleplays, Private Convo Roleplays
Posting Speed

A Few Posts A Day, One Post a Day, A Few Posts a Week
Writing Levels

Intermediate, Adept, Advanced
Genders You Prefer Playing

Male, Female, Primarily Prefer Female, No Preferences
Playing Style- Passive or Aggressive

A bit of both, lean more towards passive.
Favorite Genres

Modern, Romance, Fantasy, Scifi, Drama, Action.
Genre You DON'T Like

Horror, Mystery (I like them, just not good at it)

Name: Sylvia "Sylvie" Lillian Sullivan


Age: 14

Gender: Female

Sexuality: Heterosexual

Abnormality: Empathy
Sylvie can control emotions of the people around her. She can make them feel sympathy for her, she can make them angry and delusional, she can make them feel however she wants. However she is incredibly bad at maintaining the control. She herself feels the emotions of everyone around her, and is overwhelmed. She herself has difficulty with understanding her own emotions and suffers from a lighter depression, where she feels the numbing affects of bystanders emotions. She has a hard time containing her own emotions and can lash out or break into laughter depending on how her head is ticking that day. Sylvie also suffers from an inability to connect well with others, due to the fact that that the emotions around her combat her mental state. If she connects strongly with a person, she can gain enough to focus her energy and share her own emotions.
Personality: Sylvie is a mature soul in a little body, although she has a hard time containing a control on her stability. She is quiet to the point where many think she is mute, and it hurts for her to talk. She finds many people irritating, causing to be socially awkward and deprived of affection. She is rather quite intelligent and thoughtful, usually within her own head. She only interacts with those who she believes to deserve to hear her speak. She can be rude when she wants to be, she is rather snarky and sarcastic at times as well, and has quite the temper if pushed too far. But rather than be physically violent, she takes her emotions out by locking them up and putting on a face of relaxation and confidence.
With her bottled up emotions they fester unhealthily to the point where she has self hatred and lack of well being to her body. In some cases it goes so far to the point where she won't eat for extended periods of time or will find mentally harmful ways of punishing herself, which can include not allowing herself to do something she likes. She once forced herself not to read for a period of three months after she upset her mother by getting into an argument with her.
If she does open up through the layers of silence and wit, Sylvie is a broken little girl who longs for affection and acceptance. She strains herself for not being perfect and not finding someone perfect in return. Her hatred of most people come from her desire to seek love from them, but knowing she wouldn't get it due to cruelty or stupidity. She has light depression, although it has not been the worst for her just yet. She finds herself worthless, but knows that it isn't true and desperately wants to climb out of her long and horrid thought processes. If she does find friendship, she loves her friend with all her heart and would do just about anything for them. She would be kind and attentive, motherly even. She would expose fear and weakness, which she knows she carries.




History: Sylvia was not a planned child. Her mother, a party girl and high school drop out, met Sylvia's father at the bright age of eighteen. Her mother fell hard for her father, and would do little things for him that showed how much control he had gained over him. This included busting him out of trouble or even sneaking alcohol over to his house while his family slept. Their relationship stayed shaky until Sylvia's mother became pregnant at the age of twenty. Overjoyed with the idea of leverage over her lover, Sylvia's mother informed him of the pregnancy and offered marriage. Outraged, Sylvia's father left before he could be burdened with his new child.

Sylvia's mother was furious and while pregnant with her, she travelled and searched for the father for the entirety of her pregnancy. The last they met was a horrible meeting, and Sylvia's mother finally decided to settle down alone. When Sylvie was born, her mother gained a hatred for the child for breaking apart the rugged relationship she had spent two years building. But her mother did not give her up for adoption, for she knew that her own parents would grow angry for abandoning the grandchild.

Sylvie grew up in a messy, dirty home, and barely had enough food to suffice the both of them. Sylvia's mother would constantly be hung over and Sylvie barely had time to do anything else but cook and clean. She managed to go to school and do incredibly well, and found that reading and writing were her saviors. She would love to inscribe poems and barely had time to discuss her woes with her peers.

All the while she attempted to appease her mother and tried to get her to love Sylvie. Sylvie found that most nights she was alone as her mother stumbled around in her drunken stupor. She dealt with it fine and started high school, but found that it was much too simple for her. So she skipped classes and started her own little classroom in her room, where she taught herself complex literature analysis and even some graphical math. Things started to turn for the worse, however, around the late fall. her mother needed to foreclose the home and wanted to spend what money she did have on booze. Sylvie had attempted to get a job cleaning up neighbor's houses, but even that could not help.

One night Sylvie was taken from her room after hearing her mother converse with a man in the kitchen. She tried to hide but failed, and realized her cruel fate. Her mother sold her for three bottles of wine. Sylvie soon realized her abilities after, as her angry had exploded and nearly hurt the man who was abducting her. When she did wake up, she met Kendra, and despite herself she bonded with the woman for fear of her survival. Sylvie could feel the fear of everyone she met there and it sent her into nightly moments of panics, where as she would look to the woman in her life for assistance and guidance. Surprisingly she found love for the woman and began to plot an escape.

The only problem was that she was in the process of being sold off. She was taken, for three weeks, to a man's home where he desired her to do as she always had, clean and cook, and maintain his emotions, for he had a horrid temper. Sylvie lived in fear and did as she was told, for if she did not she would have to face the possibility of abuse. Kendra saved her soon after, although Sylvie is still shaken up about the entirety of the experience. She fears that Kendra may leave her, and she does not wish to try and go back to her mother. She is trying to find stability as of now, and has found comforts in her notebook, where she scribbles down short stories about a penguin and monster(she knows its childish but she has grown affection to them since she was a child).

She had recently found a letter that was crumbled away, tucked away in a garbage can lid for the house. She doesn't know if she should go, but she has a feeling she needs to find a safe place.

Other: She loves to read and write, and actually loves to sing but is afraid to do so. She also has a large love for baked goods.