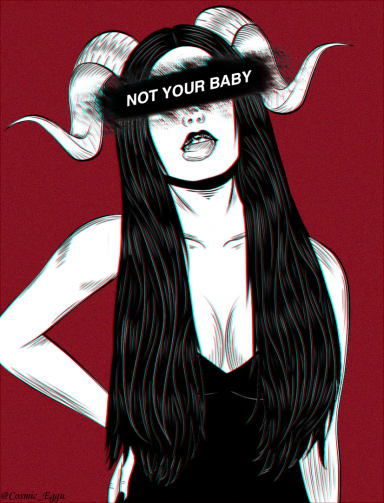 Forever Bound to Him
Original poster
Posting Speed

Multiple posts per day
1-3 posts per day
One post per day
1-3 posts per week
One post per week
Writing Levels

Give-No-Fucks
Beginner
Intermediate
Adept
Advanced
Prestige
Adaptable
Preferred Character Gender

Male
Female
Genres

Romance , Heated , Modern , Historical , Fantasy , Fandom , Flexible to any kinds

Can good exist without evil? Can there be light without dark? An unceasing question.
[tabs=400|bcenter]
[tab=Ten Years Ago]
Serin, once the domain that embodied true darkness had long laid dormant since the cataclysmic wars. Bound by rune magic, the city had been sealed away to never allow another soul to enter such an immoral dwelling. This had been the desire of Thanduin of Crovia to ensure that prosperity and peace could be gained with the subdued presence of Serin. It remained so for hundreds of years as it held untouched and desolated. Time itself seemed to not affect that of Serin as it was left as it was on its final days when Crovia had conquered it. But yet, runes are weakened to time itself as those whom commanded them drew to their end. Less than ten years ago such had been found upon one unfortunate night as the Guardian to Serin would draw forth his final breath. Surrounded by those who loyally served the order and were prepared in the instant to place a new disciple to the duty. It was at that said moment within the dark of night several cloaked figures held unmoved and silent before the walls of Serin. The cloaked individuals stepped to the side in a part as a woman clothed in an intricate cloak stepped forth and ushered herself ahead of them. Gloved hands outstretched to each side as vivid violet magic circles began to materialize within moments. A devastating darkened aura radiated from the individual as the magic itself coursed through the area as the winds arose. Her words all but spilled forth in a truly sinister and emotionless tone as it echoed in defined terror to the lands for what was to come.
"
Sicut supremum spiritum tuam relinquit corpus tuam. Ligaturis istis ac ruinosis his super ostium relinquere rationes concedimus. Ubi semel recto tuam, libera princeps plus ais terras..!
"
The Incantation itself sprung free as she delivered her hands in a firm blow to the ground as it quaked beneath her hold. Violet fracturing cracked through the ground as it coursed rapidly towards the walls of Serin. Upon touching, the runes that once glowed bright fractured against the spell as they burst one by one. A paled blue barrier began to crackle and diminish as the violet of the spell seemed to consume it entirely as it dissolved. The final breath gone from its former Guardian signaled the finalization to the spell as Serin held unsecured for the first time in centuries. A faint smirk etched to the woman's dark painted lips as she'd arise from the ground as her cloak hood would free from the hold of her head. Raven tendrils all but spilled forth and glistened beneath the moonlight as they spiraled behind her. Honeyed hues would draw open as unbridled darkness swirled behind such an alluring gaze. The woman in question was truly a frightful being whose name echoed through the centuries with fear laced to every tale of her.
The being in question that held before her former domain was Absinthe. Former and last Queen of Serin and the deemed mother of night and darkness. The mother to all immoral and vile evil that dwelled within the world. Once more reborn into the world as fate had destined for it to be as Absinthe gazed with true pleasure at the sight of her domain. A faint dark chuckle befell from her lips as she'd slowly turn to face the cloaked individuals behind her."
Come, my children.. It is time to reclaim our domain and begin preparations for the war to come. I believe we have allowed this realm to slumber in peace for far to long.
" She uttered as if sickened by the mere thought of peace within the realm. It was at that precise moment that she moved ahead as the gates creaked loudly open upon the barren lands. The individuals all but quietly filed behind her as they drifted forth past the unfastened gates before it sealed firmly behind them. Whilst within that moment, the runes once broken pieced together once again as they became implanted to the stone. A gleam of faint blue radiated from them as the runes became active once more as Serin became sealed away.
If only such had been the truth for this realm which remained in blissful ignorance. Darkness had once more returned to threaten the existence of what peace remained.
[/tab]
[tab=Serin Present]
The wails of a child echoed within the throne room as faint glimmers of light pooled within. A female servant with an emptied expression held the hand of a small boy as tears streamed hot across his cheeks.Those gathered around a grand table to the center of the throne room would instantly glance to the sight of the pair with disdain and irritation. Upon a singular glance, one could easily note that these individuals were various leaders, royalty and commanding officers to the court. Whilst to the shadows that held to the room, the various glowing red eyes could be seen monitoring every inch of the room. Faint murmurs and growls resounded within only to be brought to immediate silence to the sound of metal clinking to the throne. Heads would lower in a bow as the servant's once emotionless gaze filled with fear as she'd shakily curtsy. The child's wails remained constant as she sputtered out softly."
F-Forgive me, Your Majesty… T-The child refuses to silence himself..
" Barely audible were the words she spoke as the talon finger stilled upon the throne. The servant attempted to speak once more only for a voice to echo darkly in command from the throne.
"
Silence your quivering tongue if you wish for it to remain attached.
" Absinthe coldly advised as the servant's eyes widened and shook as she fell to her knees in a lowly bow of submission. Absinthe's gaze steered away from her as a slim hand extended forth from her throne as she'd beckon the child forth with a feigned smile. Her honeyed orbs all but lulled the child as he'd gaze to her through his clouded vision."
Come to me, Child. Weep not for I am here..
" She uttered in dark enticement as the child sniffled and stumbled forth as he climbed the stairs that ascended to the throne. His small hands all but found her neck as she'd cradled him close as she'd click her tongue ever so lightly.
"
Only weak children shed tears.. I did not raise a weak and helpless child, Did I?
" She questioned without a singular detection of motherly affection. The young boy sniffled and merely chose to shake his head as her hand paused above his head before seeking rest to his silken blonde head. Slowed were the strokes to his small head as she'd continue to speak lowly to him as those gathered merely watched the exchange."
Precisely… For I am all that you have, Never forget such things… For you must be unassailable for the battle to come. Crovia will wish to separate us.. The traitors who betrayed you so long ago.. Recall such and remember that you only have I to protect you.
." She whispered in a darkened persuasion as a faint violet glow illuminated from her fingertips. Whilst it encircled his head with each stroke as the child clutched closer to her bosom. Steadily, a sinister smile curved at her dark painted lips as she'd graze a slow kiss to his temple as the violet dissipated. Whilst such had been occurring, the servant from before had been dragged from within by another pair of servants as she was soon replaced by another. The young servant girl bowed lowly before the throne as Absinthe would slowly detach the child from her. The child's tears had dried as he was enveloped within the woman's arms as his vibrant crimson hues peered to Absinthe. An intricate coal black diamond amulet dangled between her exposed cleavage as the silken black gown adorned by gold circlets and various accessories. A faint smirk stained her lips as she'd rest her taloned ring finger in a soft skim to her lips as she'd softly hush the child once more."
Now Behave, My little king.. For your day is coming and I need you mighty.
" She mused as the young boy slightly nodded before being led forth from the throne-room. As the sunlight briefly passed over the child as it illuminated upon a tattooed mark only found among the children of the reborn. As it held marked to that of his left hand as it curled to the young girl's shoulder.
As the vast throne doors sealed closed once more, her council's gaze would steadily seek to hold the gaze of Absinthe as she remained settled upon the throne. It was then, a particular crimson haired female moved forth towards the throne as vibrant golden hues met Absinthe's gaze."
Dark Mother, it seems the Institution is readying the Reborns to journey to Crovia. They sense that the time has drawn near and without a doubt have begun to steadily believe you have returned. We all knew this was bound to incur and with such knowledge they have begun to raise the armies for battle. As commanded we have begun to prepare your forces for the battle to come but, I do think it best to perhaps.. Test these rebirth's before they reach Crovia. To lessen their strength and test loyalties if they remain once unhinged.
" She said without any hesitation or fear of speaking freely to her as Absinthe's dark brow arched in brief thought before swiping her hand lightly in front of herself. The detailed map upon the table enlarged whilst her gaze roamed freely over the mapped lands as a singular finger traced the air over it.
"
Their journey begins to the western lands that hold outside of Veilcrestte. I have no doubt that they will choose to take the prolonged path to avoid the common eye. In order to do such, they will first seek passage through the Mountains of the Wretched. Where many of our brethren were forced into exile to perish. Their souls are all that stir within that desolate place.. An ideal location for these souls to be tested. Send for Narcisse and advise him that I wish for him to deliver an item within the mountain for me. For we must prepare to truly welcome the poor beings and test where their loyalties remain.
" Absinthe stated as an amused glimmer danced within her gaze as several heads would bow as they'd begin to disperse from the room. A faint dark chuckle escaped her parted lips as the taloned finger would move over her lips. Whilst her tongue dashed in a soft brush to the sharpened tip."
Welcome home to our foolish heroes and my former pets.. How I long to see each of you once more..
" Absinthe whispered to herself as the faintest smirk edged to her lips.
True sinister delight.
[/tab]
[tab=Institution]
Lycronth Institution: Present Day
Warm sunlight spilled over the rolling green pastures and hills that held in abundance to the outskirts of Veilcrestte. Fenced fields littered the area as one could see the passing sights of various farmers carts rolling over the dirt roads. Clouds of dust would pool around the carts as each passed with their merchant goods upon them set to deliver to Veilcrestte. Though within these farmlands, the one article that did stand out among the farms and rolling pastures was the well built white stoned building. Surrounded by towering walls to ensure the maximum security it could offer to those held within. Whilst to the top of the walls, one could easily see silver armored and blue clothed individuals roaming back and forth in constant guard. No ordinary place was this that held upon these lands, this building in particular was the home to that of the Rebirth's. Though none were inclined to truly know the nature of such things as it had been kept disclosed from the public until the pivotal moment. It had been decided within the inner councils that the people would be told when the time was right. In order to truly prepare and offer safe haven to those of whom would not face the horrors of war.
Within the walls, a true bustle held within as today marked the occasion in which a journey would begin. The steps forth to the battle that had long been prophesied to fall upon these lands once more. The final and true war that would decide the fates of so many a soul. Said prophecy described the resurrection of the heroes and villains of old whom sought complete and ultimate control of these lands. A second chance given to truly let the events unravel as Absinthe had desired and gained through the sacrifice she had given without a second thought. This war would be the war to define all things for every creature and race that walked the world of Vrateus. Several armed caravans could be seen rolling across the bridge and within as each carried the items in question that had been stored away for centuries for this moment alone. Weapons and artifacts destined to be returned to those they had once been soul-bound to in the hopes that these forces could stand together. United in the mutual belief that mankind deserved to be protected and saved from the treacherous evil that Absinthe wished to drown the lands in.
Such were the events outside the building as the council and instructors prepared to gather within the council room to face the chosen ones. Each child now adult had been trained and advised that this day would come to pass. Though it had been instilled in each, the reality would not set in until the precise moment in which they'd be told that this journey.. This war was on their doorsteps awaiting them and readied to test them at each possible turn. They had been trained and prepared for this moment and that is all they could be.. For once they left this safe haven, it would be in their own power to choose their path with what training had been given to them. This would be one of the first tests and obstacles they would ultimately face before arriving within Crovia to prepare and aid in the war.
Inside the confines of the Institute, the main council room had been unlocked for the Rebirth's to gather within as the vast marbled black and gold table held emptied. The council and instructors had yet to arrive themselves as the Rebirth's had been asked to arrive earlier than them. To the end of the table held a young violet haired woman in a fitted studded black leather attire whilst a leg draped with casual ease across the other. Her rebirth marking all but apparent to the right side of her neck as her crimson hues studied the pale ash blonde whom held to the front of the room. Serene was her gaze as a gentle smile framed to her lips as a pair of guards held in obvious sight behind her. Her own clothing were vibrant colored silks with various silver pieces of armor clasped to her body. For a second, her violet hues glimpsed to the doors as two antsy guards spoke in hushed whispers among themselves. A faint sigh would escape her lips as slim fingers would gently pinch the bridge of her nose."
Venetica…
" She muttered faintly under her breath as Vespera felt her brows furrow. Esmerai's brow arched in a curious display over the Princess in question as she could only assume a certain ice queen had her tongue down a particular childhood friend's throat. Though she adored Leon through thick and thin, she herself hadn't quite decided on whether she cared or not for the fickle Ice Queen. Arms folded in against her chest as they rolled beneath her breasts. All but lifted against the leather corset and displayed in a slight cleavage to the darkened silk material of her undershirt. Both seemingly awaited those whom they had trained alongside since childhood. Whilst both took notice to the council members filing into the viewing overheads that laid above the room as the familiar sight of each of their instructors began to occupy the front.
The beginning of a journey was set to begin within this room as all truly awaited in mixed feeling to what laid ahead for each that claimed a seat at the table.
[/tab]
[tab=Translation]

Sicut supremum spiritum tuam relinquit corpus tuam. Ligaturis istis ac ruinosis his super ostium relinquere rationes concedimus. Ubi semel recto tuam, libera princeps plus his terras.

Translation: As thine final breath leaves thine body. Release these earthly binds and grant thee entry upon these ruinous grounds. Deliver thine rightful ruler passage once more to these desolate lands.

[/tab]
[tab=Tags]
Everyone.
[/tab]
[/tabs]
Created by Jenamos | Inspired by MaryGold