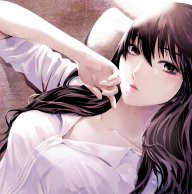 Bookworm Librarian with a pen
Original poster
Invitation Status
Posting Speed

1-3 posts per day
One post per day
1-3 posts per week
One post per week
Preferred Character Gender

Male
Female
Futanari
Genres

Fantasy, romance, yaoi/yuri, vampires (non-twilight vampires preferred) though right now I'm VERY interested in finding a romance fantasy
He was so excited! First day at work. He was going to be getting a partner rather than be stuck with a group of training 'puppies' as their more experienced members called them. Alexander Trival couldn't wait for his assignment.

He looked down at the piece of paper in his hand with his pair of dark green eyes A splash of color among pale skin that often made those around him mistake him for a vampire at first glance. After all, what youth would be pale skinned, have pitch black hair and an almost emerald color for eyes? But Alexander was 100% bone-fied human. And for that he was glad and proud.

He rode his horse down the center of the town he'd been sent to find his new partner. It was midday which was all right with Alexander. He wanted to meet new 'friend' in the day so that they didn't try to stake him without asking any questions. He slipped from his horse and went to the town fountain to wash his face free of dirt.

By all female accounts when he was all cleaned up and proper looking Alexander was a decent lot. He'd even pulled off as a noble once to see if he could and he had. He rose and looked around before advancing on a young woman that was doing her laundry in the fountain like so many other women were that fine day.

"'Ello there, might you point me in the direction of a house that you know someone lives in but don't see that person ever leave or come?" he asked, his accent just enough to color his words but not make it impossible to understand. His smile got the answers he needed and he led his horse the way that the women told him. He could hear them giggle and gossip about the 'new stranger' but couldn't care less. But as was his part to play at such a time he looked over his shoulder and gave them a wink and continued walking.

Eventually he found himself outside such a house. His five foot seven inch frame moved towards the door and he knocked, waiting for either the curses or the snarls that he thought would await him. "Sir? I'm here for a job, if you catch my drift," he called through the wooden door.