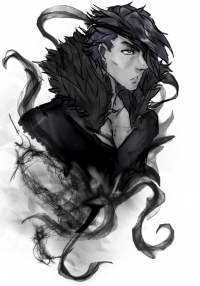 Roleplay Invitations

Not Taking RP Invites at this Time
Posting Speed

One Post a Day, A Few Posts a Week, One Post a Week
My Usual Online Time

Flexible now. But still limited at times.
Writing Levels

Advanced, Prestige, Douche, Adaptable
Genders You Prefer Playing

Male
Playing Style- Passive or Aggressive

Aggressive. I'll play both, but even in stories not my own I am avid in producing plot, world, and characters
Favorite Genres

Fantasy, Sci-fi, Urban Fantasy, Horror, Romance, Action, Adventure, with dark mature themes.
Genre You DON'T Like

Slice of Life, unless really good.
I don't like these for my MAIN CHARACTER: Furry, Yaoi, Yuri, etc.
No Breath. No black or white. Not even nothing.
It was more like being in a dream, or halfway into a dream. He felt himself, was aware of some functioning head parts, but it wasn't the same. If he tried to move a limb, if he had a limb, it was distant, heavy, and sloppy. The memories of those last moments burned into his mind like a tattoo forged by the sun.
His loved ones gazing at him as he endured the entity that was Six living inside him temporarily. The pain of an endless, and eternally existence filling him, pushing at every part and wishing to come back out. Pleiades cannot interact with the physical world, but Sinclair had felt her, so… had she interacted with him physically, or did he go somewhere beyond?


How long had it been since he'd been FirstBorn. He recalled vaguely, what it was likey. Now though, it seemed like so distant a memory it might as well have been a dream itself. Could he once have interacted with them? How had he not met them before becoming this? What did it matter now that he had finally gone too far, without a contingency plan. He'd not intended to his family to be caught up in his works, but, he had wanted to impregnate Rare, he couldn't let them die. Couldn't allow himself to expand to accommodate everything, and devoured what he need to feed the expansion until they were all gone. The gain would not be worth it.

But, what the hell was this?

"So… finally got a bit of ground." A familiar voice. He tried to look around for it, only to remember he had no neck, nor eyes, nor anything to really look with. Still, he knew it was there.

"I expected a bit less of death." Sinclair muttered in a voice he recognized. His voice.
"Oh? Did you expect it to be easy? Just poof, nothing. No need to think, or regret, or worry. Death isn't an escape, it's just lost opportunity. " The voice of Six irritated him. How could she know, when she didn't die. Wait, then how could she be here.

"I didn't think…"
"You had a soul? That your kind just made souls... that somehow things like machines, and golems just have them handed out." Six mused, and he could feel her grinning from that expressionless face that stared at him. That face which he wasn't sure was ever a face, but rather shapes of herself she had put together to imitate one.

"Maybe, like them, you gained a soul. But Heaven and Hell are such base concepts. You could have Nirvana or Valhalla, even Elysium, but you're here."
"And this place is?" Sinclair asked, a slight edge to his voice. Six laughed. It was a strangely whimsical thing.

"I know no answer to this Sinner. I exist here, it does not mean I've gained knowledge beyond observation. Even the ones that carry the duties of death collecting do not tread here, for even they are bound by some rule or system. You on the other hand, as I do, seem exempt from such standards. We do not quite have a place, but it doesn't mean we can't use theirs… somehow."

Oh Six, this is what Sinclair had adored about her. Her ever present existence gave her a wise, and expansive view upon things. It almost allowed her the limitless platforms of knowledge he had, and in truth, she probably still could. He had become so enamoured thanks to her ability to see beyond her spectrum. To see beyond his own. A mind that did not quite match his, and he appreciated the differences.

"It seems none wish to claim me. At least for now, so I must walk my own death." There was a sudden jolt of excitement. If he was here, if he was really here, then that meant that others had to have been here once. Where would his kind go… if… if they had somehow gained, grown, or obtained souls. If it had been too late for them, well, then he was just as lost and lonely as ever, only now he had nothing to look forward to.

"Are you dead?" Six asked. Sinclair looked at her, silently contemplating her words. In that moment he had yet another startling moment. He was looking at Six. Sinclair looked down at himself, finding he had hands, and toes, and well… a body. He even felt his beard brushing against his neck and collarbone as he looked down.

"I… do not understand." Sinclair muttered. A sweet melodic sound filled his head like heavy static from interference on a booming speaker.

"That's new." Six mused. Sinclair looked at her, unable to see the mirth in the situation. She shook her head and looked around. Sinclair did the same, and they finally noticed together that a sort of world had formed around them. It was like standing in a watercolor world, but not so vibrant. Sinclair reached out, but found himself unable to quite interact. The best thing he could compare it to was like looking at an image just behind a pane of glass. Close enough to feel like you could be a part of it, but finding yourself unable to touch it.

Without another word, he began walking. There wasn't really much else for him to do. Six vanished and appeared at different intervals, as if only wishing to check on him, but she didn't engage him fruitlessly.
"You didn't ask, but the Cradle is working." Six said, and Sinclair made a little groan of acknowledgement. Of course he'd known the Cradle was working, but he still hadn't quite expected this. He wondered, if somewhere in this place, Abigail was waiting.

"Hello Sinner." A deep, charming baritone caused Sinclair to pause. He turned slightly to see a man… no not a man. That "man" was just a shell. A glamour in a sense, something used to identify with Sinclair's current form. Which, should not have been human yet now that he thought about it, that was exactly how he felt.
The man had deep black eyes, with sclera the same pitch at the pupils. His skin was strangely green, like a Caucasian man that had grown accustomed to being in a constant state of pestilence. His hair, cropped to his head, looked to be wet. He wasn't particularly handsome nor ugly, but not average. Looking at him made Sinclair both curious, and to want to look away. But the most peculiar thing about him, was his aura. Sinclair still had the vision granted to him by Bio, and what he was seeing was… somewhat like Bio's, but different. It seemed to be bubbling below a surface, but unable to break free.

"I have been waiting for you." The man said. Sinclair cocked his head, and the man continued after a short chuckle. "You may call me Lazarus."

"As in, the name given to ideas and machinations of rebirth. Did you meet my kin?" Sinclair asked faster than he had intended. The man's name, while not likely to be real, as Lazarus was fairly new in the grand scheme of things, still made him wonder if his kind's afterlife was a form of resurrection. Lazarus' confusion showed clear on his face though, dashing Sinclair's hopes.

"I… apologize. No, I have borrowed the name, as sort of a placeholder for a project. You see, I have some very deep inquiries to ask of you." Lazarus said, then smiled that seductive, charming smile of his. Sinclair didn't flinch back, and he noticed Six was behind the man, not himself. She could do nothing but observe.

"I see." Sinclair said.

——————————————-
————————————
————————-
——————-
2 days before Rare's labor...

A knock at the door caused Jerry to stir. He'd been fast asleep while Elli and Poppy fed Penelope again. He snorted and huffed, coming out of a particularly abnormal dream he couldn't quite recall. He just knew it had been weird. He looked around, expecting to see Liz or that caretaker woman, but instead Falren was at the door.
Falren had been absent for their latest big adventure. He'd been off working some private mission, but since he'd been back he had been somewhat pensive. More so than usual. His moustache was accompanied by a restless big of chin fuzz that he ignored for only a few days at a time. His slicked back salt and pepper had had slipped a bit more into salt. Those eyes though, they remained as sharp as ever, even if he seemed to have gained a few new wrinkles.

"What the fuck?" Falren muttered as he peeked through the peephole. Outside was not a person he recognized. They weren't even a person. The face, if it could be called that, looked as if it had been sculpted to be some kind of mask. The body was a lithe, too long that that made the strange creature hunch over. He had strips of cloth draping from him, but Falren couldn't seem to make out a body below it.

Falren knew this creature's type. He didn't bother with his gun, but rather took an iron sword disguised as an umbrella in the stand beside him.

"What's going on?" Jerry asked, suddenly alert. Falren raised a finger to his lips, signaling for his doppelgänger to be silent. The second ticked by, but Falren didn't tear his eyes from the creature. It's mask like face tilted, as if it were cocking its head. One of the shred like layers shifted, and Falren was startled when he heard another round of knocking despite seeing no limb to cause it.

"Wha'dya want ye arcane arse?" Falren let his Irish accent slip out a bit more than usual. It had been something he'd worked many years on hiding when he had been younger and visited America. The thing on the other end of the door shook quickly, hissing as it did like an upset maracas.

"I…" It hissed. "Am here for the one that is Not Sinclair. The child which… deflected... Gamelan." Hepaused between certain words, enhancing the raspy tone to his sentences and making it seem as if he struggled to speak.

"Why?" Falren asked without preamble. The creature hissed again from the other side.
"I will speak to only him." The fae hissed this more swiftly, with better clarity. Clearly he was trying to make a point. Falren debated putting the sword through the slot in the door and killing this bitch right here and that.

"Right. You'd best get off the porch or I'll…" Before Falren could finish, several other fae appeared. They did not look hostile though. Instead, they carried beautiful things. Some ornate, and others simple, but they appeared to be luxurious, or possibly delicious all the same.

"I've come with gifts and apologies. Please, we only wish to welcome out future king." At this, Falren went completely stiff. Jerry was behind him now, trying to peek over him or hear the voice. Why did they imply that Elli was a kin.

Falren didn't hesitate to open the door this time. He had the blade focused on the masked figure in front of him. Petrykus didn't seem bothered by the blade, but the other fae jumped back in fear, sending a few of the gifts scattering across the floor. Petrykus hissed derisively at them, muttering something that Falren knew in fae tongue as ordering them to have manners.

"No fae king here. No Sinclair either." Falren said, glancing back when he saw Jerry tentatively approaching with his own firearm in hand. He gave his alternate self a look that said to hold off. Petrykus noticed the tension, but made no move to withdraw. Falren turned back to the fae, no sign of fear despite the massive height he knew the fae would have if he stood straight.

"Falren… once ambassador between us and… your kind. Please… I mean no harm. I am sure the intricate weaving of protection upon this dominion would have devastated us had we chosen to approach with hostility." Petrykus had wanted Elli dead once. That was until the veil had been lifted, and his performance had been shared among the fae. That was not the only reason they were here.

"You should know, the courts have been blessed by his touch. He took destruction an-"
"Alright alright… I don't really care. Just… leave me a way to reach you." Falren said.
"Alas… I must wait...here." Petrykus hissed again. "I will wait… as long as… neeeeeded."

Falren didn't like dealing with fae. Unfortunately, Liz's home was on this damn planet, and the fae had means of traveling across countries in no time by using proper passages. Fae definitely did not belong in this country.