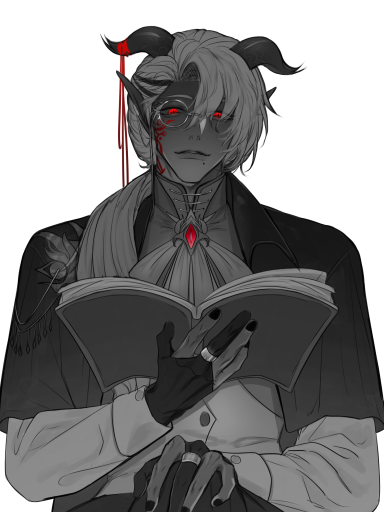 A Luxury You Can't Afford
Original poster
DONATING MEMBER
Name: Lucien Belvedere
Age: 24

Important Notes: Bastard Child of Queen Anne, soon to be the Crown Prince of England
Family: Odessa Belvedere (Step Mother), Edwin Belvedere (Father), Princess Anne (Half-Sister)

Biography: Lucien didn't have the ideal home life despite being disgustingly wealthy. The Belvederes have a long history for being hated throughout all of England. This is hardly surprisingly given the family's main business is money. They amassed their wealth in the shadiest of ways, tricking people into borrowing money from them and signing agreements that are hardly in their favor. Even the Crown is in debt to the Belvederes. They always collect their debts using less than respectable methods. Some of those practices include, theft, kidnapping, torture, and even marriage should the social status be high enough. Local authorities have been powerless to stop them and most of them are under Belvedere control which has allowed the family to maintain an iron grip on the noble families of England.

Every Belvedere is apart of the Crown's royal council. The reason for this being the Crown's need for money. On top of their already astonishing wealth, Belvederes have a talent for procuring money out of nothing even when it seems like the Kingdom has run out of resources. The reputation of the Belvederes is legendary for being cold-hearted and cutthroat. It is said even their spouses eventually become true Belvderes, taking after their icy demeanor. There is a saying for this family and it alone is enough to keep any noble holding his children's inheritance for dear life: A Belvedere always collects his debts.

Lucien has been no different. In fact, he has perhaps been the most diligent when it comes to collecting debts. He has had dukes stripped of their lands, turned duchesses into whores, sold nobleman's daughters to wealthy farmers, kidnapped eldest daughters, all to encourage families to pay what they owe. He has never failed, increasing the infamy of his family name. He was taught to balance books by his father and while Edwin Belvedere may uphold the cold shoulder for appearances sake, he is in fact, softer than his son Lucien who believes the family name was losing its power before his birth.

His mother Odessa always treated with disdain and claimed that he was no son of hers. While this is true, it affected Lucien greatly, giving him a slight hatred towards the woman and people. His mother, Anne taught him to play the piano and how to ballroom dance when Lucien was very little. He is aware his mother and his sister care very deeply for him. He is actually very attached to them and has been known to assist them in times of need, assuring them it is a favor, allowing him to live up to his family's saying. Eventually, the visits from his mother and sister stopped because his mother married King James Charles Stuart.

His home life became very dark as he began to learn the trade secret of the family business. Collecting an unpaid debt with interest.

Personality: Like every Belvedere, Lucien has an outwardly cold demeanor. He doesn't deal with people very well and he mostly talks down to them. While this isn't favorable in most everyday interactions, it proves effective in terms of collecting money. He has a legendary wrath, while not violent has been known to turn nobles into peasants with a flick of his quill. He will collect all his family is owed before his body is dead and buried at almost any cost. When one looks into Lucien's dark past, they will find he's kidnapped, tortured, and done away with many of the people unwilling to pay him.

Despite this, he has a soft spot for dainty things. It may seem contradictory, but he has a strong desire to protect those he deems innocent from harm, even if the harm is himself. This fact is only known by his mother and sister. Lucien also deals with loneliness in the form of a Persona known as the Masked Pianist, a piano protege who is famous for his spontaneous performances throughout London. As the Masked Pianist, Lucien is known to be happy, free from the ties of his family name and free to be loved, despite being loved only for his talent. His piano performances have an astonishing ability to make people cry, as his music emanates strong feelings of sadness and loneliness. It is a testament to how he truly feels.

"If I you think me a monster, then I will show you a monster."
Last edited: