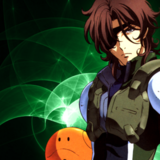 Gundam Meister
Original poster
FOLKLORE MEMBER
Invitation Status
Posting Speed

1-3 posts per week
Writing Levels

Adept
Advanced
Adaptable
Preferred Character Gender

Male
Genres

Mecha, Superhero, Anime, Adventure, Magical
It is the morning of September 3rd and it is just about time where many children are waking up in the morning to head off to school. The school year has kicked off the day before. The hour is 7:40 and school starts in an hour and twenty minutes. Many adults and other children are already awake and heading off to school or work. It is a bright and sunny day with a cool breeze in the air and the temperature was just about the usual for this time of year. The Times Square is filled with people walking back and forth. The Stock Exchanges are busy at work doing what they do best...and as usual life moves on...
The school of Saint Augustus, located in Manhattan, is a school dedicated to the students of tomorrow and those who wish to excel at their studies. With no room for people have no interest in learning the school has a renown teachers dedicated to making sure their students are the best students in all of the districts. Better yet there is no tuition with the exchange being standardized testings that happen every other month or so in order to make sure the teachers and the students are doing as they should. The Principle of the school is a nationally recognized man known as Ford Carson and has boasted his school can teach any student who is open minded and willing to try his or her best to learn. Promising help with finding prospective colleges after school. Ford has also implemented a policy aimed to teach orphaned or children in need of help to have a place at his school as well.
===
"Master Peter it is time to wake up my good lad."
Alfred said as he rubbed Peter's shoulder gently as the young adolescent boy yawned and slowly pulled himself up.

"You know Alfred school sucks if you don't mind me saying so."

Peter said as he ran his hand through is messy hair and stretched as his butler nodded.

"You know your mother wouldn't like to listen to such words young master. Then again I never much cared for school in the first place either."

the white haired butler said to Peter as he led him down the hallway.

"Mom is a lovely woman but I don't think she ever went to a semi-public school before. She went to a prep-school back in the day didn't she?"

Peter asked as Alfred said he didn't know. After all he hadn't been with their family for an especially long time. Peter told him it didn't really matter in the end he'd just need to do well in school and he wouldn't get a long talking to by his dear mother. His father honestly knew his son was a smart young man as it was but had to go along with it.
After taking a bath and getting lunch from Alfred, some pancakes and tea, Peter put on his usual suit and clothes. His mother insisted he wore the clothes but hey they weren't all that bad and he rather liked them. White vest, shirt, khakis...he looked like a young business man...and it made him feel silly and professional at the same time. Then again it wasn't like it wasn't a random thing some schools made kids dress like this. Other countries even exclusively used uniforms like Japan and some Euro countries.

"If I may say Master Peter you look like a fine young lad...if somewhat silly."

Alfred said with a smile as Peter chuckled and nodded his head.

"I do look a bit silly don't I? Well Alfred shall we be off?"

Peter asked his butler as the man told him he was ready whenever he was and that he'd just need to lock up the place before they left their luxurious home. Peter couldn't help but wonder how many different things he could experience this school year.