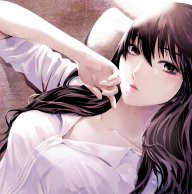 Bookworm with a pen
Original poster
MYTHICAL MEMBER
Posting Speed

One post per day
Multiple posts per week
One post per week
Writing Levels

Intermediate
Adept
Adaptable
Preferred Character Gender

Male
Female
Futanari
Primarily Prefer Female
Genres

Fantasy, romance, yaoi/yuri, vampires (non-twilight vampires preferred) though right now I'm VERY interested in finding a romance fantasy

(This is her, more or less, except with longer hair that's braided. I couldn't find one with a decent braid or long hair that matched her personality as much as this one. ^^)

She was walking down the street from her home to her school when it happened. The girl's feet were taking her down the normal route to her school--turn right at the corner, take the first left into an alleyway, cross a board the covered up a hole in the concrete, turn right and walk for twenty more minutes int a straight line until one hit the school grounds. She had already entered the alleyway.

Her grey-green eyes weren't however, locked on where her feet were leading it. They were locked on the cloudy sky above her. It had been threatening to rain all week but now she was sure she would have to find a way to get home without getting soaked. Finding that way should be the most fun that she'd had all week she supposed as she neared the hole that was in her way. her black hair which contrasted with the grey-green of her eyes flowed behind her in a tightly done braid that ended at the middle of her back. Jeans, black and torn at the knee, adorned her 5'4'' frame as she moved through the trash that littered the alleyway. Black, mid-thigh high boots kept the bottoms of her jeans from touching the ground as well as raising her another inch and a half in height. Unlike her other 'normal' friends at school, the young woman had taken to wearing an old fashion cloak instead of a jacket when it got chilly and was now wearing the black and grey material over a flashy blue top that had an abstract design on the front. A MP3 player was hooked to her pocket before trailing earphones up to her ears, blasting music into her ears. A messenger bag crossed her chest and held only the bare essentials for the classes she would have that day.
Riela Buchan probably should have been paying more attention to her surroundings on that day. However, she didn't and thus did not notice that the board that had always been there to let her go to the other side had been taken away. She found out however quickly enough.

Riela cried out as her foot found that there was nothing to support it over the hole. She toppled forward and screamed as the fall seemed to go on for hours, though she knew the hole only to be five or six feet deep at the most. Finally her body hit something solid and she found herself rolling down a soft, grass covered hill.

When the ride was done, Riela grabbed her head and pulled her earphones out which had miraculously stayed in through the accident. When she opened her eyes however, she couldn't believe her eyes. Where she expected to find crumbly rocks and earth she found that she sat at the base of an old tree in the middle of a large field. she blinked her eyes a few times and tried to figure out if that was just her imagination, or if it was all real.

"All right, what is going on?!" she cried out to the empty air around her.


[Hope this is okay for you Panda. :) If you need me to change anything, just tell me and I'll do what I can.:foxdetermined:]