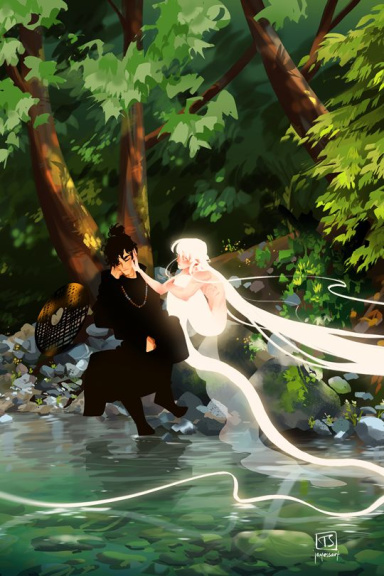 Chaotic Lawful
Original poster
Roleplay Invitations

Group Roleplays, One on One Roleplays
Posting Speed

Slow As Molasses
My Usual Online Time

GMT +1/2 | CET/CEST | Random, mostly on my phone
Writing Levels

Intermediate, Adept, Advanced, Adaptable
Genders You Prefer Playing

No Preferences
Playing Style- Passive or Aggressive

Both, depending how much there is going on already.
Favorite Genres

Tragedy, Psychological, Historical, Steampunk, Mystery, Thriller, Sci-fi, see tag list for more...
Genre You DON'T Like

Romance
Days of wind stillness made Eloise restless. They worried the young stag who was used to winds blowing in her ears at all times and for the voices to surround her. Her constant companions through everything she did and thought, but absent now. Absent except from a small lull that she sometimes caught whenever she rushed herself, or whenever she stuck her head out of the carriage when riding. Both actions she got severely reprimanded for constantly.
However, the lull she caught had something foreboding. There was a bitter mystery that clung to it, a tragedy that instilled a fear within Eloise's heart. Had she made the wrong choice? Were they warning her for a mistake? The female was unsure and decided to ignore the lull. The silence was welcome and perhaps she would find learn how to listen to the wind even when it wasn't there.
Feeling the carriage stop the girl blinked herself out of her thoughts, wondering what the reason was for the sudden pause.
"Have we arrived?"
she called out from her compartment, pushing the curtain to the side to check.
Silence
. In front of her the capable back of her escort was missing as well.
"What is going on?"
the girl asked, suddenly alert as her usually whimsical smiled faded. Was this what the wind was trying to tell her?
Climbing out of her comfort the lady didn't care for the mud below her, worry struck on her face as she realised she was all alone with the horses tied to her carriage having stopped to graze.
A figure snuck up behind her, blindfolding the highborn.
—
"Who is this?"
The question had been repeated over the course of her abduction. Tied up the female was forced back into her carriage, her abductor bidding for the horses to move again. No answer was given. No word exchanged and Eloise found herself falling into an anxious race of thoughts as well as panic.
"What do you want?"
It was another question that was never answered. However, Eloise wouldn't be the mischievous Baratheon if she sat still and allowed this to happen. Wriggling her hands the female tried the ropes. She wasn't afraid of darkness, knowing it was something her brother had to face everyday. Eloise had trained herself to find her way around blind as well, though not in the same adeptness as her brother was known for. However, now that she was taken to an unfamiliar place she knew she needed her sight.
Leaning over she rubbed the blindfold off her face. The fabric of her skirt bruised and irritated the skin of her face, but Eloise paid it no mind as she succeeded in her task just before the carriage stopped. Breathing in sharply the Baratheon lady held in her breath to listen what would happen next, her mind whirring to plan out what she was going to do.
"Yes, I have her bound," she heard a man speak, presumably her abductor. "Unharmed." The stern voice was familiar, which hurt Eloise all the more.
"Good, you will receive your payment once she is loaded up and gone."
The second mystery person sounded gruff and disgusted. It sounded polished, like that of a highborn and arrogant. As if he believed himself to be above to actually interact and dabble himself into this murky business, but yet not with enough pride to go low enough to think of Eloise a threat. Panic welled up even higher as the Baratheon realised what was going on, wondering when and where she had made such malicious enemies.
Realising that this was probably her only chance to escape Eloise slowly got up from her place sliding herself out of the carriage into the mud. Holding her breath she counted the seconds before daring to move again, congratulating for slipping out without garnering any attention.
The voices of her captors weren't far away, making the girl curious enough to take a small peek as to reveal their identity.
"It was quite easy to convince them that I was in charge of her escort," her abductor spoke, a hint of smugness in his voice. "I'm after all part of the family that has her sent away."
Freezing Eloise gulped, praying that it wasn't true. Peeking over she prayed to be proven wrong, but couldn't hold back the gasp when she saw the sigil on the back.
"Anyway, they are fools for trusting this kid and her—" stopping mid-sentence her captors heard her gasp, whipping around for a look.
Eloise hid out of sight holding her breath once more. When she heard the men resume their conversation she quietly made her way into the opposite direction, praying that they were near any form of civilisation.
Once the girl passed the carriage she made a bolt for it into the horizon. Not too soon after her captors made chase for her as well, shouting at each other as she heard them run.
Recognising the harbour to Essos Eloise kept her gaze focussed and thanked the gods for her nimbleness, hoping that she was fast enough even with her arms bound.
"Help!"
she screamed at the top of her lungs, praying for anyone to hear her. From behind she heard the squelching sounds of footsteps in the mud before a heavy body crashed into her. The impact with the mud was great. Feeling the air being knocked out of her she felt something hard hit the side of her head. Unsure if it was a stone or a fist all Eloise could think of was the Lannister sigil on the back of her captor before she passed out.
Why?

DayDreamer
&

Ritual Lobotomy
Last edited: