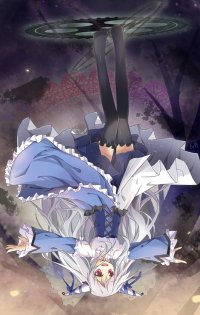 The Slightly Villainous One
Original poster
Invitation Status
Posting Speed

1-3 posts per day
Writing Levels

Intermediate
Adept
Preferred Character Gender

Female
Genres

Fantasy, Modern Fantasy
The usual frigid gales danced around the girl as she walked, chilling her very bones despite her thick cloak. She was trudging slowly through the snow, every footstep making a deep depression before the supporting material collapsed enough to support her weight. No one was outside. While this was the normal situation for the town, today the emptiness had a much more ominous feel to it. She looked down and covered her face slightly as a huge mechanical beast slowly floated past her, high above the town's tallest towers, and continued to shade herself for a considerably time after it left. She finally stopped walking when she reached the corner of the street where it opened up onto a wider central road. She looked over her shoulder briefly before forcing open a rather inconspicuous door with a slight depression cut into the snow outside and stepped into the pub.

Inside the tavern would usually have been a stark contrast from the siberian wastes beyond the walls, but today was different. Even the roaring fireplace couldn't relieve the solemn atmosphere. She removed her overcoat and hung it on a coat rack, but left the hood of her jumper up to look less obvious. She snuck to the back of the group that had gathered and took a seat at a small table in the corner. Most of the people had gathered by now, but a few latecomers were to be expected. Most sat or stood in silence, while some spoke in murmurs. At the counter stood 3 men, apart from the barkeep, all of them wearing the same cold but determined visage.

One of them spoke up. "Does anyone have any comments they'd like to make first, or shall I begin the explanation of why we have gathered you here?"