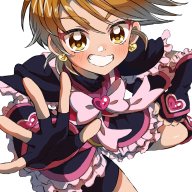 A former executive or something.
Original poster
Invitation Status
Posting Speed

Slow As Molasses
Online Availability

NEVER
Writing Levels

Adept
Douche
Preferred Character Gender

Primarily Prefer Female
Genres

Surrealism, Surreal Horror (Think Tim Burton), Steampunk, Sci-Fi Fantasy, Spaghetti Westerns, Mercenaries, Dieselpunk, Cyberpunk, Historical fantasies

[ame="http://www.youtube.com/watch?v=uZemtRp3_D4"]YouTube - Fire Emblem: Path of Radiance -- Burning Ambition[/ame]
Location: Somewhere in Southern Semile. Time: Around 1: 00 AM EST.

Exiting the back of a small hovering car, a rebel leader walked towards a seemingly useless government building. The smell of a Cuban cigar braced itself with the cold air of Semile nights. Rain piddled on the ground, as it did every night in the domed city-state. The leader saw this as a waste of resources, why bother when everything else was artificial.

The new smell of pollution steaming out of the building left a burning sensation in his lungs. Human waste had to go somewhere and of course a great hiding space for a mobile group of people was a sewer plant; at least for the time being. His small band of allies that had followed him, now were forming behind him in a dark stairway. All were wearing the uniforms of the Salvage Teams. It was a pain grey overall and rubberized boots; all in all, very utilitarian. The rebels then came to large heavy door. It was sealed tight and only would open after the password was confirmed.

Lights around the door lit up as Dante Luxemburg spoke the password in Spanish. The word was then recorded and listened to by the security team inside for confirmation. The door then split apart. Both sides, receding into the walls.

The group continued in through a chamber where they were scanned over incase one of them was an unknown cyborg or anything that may be hidden inside them. An alert went off. The rebel froze, sweat now came down his forehead.

"Shoot him," Luxemburg coolly mentioned. One of the men then drew a pistol and shot his former ally at point blank range. With no sign of remorse, the cigar smoking officer continued forward, "Make sure you dispose of that waste."



The next scan lasted for 15 seconds and from there they entered the base. Luxemburg headed straight for the planning room with the squad members departing and going elsewhere in the base. He looked around at his surroundings. Injured men being were moaning and begging for help. Sadly, no help would be there for them. A man showing up beaten and shot up would bring suspicion. A small android started to inject a poison into their blood streams. The rebels would then enter a blissful sleep and by morning they would be in kingdom come. The last raid had granted them this wonder drug and they would use it until the last drop was gone.

The first level of this new "base" was always messy with either blood or empty clips and shells or any form of matter that was stuck in the treads of boots. Yet another good reason for choosing a sewer plant as a base.

Dante then entered a large elevator. With him followed several other rebels whom would be attending the Brotherhood's next mission. The rebel officer pressed on a small panel for the elevator to begin moving down several levels to get to the planning room.

The base was in good condition even if some areas were still being worked on. The smooth metal walls and the well lit rooms one the lower levels. This was plant had once been a military base that had been through a lot but still amazed all who entered it.

The elevator stopped and the group continued through several more hallways before finally entering the planning room. It was dark and lit with a green hue. Screens stretched throughout the circular room, displaying images of different parts of the city and outlands.

It seemed that Deirdre, Asheron, Yuri. and some others were there waiting. The chairs were now full with some standing of the "Reunion Company" standing.

"Let's get down to business then." The overseer had a small remote in her hand and pointed it at the screen, having it illuminate with a cargo ship appearing.

"We have been spying on the enemy and have finally received enough information on Project Genesis and it's location. It appears that the target will be transported in it. Now to answer any questions before they are asked, this ship is being surrounded by several smaller gunships." She looked in the direction of one officer who was about to speak. Meanwhile, the screens that surrounded the room began to display the blueprints of the cargo ship.

"There is a military speeder that is going to meet up in a halfway marker of the ships' route. Luckily we will have enough time to reach it before it leaves." The new officer then circled the others as they all looked over the dome and at the screens.

"Each of you will be sent in by disguise, as Salvage Workers. Yuri and Asheron will carry pamphlets that will make it appear that the Norfolkians were responsible for the capture of this so called Messiah. From there we will have several others to await our arrival at a checkpoint on the edge of the city. Those already living in that area will help you through security as Deirdre has managed to override it. After we have made it into the ship, we will then need to capture Project Genesis and extract in time at that checkpoint. From there we hope to have a successful escape back to base. HQ will also be updating the best they can on the situation with troop movements and security. Remember that the target is not to be harmed or killed. We cannot afford to lose any information on Genesis." The young officer froze in place with arms crossed. She looked over the others to be assured they understood.

"You have your mission now. Prepare yourselves and then report to the garage. From there, everyone will be given further Intel." Commander Dante finally spoke.

With that, the screens returned to view the battlefield and the group started off for preparations. Some dressing accordingly and weapons detail while others went to get something to eat and say so long to others.
[SUMMARY: THE REBELS HAVE BEEN ORGANIZED BY THEIR LOCAL COMMADARE NAMED DANTE LUXEMBURG. THEIR MISSION IS TO CAPTURE GENESIS BY SNEAKING ABOARD THE AIRSHIP THAT WILL BE TRANSPORTING HER TO A NEW LOCATION. ONCE ABOARD, THE REBELS DRESSED AS MEMBERS OF A CRUSADER MILITIA CALLED THE SALVAGE CREW WILL KIDNAP THE MESSIAH AND DEAL A BLOW TO THE REGIME'S NEW LEADER. THEY WILL THEN MAKE IT APPEAR THAT THE PLOT WAS INSPIRED BY RADICAL NORFOLKIANS AND START A WAR BETWEEN THE TWO NATIONS.]