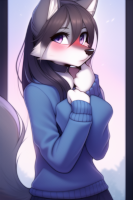 Hopeless Romantic
Original poster
In this world, there has been a power that has existed since the beginning of history, and possibly even before. It has gone by many names in the past - in modern times, those with this power are known as potentials. The majority of terms are taken from chess, which suggests that these powers came into the spotlight around the time of the game's invention.

Each potential is different, and their power can range from temporal distortion (Also known as super speed) to elemancy to increased physical prowess, or many others. A potential is usually unknown until puberty, at which point the stresses of hormonal changes and social divides cause the power to first manifest. Earlier manifestations are not unheard of in particularly traumatic childhoods.

Each potential has two levels of awakening: Check, and Checkmate. Check is always active while the potential is in a stressful situation, and this is the most common state. During check, a potential is active at a lower intensity - granting the potential an advantage in the fight or flight response. A potential with temporal distortion, for example, will see everything moving slower than normal, allowing them greater time to react and act as they move through time at their normal pace.

Checkmate, by contrast, is the full release of a potential's powers. Checkmate only ever activates in times of extreme stress - such as overwhelming odds, or an impending fatal blow on either the potential or a loved one. Using temporal distortion as an example again, time will nearly perfectly stop for the potential, allowing them to move at speeds imperceptible to the human eye. However, checkmate is a dangerous state - it saps at the psyche and body of the Potential, and tends to exhaust them when they wear off.

Potentials have long been weapons of war, taken by leaders and used to help further their agendas. Indeed, it is theorized that this is where the names of the chess pieces came from - From Pawn to King, each potential is given a rank based on latent power and ability to use their power. However, in modern times there are some that see this treatment as inhumane. While the governments still take Potentials to enroll in their military programs, some escape and use their powers for their own gain while still others are rescued and taken to one of a number of sanctuary academies. In these places, the Potential is taught how to control their stress and how to harness their power. These students live in their academy, and are at times sent out to stop threats from rogue potentials, or from other threats.

--------------

The players in this RP will be playing post-puberty teenagers/young adults, newly discovered and sent to a Sanctuary Academy. From there, they will learn how to control their powers and build relationships with other students. As well they will be sent out on missions.. and at some point, there may be a catastrophe sending them far away from home...

If this interests you, please don't hesitate to drop your interest in a post! I am hoping for at least 4 people before I start an OOC (GMPC may or may not occur)

Thank you for your time!​