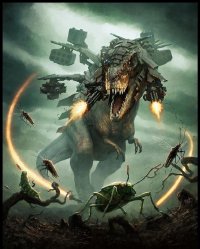 Undisputed king of the Dinosaurs
Original poster
FOLKLORE MEMBER
Invitation Status
Posting Speed

Multiple posts per day
Prologue

On April 3, 2020. Nintendo Entertainment and A company named Zengol made a contract to build the very first Poke'mon virtual MMO RPG. It went by the title "Poke'Art Online" and was to be exclusively for the NervGear, a popular VR console. On September 18, 2020, Akino Seto (the president of Zengol and lead programmerfor Poke'Art Online) had announced the lgames creation to the world. She said that this would be a Poke'mon game unlike any other and would surpass both the original games and the Poke'mon Mystery Dungeon franchise combined. When this announcement was made NervGear seals skyrocketed through the roof and the games development prospered. On January 25, 2021, The first Footage of the Alpha for Poke'Art Online was mad public to the world. The hype got Hundreds of thousands of gamers everywhere more and more excited for the game and started to look forward to the beta.

On October 7, 2021, keys for the Beta of Poke'Art Online have been given to 250 individuals. The trails wen on until February 11 of 2022, a player named Ren had taken many notes from his experience and would use them to his advantage up to the first 20 floors. On March 2, 2022 Advertising for Poke'Art Online had gone global announcing that the game was to be released in August. Players began to buy their pre-orders immediately since then and until the day of release. On August 27 of 2022 at 7:00 PM MTZ, Poke'Art Online servers had come online and players began to sign in by the hundreds. At 11:00 PM MTZ 287 players have been reported dead in the real world indicating that something was very wrong in the game, one hour later it was made clear by a pre recorded message by Akino Seto herself that players are no longer able to sign out of the game until all 100 floors were cleared and that dying in the game will result in death in the real world. Mass panic was apperant for several hours after that announcement was made.

Three days have past since the game has started and so far a total of 500 players have died. Many players have gotten the idea to team up in Oder to survive, Some have chosen to go it alone, while others are too traumatized to take any action at all. The first floor had not yet been cleared and there has been no luck at all in finding the boss room. Players are starting to loose hope more and more, but a Charmander player is far from giving up and presses on his search. Only time and determination will tell the fate of the players of Poke'Art Online. Your adventure Begins Now.... Good Luck Player.
​
Last edited: