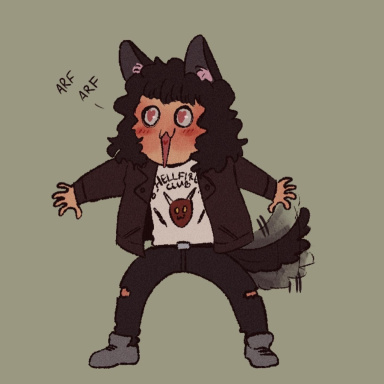 [*screaming into the void intensifies*]
Original poster
ROLEPLAY DEPARTMENT
DONATING MEMBER
FOLKLORE MEMBER
Invitation Status

Not accepting invites at this time
Posting Speed

Speed of Light
Slow As Molasses
Online Availability

It varies a lot depending on my schedule, unfortunately.
Writing Levels

Advanced
Adaptable
Preferred Character Gender

Primarily Prefer Male
Genres

Psychological horror
Body horror
Supernatural
Giallo
Splatterpunk
Dark fantasy
Historical
Low fantasy
Magipunk
Weird West
Noir
Thriller
Gothic horror
Southern Gothic
Gaslamp fantasy
Cyberpunk
Space saga
Clockpunk
Space Western
Space opera
Paranormal
Modern fantasy
Dieselpunk
Post-Apocalyptic
Crime drama
Medieval fantasy
​
You are dead. For some reason or another, however, you're not quite ready to let go just yet. Something gave you so much reason to hang on to your existence that you've ended up in a purgatory-like plane…
​
Potter's Field is a shell of a city that once was, as much a ghost as you are. The buildings are old and crumbling, broken and rusted and abandoned.
But not entirely. You aren't the only ghost in town, it seems; others like you have found themselves here, in office buildings and hospitals and schools and apartments, in factories and alleyways and subway tunnels and parks. Some keep to themselves, but others just keep on doing the same things they did in life, going to clubs to socialize or theaters to view damaged film reels (although oddly, the only such to be found are home videos) or simply exploring the ruined cityscape. Each of them, you included, has a particular place that feels like home, a place that may be familiar (the house where you grew up, the hospital room you died in) or just somehow
right
. The locals call it a Haunt, and it is your only sanctuary against…
When a person dies and comes to Potter's Field, an Umbra is born. The Umbra are sinister presences, vaguely possessing human characteristics, but warped beyond recognition. They twist the world around them as they pass by, causing the surrounding room or street to reflect their appearance. At times, you might be taking a familiar route and find yourself in a different place entirely, a place shaped by the Umbra's essence. The Umbra hunts the one responsible for its birth, sometimes aggressively and sometimes with honeyed temptation. When a person is touched by their Umbra, they vanish, effectively killed in death. The true nature of these shadowy beings is uncertain to the denizens of Potter's Field; all they know is that if they want to continue their unlife, they must elude their Umbra.
Although there is no true time in Potter's Field, there is something resembling day and night. "Daytime" can be considered the city's "normal" state, when you find your Haunt a safe haven from the Umbra. At "night", all bets are off. The Umbra become stronger, influencing entire city blocks, and Haunts no longer shut them out. Sometimes, when more than one of the dead congregate in an area, the Umbra's environmental influences will bleed into one another, causing a blending of personal Hells for those involved. For the purposes of play, "night" and "day" happen at similar intervals to the earthly plane.
Artistic examples of an Umbra's appearance:
​
---
CREATING YOUR CHARACTER
​
What I really want to see from this roleplay is people having fun with character creation. Feel free to use pictures, if you like, to enhance your profile. If you're one of those people who don't have the patience for image hunting, feel free to ask me for help. I have lots of images already saved for this, anyway, and I might just have what you're looking for. As for the characters themselves, I do have a few rules.
I would prefer if you play a character that is recently deceased. Characters that have been around the city for a long time are allowed, but I highly encourage otherwise. Additionally, if you are joining this

after the initial character quota for the thread is met

, then you may only play a freshly deceased character.
You may, if you like, design and play your own character's Umbra. However, if you do NOT wish to, I will handle this for you. Please tell me which option you prefer. Keep in mind that if you do choose to play your own Umbra, you may find yourself doing a lot of self-roleplay interaction.
Not a rule, per say, but an additional note: It's been rumored that it is possible to make a bargain with the Umbra in order to continue unlife without fear of being taken. However, one has to wonder exactly what that entails… (No, this is not something you can do at character creation. Just keep it in mind if it sounds interesting.)
Profile Skeleton is as follows.
Name:
Age at Time of Death:
Days Dead:
Must now be left blank or left at one for character creation. Feel free to update this as the roleplay progresses.
Appearance in Life:
What did your character look like? Use an image if you like, but please describe in words as well.
Manifestation in Death:
Death is traumatic for all involved. As a ghost, this trauma reflects in your appearance, whether in obvious or in metaphorical ways. For example, the stab wound victim may have the knife still sticking out of their chest; or, alternatively, they may have an odd, perfectly round hole in the center of their torso. The victim of hypothermia may be covered in a thin layer of frost, or they may have blue-tinged lips and white hair. Again, pictures are encouraged but not an alternative to text!

Personality:
What is your character like as a person?
Cause of Death:
How did your character die? This shouldn't be a simple answer, like "drowning", but a full account of the circumstances surrounding their death.
In Life:
What did your character do before they died? Give a summary of their life history.
In Death:
How does your character feel about their death, and about their newfound afterlife? What makes them want to hang on? What do they do with themselves now? What are their goals?
Haunt:
Describe your character's Haunt. I especially encourage pictures as supplements here. Remember, your character's Haunt should reflect something about their life or their death.
---
If you have any questions or need any help, please ask here or PM me. I'd like to get at least six players to join in before launching the thread. And… go!