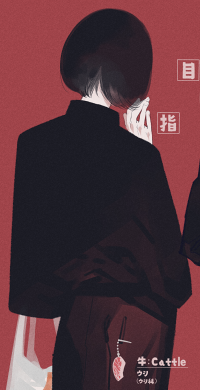 この世は でっかい宝島
Original poster
"In the northern darkness there is a fish named Kun. The Kun is so huge I don't know how big he measures. He changes and becomes a bird whose name is Peng. The back of Peng is so big I don't know how far it measures across, and, when he rises up and flies off, his wings are like clouds all over the sky. When the sea begins to move, this bird sets off for the southern darkness, which is the Lake of Heaven.

The cicada and the little dove laugh at this saying, "When we make an effort and fly up, we can get as far as the elm or the sapanwood tree, but sometimes we don't make it and just fall down on the ground. Now how is anyone going to go ninety thousand li to the south?

And the little quail laughs at him, saying, "Where does he think he's going? I give a great leap and fly up, but I never get more than ten or twelve yards before I come down fluttering among the weeds and brambles. And that's the best kind of flying anyway! Where does he think he's going?"

Such is the difference between big and little. Yet, are they not the same? Though their capacities are different, in adapting to their nature - they are the same."​
- Zhuangzi
​

They say that in the Lake of Heaven, far to the south, stands a tree named the Da-Chun. Its spring lasts 8000 years, and its autumn the same. It is where immortal beings lie, in a land of paradise. Though many have dismissed the Da-Chun as a mere legend, it had always intrigued the girl who always peered into the sky longingly.

The tugging of her chest hurt. And, unable to bear it, packs her bags and heads south on feet. She runs down the plains, going so fast her arms may as well be wings.

In the next town over, the girl has her destined encounters, meeting those tied to her by the string of fate.

Hello! This be an interest check for a Hero's Journey-esque roleplay, featuring four human beings whose origins come from the myth of Kun and Peng.

- relevant genres: fantasy, ancient world, eastern, wuxia(?), xianxia(?)

- four players, including myself. Peng, the Cicada, the Dove and the Quail.
- preferably long-term players, because all of you will be playing central characters + the occasional NPC.
- posting expectations: 1+ paragraphs would be nice, please write enough for other players to work with.
- posting speed: once a week, there won't be a posting order.
- romance between characters is okay, fade-to-black if players plan on having sexual content.
- collab run, while there's a general direction that we will be slowly moving towards, players are free to contribute their own 'mini-arcs' and ideas.