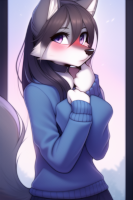 Hopeless Romantic
Original poster
Kaestol Kaes
. The capitol of the whole of Aer society. Built into the side of a mountain, hanging above the forest valley of
Aestaesar Mi.
The ancestral birthplace of the Aer, it held the seat of the council, and was a sprawling city with many an Aer living inside. Waterfalls fell from the high mountain, streaming down strategically placed veins and collecting in pools where the people could gather their own fresh water. Many walkways ended in nothing but air, places for a Pandrylyr to take off or land from, and also where many a lazy dragonwolf laid in the sun. Often seen in the skies were youths riding their windgliders and wild dragonwolves flying without a care in the world. It was an idyllic city, the gleaming gem of their society. And it was one other thing. The training city for new Taelesol.
Taelesol. The knights, the heroes. Every Aer was trained in the guardian arts to defend their homes from the dark menace of the Pasandrylyr, but a Taelesol was something greater than a whole team of guardians. They combined intense physical and martial training beyond that of a guardian, focused mental and magical discipline beyond that of a standardly-trained mage. Take that, the loyalty and shared instincts every Taelesol team shared, and their last advantage, and you got a force of fearsome fighters, the greatest warriors the Aer had to offer.
And what is this final advantage? The bond they share with their pandrylyr.
Pandrylyr. Dragonwolves. Two names for the same being. They are not gods, but they are sacred to the Aer. They are loyal companions and fierce in battle. Most pandylyr are born wild, but there's always a few in every generation that feel a call from the moment of their birth. They seek out this call, and do not stop until they find it. Their Aer. The young man or woman who will become a Taelesol, and fight side by side with the dragonwolf until they fall. To be a Taelesol is rare, and to be chosen by a Pandrylyr a great honor. Become a chosen, and you will soon find yourself in training.
And this, this is where our story begins...
------------------------
Kalorn Akamari was one of the latest to be chosen to become a Taelesol. He was as yet a chosen, and would be until he and his team passed their final test, but that didn't matter. It was now his destiny to become a Taelesol. The 15-year-old Aer looked out, far down the valley where he could see a gargantuan
pandrylyr soral
- dragonwolf titan - laying down in a far-off lake to cool itself off. He smiled a little and looked down at his partner.
Akhari, his brown and green pandrylyr, was plodding along by his side, looking stoic and strong with his imposing size and stature. Kalorn couldn't help but chuckle at that, and seeing a small pebble in their path, he kicked it. Akhari's eyes quickly went to the stone and he pounced, pawing at the pebble and barking to make it shatter. Kalorn nodded and smiled, turning his attention to where he was going.
A large disk suspended over the valley, with two doors leading into the side of the mountain. The training ring, the armory, and the barracks where he would now be spending his days with the other Chosen, those who would be in the same team as him. Eventually he would have armor, a weapon, Akhari would be large enough to ride and wear armor, and he would know how to use magic. Eventually, he would be a Taelesol.
But now, in this moment, there was no one around. Kalorn looked around the area once more before settling down to wait. Watching, wondering what kinds of Aer would be joining him for the rest of his life...