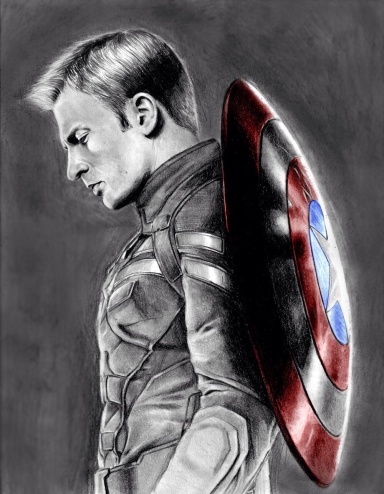 The Wanna Be Ice Queen
Original poster
Roleplay Invitations

One on One Roleplays, Private Convo Roleplays
Posting Speed

A Few Posts A Day, One Post a Day, A Few Posts a Week
My Usual Online Time

I try to get on everyday to check my alerts, but I can't guarentee a reply everyday.
Writing Levels

Intermediate, Adaptable
Genders You Prefer Playing

Male, Female
Playing Style- Passive or Aggressive

I am a mix of passive and aggressive. I have moments I am happy to take some direction, but I expect the same from my partner as I expect from myself.
Favorite Genres

Romance, Magical, Sci-Fi, Fantasy
Genre You DON'T Like

Furry,Horror

My name is Sarah aka Supernova. I have roleplayed on and off since 2008 utilizing various sites, and so far Iwaku has been my personal favorite. A few things about me... I am 21. I currently have two jobs, one is stocking shelves in my local grocery store and the other is as a DJ for my local radio station. I love video games and Marvel, and if it's sci-fi I am probably interested. I prefer Fxf or MxM, but I am open to MxF as long as there is an understanding that the male will not become the irrelevant character. I have had several roleplays that I played the male and felt like I was simply catering to the desires of the female character. Doubling with different stories is okay, but again don't give me a monologue for the female and a short paragraph for the male character. If I feel like it's unfair I will give you one warning and will leave on the second time.
Rules( Not fun, but completely necessary)
1) Two paragraph minimum (6 sentences)
2) No text talk and please try to use correct grammar.
*I am not expecting perfection because I am far from perfect, but I do ask that it's given in a way that I can understand what you are trying to say.
3) No God Mod- Don't try to control my character's thoughts or behavior.
4) Don't create a two dimensional character. No one is perfect at everything and no one eternally has a dark cloud over them. Give them flaws and skills, likes and dislikes.
5)If you get busy just let me know. If you get bored try to let me know so we can end the story or try to add something new. Please communicate with me.
Okay so that's basically it for the rules. I hope it was painless enough, and now we will move on.
Pairings
oblivious friend x crushing friend
jock x nerd
teacher x student
homeowner x housekeeper
oc x oc
servant x royal
citizen x royal
vampireXvampire
vampire x werewolf
werewolf x werewolf
Plots
​
-Muse A and B are individuals going on vacation. Turbulance due to a storm sends the plane to an emergency landing on a nearby island. It's obvious that the plane is beyond repair and that the survivors are stranded on this island. What could that spell for the passangers.

​

​

-It's the year 3015. Aerospace engineering has advanced by leaps and bounds. In this age, the average citizen can board a luxury spacecraft and venture out to see the sights of the solar system (A trip that would've taken roughly 11 years by 21st century standards now only takes 3 days and a few hours to complete!) It's still an experimental program and tickets are quite expensive, but for those who couldn't possibly afford the once-in-a-lifetime trip on their own, there is a lottery draw. Muse A and Muse B have been selected through the lottery drawing this year.While on the second day of the tour, a radio transmission is sent from Earth, warning that a huge asteroid is headed directly for the planet; this could spell disaster for the world as Muse A and Muse B know it.​

​

​

-A merperson was born to the king of the sea and due to that was expected to be married to another of their kind to keep the family crown. Muse A never wanted this life, always wanting to know what was out of the water. Muse A constantly would observe those on the shore, and would dream for a day they could walk on the shore. Muse B was a human that was always interested in the ocean and it's vastness that was still undiscovered. They were slightly skeptical of anything mystical. If they couldn't see it they didn't believe it could be true. One day Muse B found themselves at the beach, far away enough from the crowds for Muse A to feel comfortable to come closer to observe the human. Only Muse A gets caught by Muse B, to the human nothing seems odd since they can only see the upper half of the mermaid and simply assumes they are another person. Muse A goes into shock and immediately flees leaving Muse B to just stand there. As days go by Muse B returns to the shore, but will they ever get to meet the stranger that they couldn't get out of their mind.

​

​

-Muse A is coming of age in their magical family. On their 18th birthday, they learn what element (water, air, earth, or fire) they have been gifted with. Muse A has been under the impression and hope that they will have inherited the same element that their parents and grandparents have been blessed with, however they come to discover that they have been bestowed with the opposite element. According to rules set forth in the family's grimoire, Muse A must learn to master their gift from a witch/warlock who possesses the same elemental power as they do. Muse B, who has the same element as Muse A, becomes Muse A's reluctant mentor. Muse B is brilliant and powerful, but lacks in the department of manners and compassion, especially when Muse A shows difficulty harnessing their new abilities. Muse B is condescending and impatient often without provocation. One day, Muse A meets their wit's end with Muse B's treatment and they demand to know why Muse B is so hostile toward them. Muse B reveals that they come from rival families and they are only teaching Muse A due to the terms of a 1,000 year old truce. Once Muse A has mastered their gift, however, the ceasefire will be over. And the families will once again be at odds.​

​

-Muse A and Muse B are two halves of an A-list celebrity couple. Together, they have millions of adoring fans and millions of dollars to spend on whatever they could possibly desire. Despite the occasional tabloid article, Muse A and Muse B seem to be living a Hollywood love story, complete with cozy rendezvous in VIP sections of the hottest nightclubs, romantic dinners at the chef's table in the trendiest restaurants, and affectionate touches on the red carpet at public appearances. Being as famous as they are, Muse A and Muse B are mobbed by paparazzi everywhere they go. Outside of their glamorous, gated home, the star couple can't get a moment of privacy. But that's perfectly alright with them because the truth is that Muse A and Muse B are together strictly for publicity. Behind closed doors, Muse A and Muse B absolutely despise one another and they secretly do everything they can to sabotage the other's career.​
- A young royal of a small country was visiting the United States for business. Muse A enjoyed her extravagant life, but just wanted adventure. They wanted to just feel like a normal person, and with the strict security it was nearly impossible for her to feel normal. That led Muse A to do what anyone would do in that situation, sneak out and go exploring the city for herself. Muse B was on their way home from an exhausting day at work when they saw Muse A wandering around obviously completely lost. As tempting as the idea of crashing on their couch of their apartment to reruns of Friends sounded they couldn't help but feel the urge to help the stranger. As the two spoke secrets came out and Muse B felt an even larger obligation to give their new royal friend a great American night. The connection is immediate and its obvious to both of them, but Muse A returns home in the morning.
​