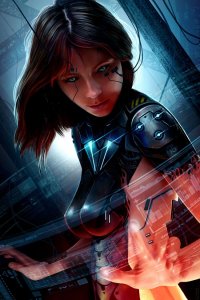 The Murrstress
Original poster
LURKER MEMBER
FOLKLORE MEMBER
Invitation Status

Not accepting invites at this time
Posting Speed

Multiple posts per day
1-3 posts per day
Writing Levels

Adept
Advanced
Prestige
Douche
Adaptable
Preferred Character Gender

No Preferences
Genres

Scifi, Fantasy, Modern, Magical, Horror, Noir, apocalyptic, Grimdark, yaoi, yuri, anything really.
It's the season of "Trick or Treat!" Everyone's involved in some way in the festivities, either buying candy or costumes, decorations to make your house look better than the rest, or just make it scare the pants off of any kid who dares to step onto your porch. It's a season parents look forward to, AND dread: to see their children in wonderful store-bought or handmade costumes, but also to repeatedly warn them to not eat candies that seem to have been tampered with.
It's a season of mindless horror movies, where friends pile into one house, watch movies until they're too scared to go to the bathroom alone. It's fun, and many wonder why school isn't canceled in the celebration for that day.
Regardless, some unlucky shoppers bought their perfect Halloween attire at a little "hole-in-the-wall" place, "HALLOWEEN BOO!", looked creepy, but legitimate. They were fooled, the costumes they bought are like something out of a Goosebumps' book! The costumes transform you into the real thing! The only thing is:
You can't seem to take the costume off after putting it on!
You can try it on at the store and it doesn't do a thing, but the second you wear it outside of that shop, it transforms you into what the costume mimics.
We follow the stories of some unlucky few and their friends and their struggles on this fateful seasonal holiday!
Now, you can play one of the unlucky holiday go-ers, or you can be a regular person with a regular costume, dragged into the events for a fun ride. This RP is in the time set that it starts a few days before the fateful night. So you can have some costume malfunctions early in the game and throughout. Keep in mind, this is not age sensitive. The costumes are just as likely to affect a twelve yr old as they are to effect someone in their thirties or older.
CHAR SHEET:
Name:
Appearance:
What are you for Halloween:
Is it a cursed costume?: (Yes/no)
Age:
Personality:
History:
*************
Name: Chestel Ardor
Appearance:
What are you for Halloween:
Is it a cursed costume: Yes
Age: 21
Personality: Chestel is a bubbly, happy-go-lucky girl, somewhat spoiled, but she makes up for it by working hard when she puts her mind to it. She loves her friends and will go to lengths to make sure everyone's having a good time.
History: Chestel thought it would be fun to wear a scary costume this year, so she went to this weird, odd place that looked like it was about to be condemned that had the title of "HALLOWEEN BOO!" She bought a Grim Reaper costume and then went and set up for a bit of a Halloween Ball she was coming up with for her friends that's going to be on Halloween, in three days. Practically all the town is going to the ball apparently, due to the fact that she throws great parties. She's expecting this year's ball to be spectacular!