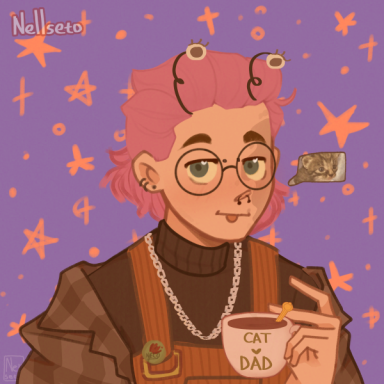 waking ups a drag
Original poster
Roleplay Invitations

One on One Roleplays
Posting Speed

Speed of Light, Several Posts a Day, A Few Posts A Day, One Post a Day
My Usual Online Time

12 pm-10:30 pm (with some exceptions)
Writing Levels

Give-No-Fucks, Beginner, Elementary, Intermediate, Adaptable
Genders You Prefer Playing

Primarily Prefer Male, No Preferences
Playing Style- Passive or Aggressive

Passive more, though occasionally I'll do aggressive
Favorite Genres

Fantasy, Mystery, Scifi, Romance, Yaoi, Yuri, Horror
Genre You DON'T Like

Furry

"Okay. It's jusr... I guess you seemed mad at me for a second? I don't know. It's complicated," he explained after a pause. "Besides, I do want to know more about you. I mean, you'll be hounding me for stuff about myself but I guess I just want to hound you right back? To make it even, you know? I-... I'm sorry, this is all just a bit nerve wracking, yeah?" He explained with a nervous laugh before taking a seat at the cafeteria, taking in the other patients with pursed lips.

While he loved to get on with nurses, he never really felt like he fit in with the others. They didn't understand his situation, after all, so would touch him despite being incredibly uncomfortable and inevitably would cause the man to have a panic attack. It was clockwork and he figured it was just better to stay away from them, period. If there was one way to get on Casper's nerves, it was to touch him without permission.

"Do you have tea?" He questioned once sitting down and letting out a deep yawn. "Something caffeinated, at least until 5. My sister calls almost every day when she wakes up and I don't want to miss her call," he admitted rather proudly. While he was left behind by his father, it was nice to know his sister cared so much about him. She may not know it but Casper wasn't afraid to boast about how successful she was, never being particularly jealous because he could easily throw his art back at her, knowing she didn't have the coordination for art. "She usually visits for her summer, comes down here in winter," he explained.