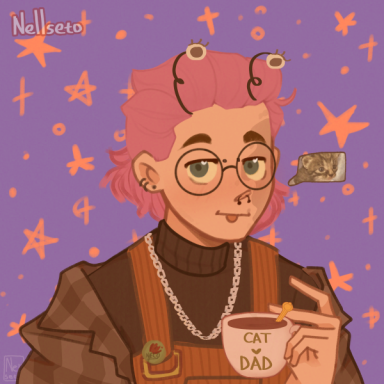 waking ups a drag
Original poster
Roleplay Invitations

One on One Roleplays
Posting Speed

Speed of Light, Several Posts a Day, A Few Posts A Day, One Post a Day
My Usual Online Time

12 pm-10:30 pm (with some exceptions)
Writing Levels

Give-No-Fucks, Beginner, Elementary, Intermediate, Adaptable
Genders You Prefer Playing

Primarily Prefer Male, No Preferences
Playing Style- Passive or Aggressive

Passive more, though occasionally I'll do aggressive
Favorite Genres

Fantasy, Mystery, Scifi, Romance, Yaoi, Yuri, Horror
Genre You DON'T Like

Furry

Casper had made a mighty journey. Originally taking residence in a facility in Adelaide, his last therapist was so desperate to get rid of the man that he had to have a nice assisted ride to Sydney. He had become accustomed to picking his life up and leaving it behind so the transition didn't take long. Because he wasn't deemed a danger to others, he was given an introduction to everyone and prepped for his first meeting, though only to give Nathan proper time to fully study his file. After all, no one wanted the patient to stroll into the appointment only to have to handle something particularly dangerous, right?

This particular hospital was lovely. He was given a room all to himself as long as he had supervision of security cameras and the bed he was given was wonderful. Sure, he was used to being treated like a child what with not being allowed to have even the slightest of a sharp object, though he found the whole thing insulting. In fact, he felt being locked up away was insulting in itself, though that didn't mean he would be rude. He knew that the doctors and nurses that had been seeing him for the past three years had good intentions... even though they were completely wrong. Not to mention the fact that nothing seemed to help, either. He didn't know how but the monsters still managed to sneak into his secure room, the sight being caught on tape that just showed Casper quietly babbling in horror as he stared at a stringy, overly stretched man staring back at him, wheezing. He never knew what to say when the monsters seemed to approach, or when he found the walls ooze with black slime, though for the most part, they would eventually go away. There were some things that never seemed to leave, and he noticed right off the bat the piles of decaying flesh just casually on the side of the hallway, nearly causing him to vomit on sight. The only thing he could do to distract him was to get to know the nurses and focus his energy on that rather than his fear.

He managed to only have one panic attack in the last two days, which was a good record. With some things, he had become used to, with one particular monster seemingly following him all the way from Adelaide. He almost found comfort in the creature, it resembles a large centipede with a cat head. There were a few others that were regulars and he'd often praise them and happily discuss them with nurses, making a note to mention them whenever they showed up. While most of the monsters didn't understand him and his language, he would take it upon himself to talk to that particular creature and the nurses made note that Casper had seemed to pump himself up with the help of said creature before meeting Nathan.

He wanted to make a good first impression, after all. He was never rude to any of his doctors or nurses and for the most part genuinely tried to make an effort to understand, though he would unintentionally seem rude when he dismissed whatever they had to say. He didn't want to have to be shipped somewhere else so early so being on his best behavior was probably a good idea, he figured. So, when led into Nathan's office, he offered a nervous smile while his gloved hands fiddled with one another. He tried his best to ignore the bloodstained walls, instead locking eyes on the doctor's paperwork.

"Hello," he greeted quietly, as he sat up in his chair. "Ah... It's nice to meet you. I'm sure you know my name but I'm Casper - it's on my file, right? It looks pretty thick," he noted, only to grow quiet when his attempt at initiating small talk failed. That was supposed to be the doctor's job, right?