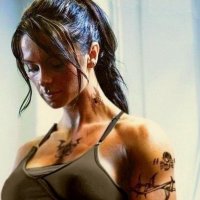 Pain and Pleasure 2 sides of the same coin!
Original poster
So basicly I'm curius to see diferent stances and opinions on the subject; open relationships, are you in one or not, are they even possible or not? Their complexitys, viable or non-viable long term, how you feel jealusy might affect them, emotional impact, etc, etc.
Myself, I'm a big advocate of them, being involved in one for over 5 years now. I'd say thats pretty long term, I wont lie and say my BF and me havent run in-to a few bumps while pursuing it, but we alvays managed to smooth out any rough pathechs and keep going vith it. Personaly, the main appeal of a open relationship for me, is the dynamic nature of it. Not being limited to just one partner all the time, tends to make life interesting! Not to mention unpredictable, which I like. In a way, it actualy makes me more apreciative of the chemistry my BF and me have - that we are able to keep our deeper romantic interest for each other, even with all the... off-channel shal we say... adventures we both have fairly often. They just add a litle spice to it all, but they dont afect our connection, being litle more then a quick fuck/one night stands. Jealusy dont even enter in-to it most of the time, since both of us are aware of the diference betwen love and simple lust. Which is good, to keep that perspective, since I can be a rather jealus woman vhen that mood strikes me! But I think that actualy makes it more fun for me. The competitive nature of it all, and the satisfaction I feel vhen he states how much more... intense... I am in bed, compared to some woman he took on a date on one of his frekvent business trips. Or the indignation I feel, vhen he - casually - implys I met my match hehehe! And ofc that goes both ways - he gets his own... motivation... to wear me out that much better in the sack, vhen I start comparing him to one of my litle conquests (more then a few to choose from, I'm quite the huntress vhen it comes to men XOXO ). Mutualy competitive motivation to keep the fire going, in a way! So in a sense, it actualy helps our own relationship to stay heated, thats the kind of logic I see in it. Ofc, I see the other side of the coin there, the fact that both of us are so comfortable in this arangement, means neither of us is quite ready yet for a real comitment. Vhich is true I supose.