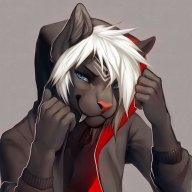 Social Pariah
Original poster
FOLKLORE MEMBER
Invitation Status
Posting Speed

Speed of Light
Multiple posts per day
1-3 posts per day
Online Availability

9:30 AM - 2:00 AM [Eastern US Time Zone]
Writing Levels

Elementary
Intermediate
Preferred Character Gender

Male
Female
Genres

Fantasy, Magical, Furry, Action, Adventure, Romance, Demonic, Religious, future, past, japanese culture, pseudoscience, Anthro, Twincest,
Okay. So I'm running low on RP, the special fuel that runs my entire existence. I am here to search for more sources of this valuable fuel. I will be posting my Plot Bunnies here,
no CSs whatsoever
. If you would like to do an RP with me you must be both 18 or older as well as a female. (No offense to the transgender community, but I will not be RPing with any males who identify as female either. I have a very strict regime about who I RP with).
These RPs will not be family friendly and most likely NSFW. These RPs will NOT use anime physics, but I'd appreciate it if you used Anime-style images for character sheets and references.
Here are my bunnies.
-Demon X Human (corruption)
-Demon x Human (Purification)
-Human x Human (Magic involved)
-Royalty x Commoner
-Thief x Merchant
-Librarian x Reader/Author
-Musician x Musician (of different genres)
-man-made deity x Human
-Sub/metahuman x sub/metahuman
-Cyborg/ altered human x scientist
That's what I've got so far, will be adding more. For further details, read my resume.
Note: I apologize in advance if my characters turn out to be the Deus or Diablo ex Machina of the RP.
Edit: I will be including CS's of mine if you would like to see a specific example of a character.
[fieldbox=Characters, Red]
[/fieldbox]
Last edited: