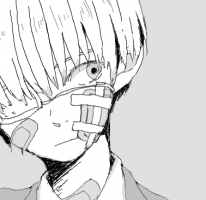 The dashboard melted, but we still have the radio~
Original poster
[fieldbox="Dominic Tisher, black, dashed, 10"][bg=#404040]
Dominic watched as Cecilia approached, glad that she had found him. "I... I don't know. There was an elderly man, with such terrible eyes..." Dominic shuddered, tilting his head away to give Cecilia access to the wound. He was too busy trying to stay upright to care for it himself. But, Dominic wanted to get away from the streets as fast as possible- who knew if the creepy old man would come back?
He made a move to stand, and tentatively took the handkerchief from Cecilia. "

Thank you

..." Dominic pressed it firmly against his neck and stood up slowly- the dark street instantly whirled into a deep grey void around him, and Dominic took an unsteady step backwards.
"

Let's go... back

." He pressed his fingers into his eyes, clearing up the strange vertigo taking a hold of his stomach. "

I need to sit down

..."
[/bg][/fieldbox]
(( Ikr? xD ))