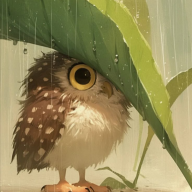 FROSTED MURDER MARSHMALLOW
Original poster
ADMINISTRATOR
MYTHICAL MEMBER
Invitation Status

Looking for partners
Posting Speed

1-3 posts per week
Slow As Molasses
Online Availability

10AM - 10PM Daily
Writing Levels

Adaptable
Preferred Character Gender

Female
[bg=#000000]
[/BG]
There it was. One of the largest bars on the
bad
side of town. Filled with gangsters, looters, criminals and all sorts of the undesirables in one easy to find location. No one in their right mind came here looking for workers.
But Careen Calliente wasn't exactly known for having the sanest of ideas.
Strolling in to the joint, she caught immediate attention. Just as she was hoping. Dressed in an all-too-fancy business suit, Careen looked like she was about to walk in to some meeting about Global Economy, not ask for a drink at the bar. Grinning wide and resting her hands on her hips, she made a loud
AHEM
. Making sure to get the attention of anyone that hadn't bothered looking back at the door.
"GENTLEMEN. I bring anyone listening a proposition."
"HEY THERE, LADY! I GOT YOU A PROPER POSITION RIGHT HERE!" chortled somewhere from the back.
"Har de har har. I'm serious, assface. I have a job. A nice big fat juicy one if you're man enough to take it!" There was some snickering, but no one else was chiming in. Careen went on! "As some of you might know, I am Careen Calliente and I now own a good forty-five percent of this shiny little planet. Big enough to start a
country
. And that's just what I aim to do! So I'll be needing some minions in my country, maybe an army, nice towns people, an-"
That's about when the whole room erupted in to laughter. Careen's fingers tapped in irritation. It figured no one would take her serious. "LAUGH IT UP. I'm offer cold hard cash and property! At least one of your stupidass drunks want to do more than piss your day away, right?"