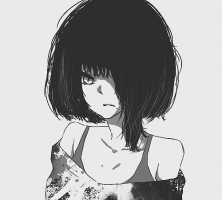 ♡multidimensional traveler♡
Original poster
FOLKLORE MEMBER
Invitation Status
Posting Speed

1-3 posts per day
One post per day
1-3 posts per week
One post per week
Slow As Molasses
Writing Levels

Adept
Advanced
Adaptable
Preferred Character Gender

No Preferences
Genres

Slice of Life, Modern, Horror, Mystery, Drama, Fantasy, Angst, Tragedy
*This is a roleplay between myself and @Nightfall please do not post if you're not her but feel free to read *
Plot
The way she looked at him, the way she talked to him, the way she had dressed for him. It was obvious that Katherine Matthews was in love with Brayden Grey. But she wanted to keep it a secret, she didn't want anyone knowing about the love they shared. So Brayden went along with it, he sent her letters expressing his love to her, he began trying to better himself for her, he sent her gifts, and left her notes. Brayden didn't want to keep their love a secret, he wanted everyone to know how lucky he was to have been loved by someone such as lovely as Katherine. But Katherine continued to act like there was nothing there until everyone stopped watching. Then, she would shoot him glances and smile. And the perfume she wore, she knew Brayden had liked it. She wore it for him. Even if they couldn't express their love the way he wanted, Brayden made sure that Katherine understood that she was the love of his life. His life had been so crappy up until the point he met Katherine. She was everything Brayden ever wanted and somehow Brayden had convinced her to love him too. Nothing would ever come between them, and Brayden would make sure of that.
________________________________________________________________________________________
He was just a normal customer. He hadn't meant anything other than that. Katherine noticed how shy and awkward he was but he seemed sweet. He just needed a friend, that was all. Katherine always slipped him an extra piece of bacon and smiled at him when she caught him staring. He was a bit weird but he left large tips and even sweet little notes every time he visited the restaurant. It wasn't long before the letters started. It was extremely eerie. The writer (he never wrote his name) wrote intimately about how much he loved Katherine and how one day they would live happily together. He wrote about how he was nothing and she was everything. When the letters hadn't stopped coming, Katherine began to grow worried. How had this man known so much about her? He always sent gifts and money and roses. What was she supposed to do? She didn't even know who this man was!
​
"Kill 'em with kindness."
Full Name; Katherine Diligence Matthews
Nickname(s); Kitty, Kat, Kathy, Kit
Age; 24
Gender; Female
Birthday; 5th July
Katherine "Kitty" Matthews is a young woman who only partially matured; she still loves childish things, has a prominent stubborn streak, and is often painfully oblivious to the bad in people. Yes, Kitty only usually notices the good traits that people have and essentially blocks out anything negative, but it'd often her downfall; she's too trusting and naive, and is usually in denial. It's her mentality that led her to be trapped in an abusive relationship for a time, and it only ended because one of her brothers intervened after a hospitalisation. A very positive girl, Kitty always tries to look on the bright side of things, and this can become rather tedious if you're a realistic person rather than a dreamer. Obviously, she isn't stupid and understands when she's in a bad situation, she just tends to remain in denial and refuses to accept the truth.
When angered or upset, Kitty can be quite catty, for lack of a better word, and if you know her to be a sweet, calm little thing, it can be pretty comical to see her acting 'sassy' and lashing out with her words. Her tempers don't usually last long, though, and she'll often go to sulk instead.
As well as being sensitive, Kitty is rather jumpy and gets frightened easily; she's squeamish, too, and can't stand to watch horror films because she's afraid that she'll get nightmares.
Katherine was born in Milan, Italy, but her parents gave her up and she was adopted by an American family who renamed her. Her adoption was never a focus for Kitty, as she figured she couldn't miss her biological family if she never knew them, and simply got on with her life. The Matthews family own a restaurant, and as soon as Kitty was fourteen, she got a job there as a waitress; her waitressing job is a lot of fun for her, as she adores meeting new people and is a real hit due to how friendly and bubbly she is most of the time.
Name:
Brayden Oliver Grey
Gender:
Cisgender Male
Age:
26||December 21
Personality:
Though his schizophrenia is a huge part of him, it isn't the only thing that makes up his personality. Brayden is a neat, and organized person, almost to a point. His mind is a bit scattered but Brayden is a determined male with the lack of confidence he would need to be ambitious. Introverted, outspoken, shy, and insecure the male is easily manipulated and naive. Socially awkward and oblivious, Brayden is often overlooked or labeled an outcast. He's obsessive and imaginative, not a very good combination. Although it may seem like he is just a weirdo neat freak that doesn't seem to mind being bossed around, the voices in his head are always so dark and violent. Sometimes he ends up giving in to them, considering how weak he is and other times he's struggling to try and keep them from taking over.
History:
Brayden was born into a broken marriage of an alcoholic and beautiful angel that had bad judgement and believed she could fix broken men such as his father. He was used to his father coming home drunk after work and beating on Brayden and his mom. Of course, his mother always tried to protect the boy but it only ended up making the situation worse for herself. A control freak, a coward, and stupid his father had Brayden homeschooled and made his wife quit her job.
At the age of 10, Brayden's mother had finally decided that nothing could fix her husband and decided she and Brayden would leave while Brayden's father was still at work. Just as they were leaving, Brayden's father came home furious at what he discovered, accusing his wife of trying to take his son away and ruining their family. He wouldn't stop beating his mom, even when she stopped whimpering and begging for him to stop. He wouldn't stop when Brayden cried out for his mom and he watched the life disappear from her eyes. But his father wasn't finished. He couldn't let someone see what he had done! He needed to make sure he wasn't caught.
His father was quick to stab Brayden. He had only stabbed him once, aiming for his heart, fortunately the man had switched his left and right, and stabbed Brayden on the right of his body. Brayden held his breath, pretending to be dead and the man made the mistake of turning his head and Brayden grabbed the knife out of his body. Walking back to his "dead" son, Brayden's father had no idea what happened when Brayden stabbed him in the eye and ran.
After being found almost dead by a family, they rushed him to the hospital where he was saved. Remaining mute for the next 6 years, Brayden said nothing when his father was arrested and refused to go to his mother's funeral and no one knew of the voices in his head. The boy remained in foster care until the age of 18, where he found a minimal wage job and rented a one roomed apartment where he slept on the floor. Finally, after 4 years he found a steady job and moved into a decent apartment where he had furniture. And when he met Katherine, the love of his life.
Calander And Weather
daтe
janυary - ғeвrυary - мarcн - aprιl - мay - jυne - jυly - aυgυѕт - ѕepтeмвer - ocтoвer - noveмвer –deceмвer
01 - 02 - 03 - 04 - 05 - 06 - 07 - 08 - 09 - 10 - 11 - 12 - 13 - 14 - 15 - 16 - 17 - 18 - 19 - 20 - 21 - 22 - 23 - 24 - 25 - 26 - 27 - 28 - 29 - 30 – 31
Weaтнer
ғreezιng - cold - cнιlly – cool - coмғorтaвle – warм - нoт- вυrnιng
ғυll cloυd coverage - мoѕтly cloυdy – ѕlιgнтly cloυdy - alмoѕт no cloυdѕ - clear
нυrrιcane- тнυnder&lιgнтιng - poυrιng - raιnιng – drιzzlιng - мιѕтιng- ѕleeтιng - нaιlιng – ѕnowιng - ғog - clear
powerғυl wιndѕ – very вreezy – вreezy – ѕlιgнт вreeze – no wιnd
тιмe oғ day
jυѕт вeғore ѕυnrιѕe – ѕυnrιѕe – laтe мornιng – мιd-day – evenιng – ѕυnѕeт – nιgнтғall – мιd-nιgнт
​