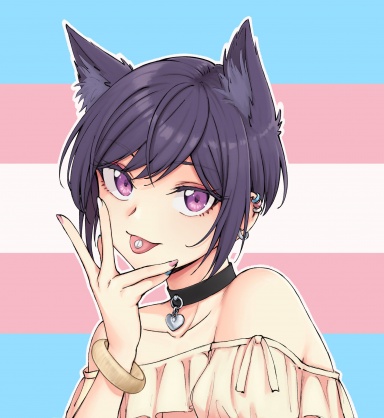 Useless Goddess
Original poster
Despite being apparently nomadic the Uhar did seem to have surprisingly complex clothing and tools, though it didn't seem like they had any material nearby, perhaps they had more than one camp? They also seemed to have surprisingly little food stored, the... Syol? Had food everywhere, were growing and storing and hunting it, and likely saving some for winter, there was also a smell of... Burned flesh in the air? It was incredibly similar to the smell from the ruins... With the mixed in smell of rot, it was unpleasant and it seemed both of the tall companions and the Bull cat were not comfortable with it, so it probably wasn't normal, Lizzy seemed positively queasy!

Hin seemed to guess what Ratty wanted by looking at him and nodded the affirmative, Ratty could already feel something tiny shift inside as a word changed in their understanding, likely meaning that Pearl had updated their outdated definition with the new word, though it was currently not known whether it applied to all elven peoples or just that one particular group or maybe even certain sub groups of elves, something that would need to be resolved through further questioning when they were not engaged in an important quest!

Daoin decided to translate, seeing as they were closest to the Uhar's height, and they wanted to show off their ability to clearly convey a message in front of their new friends! Especially since as they knew the Uhar well, this might be one of the few times they would be confident enough to do so!
The Uhar's answer was strangely completely intelligible to Ratty, in fact it was exactly the same as the Syol language with just some minor accents and pronunciation changes.
"Elder was not expecting guests... We were... Surprised, by two odd humans, one was very ill, they tried to steal Sap, stole honey instead, Elder had to use flames to save the sick human's arm, she is now talking with spirits, to see if the arm will survive".
They explained, halting slightly, it seemed some of the words were more awkward.

That sounded familiar though, in fact it seemed Ratty may have found their missing idiots! Most likely they were the source of the smell, or rather the injured one was, and if so... Even Ratty knew that the smell in the camp was not good at all, it had only happened once, but an older rat had died with such smells around them after fighting off a large feathered flyer.
The Uhar were clearly better at fixing things but it was impossible for Ratty to know if they could save them, assuming Ratty wanted them to live anyway.
"Oh... I didn't know him well... But I hope that smell doesn't mean it's too late for Gora... He was nice enough to me..."
Lizzy commented, it was quiet, wouldn't be heard by a normal human most likely, of course everyone there seemed to have heightened senses.