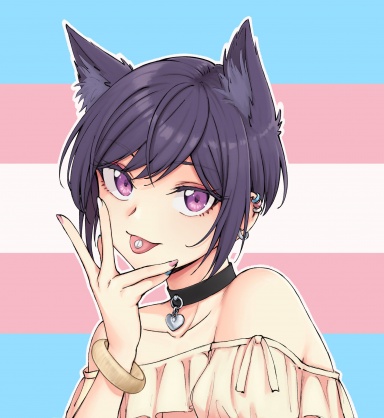 Useless Goddess
Original poster
FOLKLORE MEMBER
Posting Speed

One post per day
Multiple posts per week
1-3 posts per week
Writing Levels

Intermediate
Adept
Adaptable
Preferred Character Gender

Female
Transgender
Genres

Yuri, Magical Girl, High Fantasy, Sci-fi, Ray-gun Gothic, Mecha, Steam punk. Scifi Apocalyptic,
Darkness... That's all you knew, was...was this the afterlife? Or perhaps just a limbo for those who just couldn't go on? You had no sensation, no breath, no name, in a moment of clarity you realized you didn't have a body either, yet were unable to feel any emotion in response to this, at least wherever this place was seemed to have a calming effect... Maybe you could just sleep...
An indeterminable time later you awakened, if indeed you had been sleeping at all, and felt rather than saw a dim light, just as you felt the words that soon filled the void.
"There you are! Humans are usually so easy to find here... Well, it only took a little while longer than expected... A few years at most, now... Let's take you somewhere safer, I'm not actually supposed to be here you see..."
Moments later things seemed to change, it was still dark, but felt warmer? In an abstract way though, there was still no physical sensation.
"So... Introductions introductions... Hi! I'm your guardian angel! Well, not really but I always wanted to say that... I HAVE been watching you though... This world hasn't been kind to you... And really you don't seem to fit it at all! But don't worry, I'm gonna take pity on you and help you out... It won't be much, if I made you a king or something I'd get in trouble... But you'll be free at least, I'll even put you in a safe place! No mean humans or angry predators at all, and plenty of friends and family to keep you company!"
The voice was an odd mix of calming and energizing, and the owner seemed to have some genuine care in their tone, though it was difficult to tell for sure while only perceiving words in this strange way.
"Now now, no need to thank me, you couldn't right now anyway! Anyway... This... This is probably gonna be kinda weird for you, but I'll do my best to make sure you can use your new body... And can learn to fit in faster."
The voice assured, feeling perhaps just a little apologetic.
Well, have a nice life! And if any spirits give ya trouble tell em I sent you!"
With those last few words everything faded...

Moments later, a rat like creature came into existence, the grass was long enough that no other rat had noticed the suddenness of the appearance, but they certainly noticed the cries of a cold, confused baby, the being had delivered on it's promise, placing the soul within a body where they would be safe and surrounded by kin, but sadly, the creature's new brain was simply too simple, and all memories of a past life were sealed, too confusing to parse.
Fortunately the rats were at heart, kind creatures, and with how their numbers had dwindled over the years, they were glad for every child, one father rat in particular had been looking for food for it's new born family... And quickly discovered and retrieved the lonely child, after all, one more child was more warmth in the nest!
The mother rat was more than happy with this new family member, and would raise it as her own.