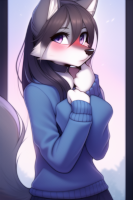 Hopeless Romantic
Original poster
<

Jessica2477
DangoYumi

Red Thunder
Lore Magus
>
The Tenacious. One of two ships sent across the strait from the Ninja Lands to the Stolen Lands. They had been commissioned by the kage council to make landfall and bring the many bandit clans to heel. Most considered this to be an easy commission, because once the clans were united under the kage council, the clans had quickly began to mingle and create strong bonds. Even with the relative newness of this peace, few doubted that the ninja sent on these ships could deal with disparate bandit clans.
Among the ninja and civilians on the ships were a number of shinobi skilled in the terraforming arts, since the Stolen lands were said to be a mess of different biomes. The hope was that they could create a well-balanced landfall village for everyone to live in, and to be a base of operations for the other section of shinobi. Teams of Chunin had been assembled on the expedition. Each would be under a Jonin, and would each complete missions in order to take the clans down.
-------------------------------
Hasaki Buredo was one of these chunin, assigned a team that had already been dubbed 'Team omega.' He wasn't the happiest with the name, given the way he had grown up, but he was determined to turn that name into a point of pride. He had arrived at the meeting room early, pacing around the table while a brilliantly colored wolf sat in a corner, watching him as he walked around the central table time and again. The young man was restless on the ship, he wanted to get out there. He wanted to spar, to scout, to do
something
to get this energy out. But he also wanted to meet his new team, to get to know them and build their bonds.
The waiting was simply driving him crazy.​