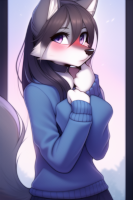 Hopeless Romantic
Original poster
Please PM me your sheet for approval before posting!
OOC THREAD
Name:
Age:
Gender:
Neoknight Classification: (Enforcer, Shinobi, Battlemage)
Ranking: [Rank] (Rookie, Officer, Detective, Veteran) [danger grade] (F, D, C, B, A, A+, S, S+)

Appearance: (Pic, Description, Hybrid are all acceptable)

Equipment: (Pic, Description, Hybrid are all acceptable)

Personality: (Optional)
History: (Optional)
Name
: Jendon Makkal
Age
: 19
Gender
: Male
Neoknight Classification
: Shinobi
Ranking
: Rookie C
Appearance
Equipment
: Standard Shinobi Armor,
Variable-Shock Sword
, Custom Drone (C-Drone) -
Jakob
Personality
Jendon is a kind young man with a strong sense of justice. He knows the difference between right and wrong, but feels content to skirt that line at times in order to keep the peace and people safe. He is a skilled hacker, more than one might expect from one without nenergy inside him, and he uses this skill to crack criminal systems and otherwise use tech to assist in his job.
He also has a good amount of technical skill beyond hacking, able to fix machines and even build one, as evidence in Jakob. Jakob is a drone with a shackled, friendly AI whose job is mostly to scan and assist investigations. He is made to withstand combat, but not contribute.
History
Jendon grew up in what was, outwardly, a normal life. He went to school, did his work, and went home. But going home was always what he dreaded. From an alcoholic father who wanted a more muscle-bound son to a promiscuous mother, Jendon hated his time at home. The only solace he had was a rudimentary computer which didn't even have internet access. He spent this time pulling it apart and finding out how it worked.
This mechanical skill, as well as an interest in the nenergy crystals that were an integral part of all circuitry, drove him to join the robotics club in mid-learning. Not only did it keep him out of the house, but it allowed him to build something with his hands, as well as network with other people. Though he originally started as a mechanic, he quickly shown an aptitude for computing and soon pulled double duty - triple, if you count being team captain. During this time, the original Jakob was built as a companion and side project.
Under his leadership, his mid-learning team won all three years he was there. Then, with the first year of high-learning came tragedy. His mother was found dead in a hotel, and his father's abuse was getting worse. Despite this, they were both family and Jendon was determined to find out what happened to his mother. When even the Neoknight sent to investigate was hit with stonewalling, Jendon took matters into his own hands.
He hacked into the hotel's systems, and brute-forced his way to the information that he needed, but not necessarily what he wanted. What he found pointed to the fact that his mother had gone their for another one of her rendezvous, but that this one turned out to be his father.
With a heavy heart, Jendon anonymously sent the data to the Neoknight and his father was arrested for the drunken murder. That should have been the end of it, but as an inexperienced hacker he had left behind traces. And when the hotel called upon that same Neoknight to press charges on the young man, he was instead recruited into the Neoknights. He already had the skills, all he needed to do was train his body, to learn the speed and stealth of a Neoknight Shinobi.
Last edited: