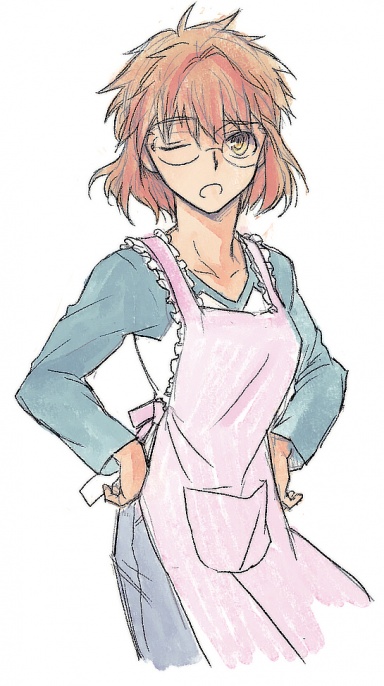 Mystic Eyes of Depth Perception
Roleplay Invitations

Group Roleplays, One on One Roleplays, Chat Roleplays
Posting Speed

A Few Posts A Day
Writing Levels

Give-No-Fucks, Beginner, Elementary, Intermediate, Adept, Advanced, Prestige, Douche, Adaptable
Genders You Prefer Playing

Male, Female
Favorite Genres

Sci-fi, Magical
Is this any good,

VanceXentan
? I didn't fill in the jutsu section, mostly because I don't want to google all the applicable ones until the rest of her is all good.
And yes, she is a blatant ripoff.
Character Sheet:
Name: Rei Yamauchi

Nickname/Alias: The Ghost of the Rock, The Bloody Traitor of the Rock

Gender: Female

Age: 24

Birthplace: The Village Hidden in Rocks

Clan/Bloodline: N/A

Rank: (Regarding your rank, if you had one, before you left a village) Jounin

Chakra Natures: Earth

Appearance: Rei is 155 cm (5'1") and 45 kg (100 lb). She's slender and lithe, and she typically wears a skin-tight white bodysuit underneath her cloak, the same suit she wore alone as a normal Rock-nin. She has pale blue hair, a paler shade than the sky, and piercing red eyes. She usually wears her hair down to her neck, but no longer, preferring to keep it short and out of the way.

Personality: Rei can best be described as emotionless. Not that she doesn't feel them - no training can do that - but that they're as foreign to her as a life without chakra. She doesn't come across as cold, however; she simply seems withdrawn, like a person whose inner life is far more interesting than most people's real lives. Indeed, Rei is prone to fits of introspection, and sees equally clearly to the hearts of others.

History: Civilian-born nin are famous for having low chakra levels, but better chakra control. Women are also well know for having lower chakra levels, but higher control. Why, then, did Rei have one of the highest chakra levels at birth in Rock's (admittedly short) history? Why did a civilian girl even have discernible chakra levels at birth? A lost bloodline, maybe, or a quirk of genetics, or a fallen god's whispers of destiny. Whatever it was, the Hidden Rock didn't care. A ninja was a ninja. As such, she was taken under the government's control - a shocking thing, maybe, to the lowlanders, but it probably saved her from being killed by a crazy missing-nin in the Land of Earth. In the years since the last Great Ninja Wars, Rock had become excellent at forging the perfect nin, one who thought of themselves as a tool and only a tool. Only the Leaf's Root - the worst kept secret in the Ninja world - was better at it.

As such, Rei's only memento of her parents was a name, and a sad one at that. "Rei" - "Return." She never could, even if she'd wanted to; both parents died a few years later to some bloodthirsty nin. Even her surname wasn't her parents' - "Yamauchi," "inside the mountain," simply reflected that she was taken by the Hidden Rock. It was not a happy upbringing. Immense power meant immense discipline, and for her it was from infancy. Pain was perfectly normal, and - by the time the Rock thought her ready for use, around age 10 - she had lived up to another meaning of her name, "Zero." Her genin team was unremarkable; a black haired sailor and a Rock clan-nin's son and a redheaded daughter of a minor clan fled to the Rock from the Land of Lightning. Amazingly, they all managed to survive their exam intact, and became chuunin during an unremarkable exam in the Hidden Mist at age 11. Jounin followed a year after, as it was more a formality than anything; if revealed, the other villages wouldn't question a Jounin doing the questionable missions Rei was assigned: assassinations, primarily. More than a few small nations to the east of Water collapsed due to Rei slaughtering their entire nobility.

By age 20, though, she had been brought back to the village; in the span since her promotion, she'd trained up to the level a proper Jounin would be at, and even surpassed it. After killing the daimyo of the Land of Rivers, and more importantly his 5 A-rank ninja guard, she was recognized as S-rank by the Hidden Leaf and the Hidden Sand. She was much too valuable a tool to lose to a concentrated hunter-nin strike team, so they had her running domestic missions. Chief among those was weeding out the village's own weaklings. With full, albeit secret, approval of the Tsuchikage, she cut her forehead-protector and launched into the crowd. Any ninja who couldn't escape - oh, there was no illusions by the Rock leadership that the vast majority of their nin could hold a fight against Rei - was cut down, and those that survived to fight another day did. The exercise was productive, if the recent jump in mission completion count - the accepted but failed missions by weaker nin bogging down the numbers - was any indication. Anyway, Rei found herself alone, which she didn't really mind. It was better than being in Rock. Alas, the Rock apparently had little more use for her, if their sending assassins was any indication. At least, presumably they were assassins; why else would the only nin who could have a chance of defeating her and would leave the village, her old teammates, be there? A brief conflict rose in her heart, as she looked at them; was her dying an order they simply were the medium for, or was she still supposed to follow the order from earlier not to be assassinated by those claiming to be Rock nin to get close. The latter seemed more likely. She cut them down with a kunai, and as she looked at the drops of their blood rolling down her knife, she frowned. A negative feeling in her stomach, like an illness. She couldn't pinpoint the cause, but she resolved to lie down anyway. Liberal application of Earth chakra formed a pleasant room to sleep in, one that only someone with a doujustu could note was artificial. She'd decide what to do come morning; it wasn't like an Uchiha was around to notice her.
=========================================

Weapons/Items: (optional however if you don't have something listed that isn't basic then you can't just magic it up mid fight.)
Kunai, Shuriken, etc.

===
Jutsu:

TBD (Basically, all Canon Earth jutsu).
In case it isn't clear, the "assassins" aren't. They're trying to go all Naruto and Sasuke on her, and make things worse.
Last edited: