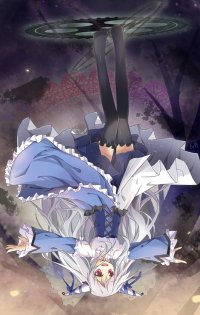 The Slightly Villainous One
Original poster
Names hold power. A vast, potentially endless amount of power. If wielded correctly, they can be used for anything. If abused, they can be used for even more. No one remembers who exactly discovered this power, but it is thought to be the means through which humans evolved from apes, and what differentiates them from every other animal on the planet - a unique identifier that gives a human phenomenal ability far beyond their normal strength. The name that someone holds is where this power is derived, and the kind of power it grants is the same as the name itself: for example, a man named Mason or Smith, if they learned how to wield their Name, would find unparalleled stone and metalworking talent. A girl named Seraphine may, if she were talented, be able to manipulate or even conjure fire (Seraphine, as a name, means 'fire').

Of course, there are catches and conditions, as with any blessing. You cannot choose your name. The name used to determine ability is the one that other people use to address you. You could officially change your name to Dominae, but as long as people keep calling you Mason, your ability will remain stoneworking. This is not true for nicknames - if your name is Mason and people nickname you May, your ability remains stoneworking as long as the nickname is derived from the real name. Both family and given names hold power, though the power of the family is usually very weak in comparison to that of the given name.

Secondly, your name can be taken from you, and be used against you. Deny someone's name, and you deny their humanity, for refusing to use a human's name makes them no different to an ape in your eyes. Since your name and therefore power is derived from what people use to refer to you, then denying someone a name all together will strip them of their power too.


Now, I wrote all that and then it occurred to me that I don't actually have any plot or setting for this. So, anyone got any ideas? Setting and plot would be most useful but feel free to contribute to the name mechanics too.