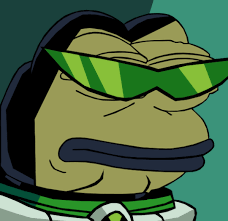 Whatever, Bullfrag is awesome.
Original poster
FOLKLORE MEMBER
Posting Speed

1-3 posts per day
Writing Levels

Intermediate
Preferred Character Gender

Male
Female
Genres

Fantasy, Superheroics, Slice-of-Life, Anime, a fair deal of fandom...
This is based off an old idea where N wields an Omnitrix to stop Colress/Ghetsis from using the superior Megatrix. I made modifications.

This Omnitrix doesn't allow you to access 10 Aliens, but you definitely can access 10 Pokemon. That's more than 6!

Among these Pokemon, 2 from each Omnitrix are somewhat pre-decided, leaving you freedom for eight choices. Avoid having repeats, or evolutionary relatives(unless they're split evolutions like the Wrumple line or the Tyrogue line)

Each Omnitrix must choose between eight Eeveelutions, Riolu and Zorua.

Each Omnitrix will have a Legendary Pokemon that will essentially be their equivalent of Alien X. Certain Legendaries will be forbidden. The pre-determined ones are Genesect, Mewtwo, Zekrom and Reshiram.
For the other six, if one takes one, I'll have to ensure that another Omnitrix Wielder has its counterpart.
For instance, if someone selects Articuno, the remaining five slots will be for the Legendary Birds AND Legendary Dogs.
If one selects Ho-Oh, Lugia has to be selected by someone else.
If one selects a Regi, the other Regis will have to be chosen and Regigigas will not be viable.
If one selects Cobalion, Terrakion and Virizion will be required to be played by others.
Cresselia to Darkrai, Latias to Latios, and so on.
Since 'Special Event' Pokemon like Manaphy, Hoopa, Mew and Keldeo cannot be accessed, with the exception of Deoxys and Darkrai, well...

And now now, no reserves on the Interest check.

So, here's the planned plot.


---

After the failure of Project Genesect, the project to create the perfect Pokemon, the group of scientists behind the project decide to create another invention. Imagining a world where humans could truly understand and even be Pokemon, they created a device capable of temporarily turning people into Pokemon - the Omnitrix. However, their plans were thwarted by N, who knew that the invention could potentially be utilised as weapons of mass destruction, and then took the copy of the Omnitrix created as a Prototype.. During the process, ten Omnitrices were released into the air, being tossed in many directions and ending up in different places...

Team Disaster, born from the very ashes of fallen Villainous Teams particularly Team Rocket, have managed to steal information of the Omnitrix as the lab burned down. Instead of allowing the world to have it like the scientists intended, the Leader decides to use the power for herself - even enhancing it to become the Ultimate Weapon - the Megatrix, capable of Mega Evolution without the aid of Mega Stones.

Now, the ten Omnitrices have found their way to their new owners. Unfortunately, these owners are not trainers, and don't have experience in Pokemon battles. Ah well.
Let's just hope they can save the day.