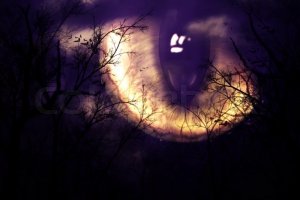 The Beast lingers just beneath the surface~
Original poster
LURKER MEMBER
Invitation Status

Looking for partners
Posting Speed

One post per day
1-3 posts per week
One post per week
Writing Levels

Intermediate
Adept
Advanced
Preferred Character Gender

Male
Female
Primarily Prefer Male
Genres

Dark Subject Matter, Post Apocalyptic, Apocalyptic, Romance, Fantasy (usually Urban fantasy, but I've done high fantasy before too), Horror
Kyrah was more than aware of the eyes watching her and the Demon approach a large twisted castle. The gazes were long and hard...cold and cruel. It was is if they wanted to snatch her up for thier own...and they would have if the Demon Prince wasn't standing next to her. They didn't dare approach in fear of what might happen if they tried to take the princes prize. She glanced around...there wasn't any shrubs, grass, or forestry to speak of. It was a dry, flat, unforgiving wasteland for as far as the eye could see. As they walked, the dry wind with no life at all blew in thier faces, the dust whisked and twirled around thier feet.

As they got closer and closer she could see huge tapestries hanging off the walls of the castles. It appeared As if it was the battles Heaven and Hell had waged with each other. It also showed ther losses and very few sucsesses. The rugs were exusite looking and the only decent looking thing she had seen since being dropped in this quite literal "Hell Hole." The demon picked up the pace and brought her to a room that was probably his own. Once there he pulled her in close to his body, his skin was hot and the contrast between their two bodies made her shiver as she looked up at him. It was no use fighting it anymore.

What suprised her the most was that he was going to take her to meet his father. Never in anyone of her relationships had they gone was far was to introduce thier parents. That was saying alot about her but here she was...she had barely met this guy hours ago and now...his father? That and he was the King of Hell...the Devil himself! Weather his powers had wasted away or not there was still a fear in her heart. This was the man who for centries waged war with heaven itself and was in all the books of religion.

She was suprised again when he let her go gently and went over to his closet, starting to search for something. Kyrah waited patiently for she had not much of any other choice. The woman heard him mutter somthing to himslef before pulling down a shirt and pants. It was a male dress shirt and black dress pants. He looked her over again before handing them to her and leaving the room. She took them and frowned as she pulled off her nightgown. She pulled on the clothing, the pants barely staying around her thin waist. It felt strange and out of place to be wearing this man's clothing...she frowned about the over all look. Easy to run away in? Psh...as if. She would be lucky to be able to run in this. It was drowning her...

After awhile he came back looking rather distracted. It was as if he had gone to see someone or speak to them...one or the other She thought.

"You look cute." the demon prince snickered.

She scowled and turned away from him, not giving him the pleasure of admiring her for too long.

"Ready to meet the seat warmer...?" he asked her. His tone was cold and sarcastic. Apperently he didn't think too much of his dear old father the Devil.

"If I'm ever going to be ready this is the time..." she growled, a frown tainting her perfect, pretty lips.