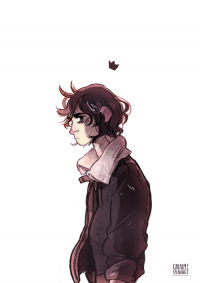 Always looking for MxM rps!
Original poster
FOLKLORE MEMBER
Invitation Status
Posting Speed

Speed of Light
1-3 posts per day
1-3 posts per week
Writing Levels

Intermediate
Preferred Character Gender

Male
Female
Primarily Prefer Male
Genres

YAOI, romance, magical/supernatural,action-adventure, occasionally I will do horror, Dystopian, fantasy, medieval,
Storyline
MC has to be about the most feisty, not-submissive omega YC has ever seen. YC loves it. YC always preferred a challenge, and MC would definitely be a challenge to get him to submit.
But YC is the alpha leader of his pack, YC is sure he will win. YC always gets what he wants.
And right now he wants a feisty little omega to be his omega, have his pups, and submit to him. It won't be easy.
Clarence Clement
20 Years Old
Omega
~~~~~~~~~~~~~~~~~
Clarence hated this, his life in general.... Was awful. Everyday he had to pretend to be something he clearly wasn't in hopes he wouldn't be attacked by some beast-of-an-alpha looking for a doe-eyes, clueless omega to mate with. Well that wasn't him, he may have the scent of the omega but he sure had the spirit of an alpha. Clarence had tried countless of things to make his strong and apparently intoxicating scent disappear, or at least not as strong... But nothing seemed to work, that is until he came across a strange necklace, or more like an amulet in markets specifically for the supernatural.

Most supernatural camouflaged themselves from humans, used glamours, and other disguises, especially since there was still the threat of stray hunters. The necklace concealed his scent for the most part, made it a lot less strong and not as alluring so he wouldn't be hunted down by alphas miles away. It had turned into so much of a problem that he had been attracting the attention of unmated alphas far away. It was not pretty.

The vendor at the market stall where he had gotten the necklace had told him that it would not last forever. The charms would wear away eventually and he'd be stuck having to explore other options, or pay a shit ton of money for someone to recharm it again. He barely had enough money to afford it in the first place. He decided to just wait until he really had to confront the problem... Which was now.

It lasted for a good couple months, and Clarence lived relatively in peace, until he woke up this morning and found that the charms were starting to fade... And rapidly. By the end of today they'd surely be completely gone and he'd be on his own again. He was currently out looking for a new solution, perhaps another necklace, but so far his search was fruitless. He was sure that once it wore off completely that alphas would start to swarm him once again. He wasn't ready for that.
"Why can't those alpha bastards just leave me alone in the first place? Can't they already see I don't want a mate?!"
He hissed under his breath through clenched teeth. He was still walking about, glancing around at the market stalls and trying to be as inconspicuous as possibly so he wouldn't attract any attention from alphas also wandering around the market for things. This clearly wasn't getting anywhere though, he might as well just lock himself in his apartment for the rest of his days, that sounded like a good idea at the moment.
​
Last edited by a moderator: