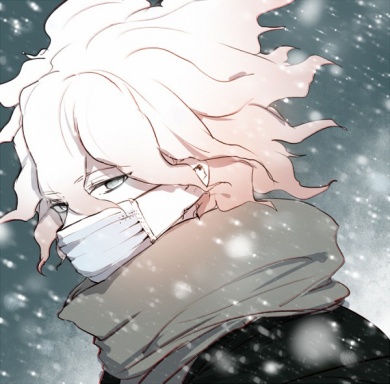 Sports Geek
Original poster
Invitation Status

, ,
Posting Speed

1-3 posts per week, One post per week, Slow As Molasses
Writing Levels

Intermediate, Adept, Advanced, Prestige, Adaptable
Preferred Character Gender

Male, Female,
Genres

I like all kinds of genres. Romance, Horror, Comedy, Mature, Sports, Yaoi, Action, Supernatural, Anime, Drama ... xD
I like canon, AU and original idéas. As for canon, check random notes.

Hello fellow roleplayers!

*Updated 23/1-2018*

I have lots of roleplay idéas so here I am, searching~ I like all kinds of genres so there are lots of different types of plots listed further down, but I will first list my rp guidelines so you get a feel for how I roleplay.​
I roleplay in third person, paragraph style. I adjust my writing to what my rp partner prefers, but I love long and thougthout replies and can't stand oneliners~


I love using multiple characters, making descriptions and all that jazz. Regarding visual references, I prefer animé style, but I don't mind going with cosplay pics, realistic art or something else.


I can work with all types of genres, but keep in mind that this is an MxM search so some romance is expected. I don't mind MxF or FxF on the side.


The rating of the rp depends on what you are comfortable with. I usually rate my rps at least 16+ for possible swears, scares, blood and romance.


In terms of mature romance, I only rp as the "catcher"/"sub"/whatever-you-wanna-call-them. It doesn't affect my character's personality! It's simply a preference.


I have a busy life so my replies tend to get sporadic. Please be patient with me and I shall be patient with you as well.


Feel free to come up with your own idéas and suggestions. I'm a friendly gal. OOC talk is also welcome.

I guess that's it for my rp guidelines. Moving on to idéas....
​
​
I have listed a number of plots and tried to briefly explain them. I also added some suggestions for suitable genres, but feel free to suggest changes! If you don't like the first idéa, just keep reading. Maybe you'll find something up your alley. Here we gooooooo~​
​
​
Online Identities R Tricky
(Drama, Comedy, Thriller, Romance, Psychological)
(inspiration from the app game Mystic Messenger)​
An exclusive group of online friends arrange grand parties for charity. They are well-known,

referred to as

the RFA

,

and communicate every day in a special chat room. Several possible subplots. Here's one ;
​
-Your character just resently joined and gets to know the hacker and computer technician of the group. They get along well and even flirt at times while planning for the next grand party. During the party, they finally meet and your character is very much surprised when the hacker turns out to be a guy.
​
​
Be Professional
(Comedy, Romance, Mature, Drama)
​
Our characters are casted as the main actors for an upcoming movie. It's a love story. The only problem is that they hate each other. Oh, and that they're both men.
​
Super Unit
(Action, Drama, Romance, Superheroes)
​
The government is tired of vigilante heroes. Therefore, our characters, who have a set of special powers, are forced to build a task force and use their powers to save people together (but working as a team is easier said than done).
​
Wrong Note
(Drama, Age Difference, School Life, Romance, Angst, Hurt/Comfort)
​
Things are often hectic in school. Lots of paper work. My character is a student in your character's class and he hands in what he thinks is his assignment, but what turns out to be his personal suicide note. This rp is a Teacher x Student sort of rp.
​
We're Still Human
(Supernatural, Fantasy, Romance, Drama, Angst, Comedy)
​
A small group of friends performs a scary ritual in the woods to attract supernatural creatures (werewolves, vampires, demons..) - only to be turned into supernatural creatures themselves! The rp will be about them dealing with their new identities and how to stay human. It will also be about them trying to hide this secret from everyone else while trying to figure out a way to turn back to normal.
​
Virtual Nightmare
(Futuristic, Medieval, Fantasy, Action, Drama, Thriller, Romance, Comedy)
​
A virtual reality-game set in the Medieval/Futuristic/(your choice) Era. Our characters get invited to try out

a game

before it becomes a worldy success. After a while, they want to save and quit the game, but that's when they realize that they are stuck and can't leave this virtual reality until they've finished the game. The point of the game is to travel through 3 worlds and then defeat "the king". Problem is, people never get past world 2. When they die in-game, they're supposed to start over in world 1, but a glitch has made it so that if you die in-game, you might die in the real world as well.
​
Circus Freaks
(Comedy, Drama, Romance, Thriller)
​
The rp will basically be about a group of characters and their lives as circus workers/acts. It is a fairly open idéa to build on, but I do have a few elements that can be thrown in (ex a murder case).
​

I Know You
(Psychological, Body Swapping, Drama, School Life, Romance, Comedy)
(inspiration from the manhua At The End Of The Road)​
My character and your character were close friends when they were kids – At least until my character abruptly moved without so much as a good bye. Years later, in high school, a bully victim attempts suicide, only to return to school a week later with a completely different personality. Oddly enough, he behaves exactly like my character who died on the same night as the bully victim attempted suicide...
​

Reversed hunt
(Drama, Supernatural, Psychological, Mature)
(Inspired by Grimm brothers)

There's a well-known hunter called Red Riding Hood. He's a cold-blooded killer who has slayed many supernatural creatures, including your character's family. Your character sets out to find Red Riding Hood so he can get his revenge.
​
Caste Game


(Drama, Psychological, School Life, Romance, Comedy)
(This idéa is taken from the manga "Caste Heaven")
​
"Ruled by a cruel ranking system, the school is a swirl pool of jealousy, envy and lust."​
Caste Game is what determines every student's ranking in the class. It decides whether they're goths, geeks, bully victims or maybe king, leader of the class. The rules are simple; Every month, poker cards are scattered over the school and the card you find decides your rank.​
This rp can go in many directions and I'm open to suggestions, but I do have an idéa for it;
​
-My character has been the king up until now and he's made quite a few enemies through his cold ruling. But now, the table's turned and he's become a target, the lowest of the lowest. Your character, who'd been bullied previously because of his rank, is now the new ruler.
​
Dimension Travelers
(Fantasy, Sci-Fi, Romance, Drama, Comedy, Action)
(inspiration from the anime/manga Tsubasa Reservoir Chronicle)​
The story is about a group of individuals coming from different worlds. They all end up at a magical shop at the same time, all coming with the same wish – to gain the power to travel between different worlds/dimensions (for different reasons; someone might want to get back to their homeworld while someone else is searching for something etc.). BUT they don't have enough payment to be able to travel by themselves so they have to travel as a group. The rp will be about them traveling to different worlds. Lots of things could happen! Your characters can be magicians, vampires, ninjas or whatever since they come from different worlds.
​
How To Save A Life


(Angst, Drama, Romance, Comedy, School Life, Hurt/Comfort)
​
My character and your character have always been rivals in school. They compete in everything (sports, tests, popularity). They never show any weakness in front of each other nor do they show any affection. In fact, sometimes they're just plain out mean to each other. But when your character catches my character trying to end his life, things will never be the same again. My character doesn't want anything to change, but how could your character just drop this?
​
Eiken Academy
(Superheroes, Romance, Comedy, Action)
(Inspiration from X-Men)​
A campus were special teens learn to control their powers. Very open idéa~
​
Fraction
(Sci-Fi, Fantasy, Futuristic, Drama, Romance)
​
"There are things you need to know to get by here in Sangea. First of all, fraction means everything.Your fraction is your family. Second of all, don't question why you're in your fraction. Your mark is what decides your fate. Thirdly, ...this is a hierachy. How people treat you depends on which fraction you belong to."​
Leverage
(School Life, Comedy, Drama, Romance, Fluff)
​
YC and MC have never gotten along. They're constantly at each others throats in school and always trying to sabotage for each other. This all started because of YC pulling a silly prank on MC in Middle School. Now they're in High School and nothing has changed.
​
One day after school, when YC is heading home, it starts to rain. YC doesn't want to get wet so he enters the first building he sees and then realizes that the building is owned by a LBGT rights Organization (Lesbian, Bisexual, Gay, Transgender). He looks around and his eyes lands on a window where he can see into a room where a support meeting is being held. There he sees none other than MC!
​
Possessive Geek
(Comedy, School Life, Romance, Drama, BDSM)
​
My character seems like your typical jock - confident, strong, popular, intimidating. What people don't know is that he is NOT the one wearing the pants in his relationship. He started a romantic relationship with your character who seems to be your typical geek, but shows to be much more than the jock can handle. While they maintain their roles in school, those roles quickly change when they're alone.
​
Cross Academy
(Romance, Fantasy, Comedy, School Life, Drama)
(Based on Vampire Knight)
​
"Cross Academy is an elite boarding school with two separate, isolated classes: the Day Class and the Night Class. The classes rotate in the evenings. There is something strange about the Night Class students.. They are actually vampires (which the Day Class students are unaware of, aside from the prefects). The whole point of Cross Academy is to bring humans and vampires into co-existence, but it's easier said than done.."
​
Treasure Hunt
(Horror, Thriller, Drama, Comedy, Romance, Action)
​
Every 3 years, the school arranges a huge treasure hunt where students work in teams of 6 and the teams are made through random name pulls. The treasure hunt occurs in the woods and this is during Halloween so things might get really spooky or maybe just hilarious.
​
Friends with benefits?
(Comedy, Drama, Romance, School Life)
​
My character just got into a relationship with a girl, but has yet to explore

the sexual part of their relationship. He's inexperienced and is freaking out about all sorts of things. In desperation, he asks your character for help.
General ships I'd like to rp :
Vampire x Human
Prince x Prince/Servant/Rebel
Military Recruit x Military Officer
Jock x Geek
Hero x Villain
Apocalypse Survivor x Apocalypse Survivor
That's it for now. Please send me a convo starter if you're interested~
​
Last edited: