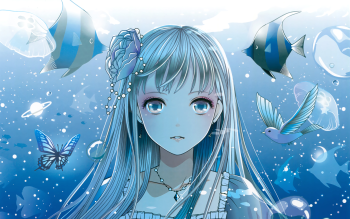 Invitation Status

,
Posting Speed

Speed of Light, Multiple posts per day, 1-3 posts per day, One post per day, 1-3 posts per week
Writing Levels

Elementary, Intermediate, Adept, Adaptable
Preferred Character Gender

, Primarily Prefer Female
About Me
Having just returned from an unforeseen hiatus, I'm back and craving for a decent roleplay. I am an avid roleplayer and writer, and I enjoy long-term plot-driven roleplays.

I am picky with my partners, and I will only roleplay with those who are capable of writing at Adept, Advanced, and Prestige levels. (Douche, if you are brave enough to list the title under your repertoire of writing capability). This means I am seeking a partner who will write with completely literate grammar, and is able to provide depth/detail to their replies that will spur the plot forward.

I am an aggressive and passive player. I like to build the story with my partner, equally exchanging ideas and preferences that will satisfy both of our interests. I want someone that will contribute to the story development, rather than just sit back and let me make all of the decisions. So please, feel free to make suggestions.

I write in third person, with a length range of anywhere from 400 words to 1000+ words. I do not require a specific word count, but I do expect that you attempt to match my length (or surpass it, if it suits you). Equal effort, right? I spend a lot of time and care on my replies, so I expect the same in return!

Note: I only play straight female characters (not including npc's). This is a Male and Female pairing roleplay request.
Important Note: This is 18+ ONLY

What I'm Looking For​
Literacy: This means proper grammar, spelling, and writing style. I'm looking for depth to your character and their reactions. How do they feel about the circumstance? What is troubling their subconscious at the time? How does that affect their mood or actions? How will they react to other characters' body language, expression, and tone? Do not just mirror what my character has said. Give me substance!

​

Medium of Roleplay: I prefer through PM's or threads. I find these to be the most suitable to my mode of roleplay. I also like to have an OOC chat through private conversation, so that we may discuss plot development about the roleplay- or just have a friendly conversation.

​

Comfort/Skill: I will not be fading to black for any sex scenes. Therefore I want someone who is comfortable and skilled at writing smut. The nature of that smut is negotiable, though I prefer a 50/50 plot to smut ratio. Essentially, I do not have my character engage in senseless smut unless that is to your preference on occasion. The sex must fit into the current mood/situation of the roleplay. It does not always have to further character development, but I expect it will have an effect upon the characters. Their emotions, their feelings, their mood, etc. However, most of my roleplays contain a majority of plot and occasional smut. Personally, I like to write smut whenever. So whatever ratio you're looking for (except for all smut, no plot), I will likely match!

​

Kinks: I enjoy an extensive amount of kinks when it comes to redstar scenes, so please do not be afraid to explore. I will not roleplay certain extremes, such as pregnancy, scat, etc. If you are unsure what makes me uncomfortable, then just ask! I'm glad to answer any questions.

​

Power Play: I will not play entirely dominant female characters, meaning- I do not favor feeble male characters. I generally like to have my female at equal, or lesser power than the male counterpart. That is not to say my characters are feeble or incapable in any sense (though that is a possibility if it suits your interest). This purely refers to the dynamics between our characters. My females are inherently submissive; to what extent will depend on the story. Switch is also a possibility.

​

Finally, just stop by my Information page. Read up on my boundaries, no-go's, and plot candies.

​
Plots & Pairings
These are general baselines that I am interested in. We can brainstorm and build off whatever we settle upon. If you have a craving you'd like to suggest, I'm open to other ideas.
My preferred role will be highlighted in

violet

.
Any role is subject to any species.
Many roles are subject to any time period.
Fantasy/Mythical Creature x Any Fantasy/Mythical Creature
Including: Demons, Gods, Elves, Fae, Vampires, Werewolves, Hybrids, Nekos, Sorcerers, Magic-Users, Incubi, Succubi, etc.
Master x

Slave


Dominant x

Submissive


Master x

Maid


Business Titan x

High Class Female


Arranged Marriage
Brother's Best Friend
Roommates
Neighbors
Blackmail
Limited Incest (Distant relatives, Step/Adoptive siblings, elder brother x younger sister)
Best Friend (Secretly a Dominant) x

Virgin Friend


Long-Term Rivals
Boss x

Employee


Teacher x

Student


Detective/FBI Agent x

Mob Boss Daughter


Mating Bond (Applicable to Fantasy Creatures both Modern and Medieval)
Werewolf x

Human


Werewolf x

Mystic Seer


Alpha x

Mystic Creature/Human


Werewolf x

Fantasy Creature


Fantasy Creature x

Neko/Cat Girl


Fae/Elf Lord/Ruler x

Fae/Elf disguised as Human


Demon x

Witch


Powerful Lord x

Princess


Evil Lord/King/Ruler x

Princess/Queen


Warrior x

Princess


Powerful Noble Captor x

Thief


Warlord x Fallen Royalty
Assassin x

Target


Captor x

Captured


Elven Prince x

Elven Princess


Demon Lord x

Naive Mortal

(This can be modern, as well!)
Higher Being (Dragon, God, Titan, etc) x

Demi-goddess/Ruler


Lord/Ruler x

Peasant


Villain x

Princess


Villain x

Thief


Disney Pairings (

Beauty

& Beast,

Alice

& Mad Hatter, etc)
Any other circumstantial plots, or pairings? Feel free to suggest!


​
Last edited: