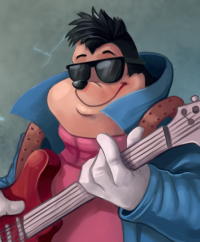 The Janitor Bear of Iwaku
Original poster
Link to
sign-ups
.
RULES
1. You must follow in accordance to Iwaku's rules.
2. No OOC talk in the IC. Please take all OOC discussion to the group's General Chat and all roleplay discussion to the group's RP Discussion.
3. No god-modding or meta-gaming. If you're not sure what those terms mean, this blog post might just be for you!
4. Due to the speed of the game, it is practically a requirement to seek out other users to be your 'posting partners' so that you have some people you can stick with. Using the tagging system is absolutely required.
PROLOGUE
"You Have Been Cordially Invited..."
The Grand Hotel is practically a world all on its own. A world between worlds, nestled between countless universes and visited by countless more. As well known as it is within the greater multiverse, it is not a place one stumbles into accidentally. Men and women work tirelessly to ensure such a breach never occurs, for its entirely unknown what could be waiting in some corners of the multiverse. For you to have been invited to a party held at the hotel, you would either have to be an important figure, or at least know an important figure. Perhaps you were just in the right place at the right time. Maybe you're just really
lucky
. Either way, you've been invited to a place unlike any other.
And you've been told to dress up.
Whether the portal you take to get to the hotel is a whirling mass of light or just a simple door, you arrive in the entrance hall, surrounded by dozens of others arriving just as you are.
The hall is dimly lit in accordance with the night's theme. Candles and cobwebs lining the walls give the area a feeling of walking a dungeon's hallways. The ceiling is covered in an inky darkness that is black as night. Slow blinking lights peer down from the darkness and it's unclear if they are meant to be stars or watching eyes.
Within the hall stands a line of small, pouch-wearing penguins with small bat wings and two peg legs. Most of them appear to be blue and wearing small bowler hats. In their stubby fins are clipboards, all with the names of tonight's guests.
The Prinnies would greet you with a "Dood!" before taking your name and leading you away from the hall. Tonight's main attraction was, of course, the banquet hall.
A sea of tables, chairs, and people stood before you, a mass of buzzing energy rolling off of them. While only a few hundred people attended tonight's party, the hall could easily fit toward a thousand if needed. Like the entrance hall, this room was also dimly lit, with small candles lining the walls and at every table. The fire was only magical, so there was no worry about someone getting burned. Toy-like bats comically flew around the ceiling in repeating patterns while wooden skeletons leaned casually against some of the walls as if they were set up to look bored with the evening. Arched windows that touched the ground lined the walls, showing off a grim and stormy night, though if one were to try and break through of these windows, they would find just an ordinary wall beyond.
Nicely enough, a bar sat nestled in the corner of the banquet hall.
Red drapery sat over a stage at the back of the banquet hall, while twin spotlights aimed down at the centre of the stage. After many of the guests had settled into their seats, a man with long brown hair and striking red eyes behind a pair of glasses would step into the spotlight. Many of the guests knew the man as Jade Curtiss, proprietor of this grand establishment.
The man smiled evenly as he looked over his guests. He was dressed in a dark cloak with a red cape, looking almost like some kind of dark magician. Once the buzz from below died out, Jade spoke, his voice clear to even those standing at the back of the room.
"I welcome all of you to this haunted evening held in honor of Lady Melodia of Mira! As co-founder of my company, Lady Melodia has been a valued person in my life, both professionally and personally. Her birthday nears, and while she wishes not to make clear what age she will soon reach, the least I could do is hold an event such as this for her. She wishes not to speak on stage, but you will find her mingling throughout the evening. Please, for my sake, wish her a happy birthday."

Reaching up to touch at his glasses, Jade's eyes scanned the crowd below.

"Now, adjacent to the banquet hall, you'll find the ballroom. There is not only more open space in there, but a section of the floor where you may partake in dancing. We will be holding a feast here later in the evening, so be sure not to fill up too much on appetizers."
Jade then pointed to the side of the hall.

"All of you have been given individual rooms for the evening. That area of the hotel has been segregated from the party in order to ensure guests are able to rest without being disturbed by some of the more... rowdy of you. You may speak with a Prinny if you wish to retire for the evening, but I ask that you wait until we've had our special event."

Jade's smile broadened at this subject. "We will be hosting an exciting game this evening! Due to the nature of the game, only a select few will be able to participate. If you're chosen, participation will be mandatory. I promise that the event will be exciting! I'll be giving out more details when the time comes. For now... Please, enjoy yourselves."
With that, Jade stepped off the stage. A flash of lightning from the windows accompanied this, almost as if Jade had planned it that way. Prinny servants poured into the hall carrying trays of food and drink, just enough to whet your appetite for the feast later in the evening.
The ballroom was where Jade had indicated, past an archway draped with a black curtain. Inside was almost as spacious as the banquet hall.
For the moment, it was decorated to look like an abandoned mansion. Rustic tables and chairs sat here, while dusty, abandoned furniture haphazardly lined the edges of the dance floor. Creaking wooden planks touched by cobwebs made up the walls. Despite this imagery, colored floodlights swayed down from above and dance music filled the air, giving the ballroom the feeling of being inside a club. At the edge of the dance floor was a platform ladder that rose up toward the ceiling. Though it was hard to see from below, there seemed to be a catwalk above where the lights were situated. A girl was standing up here, though it was tough to see what she was doing.
Back in the entrance hall, you would see a red-haired man arguing with one of the Prinnies. Listening in on the conversation, you'd hear the word "Coalition."
In the banquet hall, one of the servants strangely appeared to be an old man and not a Prinny, for whatever reason. Not too far away was a crowd of people surrounding a white-haired woman who looked rather serene in the face of all the attention was getting. At the opposite end of the hall was Jade, who was off by himself and appeared to be talking on a cellular phone.
Aside from these areas of interest, it seemed you were free to do whatever you wanted, whether that was getting on the dance floor, touching at the appetizers, or mingling with the other guests.
---
Chapter One
Chapter Two
Chapter Three
Chapter Four
Final Chapter
Epilogue
---
~CAST LIST~
@Alyto as Peashy [Hyperdimension Neptunia]
@Hazel-rah as Jeen [Super Mario RPG (AU)]
@The Yuletide Tactician as Hajime Hinata [Danganronpa]
@Savannah-Clause as Yvaine [Stardust] and 'Ryan' Duchannes [Caster Chronicles]
@TheSpringwoodSlasher
as
Ghostface
[Scream] and
ChromeSkull
[Laid to Rest]
@DapperDogman
as
The Bogeyman
[
Silent Hill]
and
Papyrus
[Undertale (AU)]
@Verite
as
Saitama
[One Punch Man]
@Mighty Roman
as
Gilderoy Lockhart
[Harry Potter] and
Osgood
[
Doctor Who
]
@Saint Guillotine
as
Sweet
[Buffy the Vampire Slayer] and
Isayama Yomi
[Ga-Rei Zero]
@CrunchyCHEEZIT
as
W.D. Gaster
[Undertale]
@Cromartie Sarkissian
as
The 11th Doctor
and
The 6th Doctor
[Doctor Who]
@Jeremi
as
Mephista
[
Marvel Comics
] and
Morrigan Aensland
[Darkstalkers]
@The Great Detective
as
Neopolitan
[RWBY]
@The Silver Paladin as Sarah Cheng [Fallout]
@Archmage Jeremiah
as
Coraline Fenn
[Fallout]
@Gen. Magic Senpai
as
Kiritsugu Emiya and Gilgamesh
[Fate Zero/Stay Night]
@Kaykay as Tsubomi Kido [Kagerou Project]
@C.T. as Anya Corazon [Marvel Comics] and Kilgrave [MCU]
@OrlandoBloomers
as
Death of the Endless
[Sandman] and
Brad Armstrong
[Lisa]
@Lizzy
as
Arisu
[Original Character]
@CCC Kouhai as Mary [Dreaming Mary]
@Schnee Corp Lawyer as Cirno [Touhou]
@york as Yulia and Slavya [Everlasting Summer]
@Raven as Raven A. Roth and Rose Wilson [Teen Titans]
@Mari as Jen Yu [Crouching Tiger, Hidden Dragon]
@Sen as Sal/Syakesan [Wadanohara and the Great Blue Sea]
@Sav
as
Mathilda
and
Leon
[Leon The Professional]
@Arlathina
as
Morrighan
[Mabinogi/Celtic Mythology]
@Hana
as
Wadanohara
[
Wadanohara and the Great Blue Sea]
@Librarian Cat as Nyanta [Log Horizon]
@Krieg
as
Lena Oxton/Tracer
[Overwatch]​
Last edited: