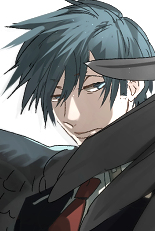 Shadow and Truth
Original poster
LURKER MEMBER
Invitation Status
Posting Speed

1-3 posts per day
One post per day
1-3 posts per week
Writing Levels

Intermediate
Adept
Advanced
Preferred Character Gender

No Preferences
Genres

Anything that actually has, you know, a good plot. I prefer RPs with fantastical elements, however, so generally, a bit of fantasy goes a long way.
A tale set in a Japan in which the charms of exorcists have replaced the arts of science.
A story of a dragon with no freedom and a swordsman with no future.
A narrative of a lie hiding a truth.
"Ah, my sandals are wet again."
Name:
Arata Ketsueki
Age:
Looks to be a young man of his early 20s
Race:
Some sort of human
Gender:
Rather male.
Personality Traits:
Air-headed
Simple-minded
Deceptive
Short-sighted
Biography Points:
Arata was the son of a dojo master. In an era in which magic has become commonplace, pure swordsmanship fell out of favor, and the dojo was to close soon.
Arata, as a child, did not want that, and believed that if his swordsmanship was impressive enough, he would be able to make the dojo famous enough to get students once more.
So Arata ate a youkai, and gained superhuman strength in exchange for losing his humanity.
When he came back home, his father thought him as a monster, and chased him out.
It hurt, but it didn't hurt as much as Arata thought it would.
Perhaps because he lost part of his human side?
As years went on, he made a living of sorts out of killing youkai in the countryside.
Killing and eating, and growing stronger as a result, that was what his life was reduced to.
And, after a while, he began to wonder.
Why did he want to become stronger?
Skills:
Monster Blood
Arata eats youkai, and gains physical power as a result. The more he eats, the stronger he becomes, but the less he can recall his human sensibilities.
The Beloved Blade, Yami no Inazuma
The masterpiece of a swordsmith out in the mountains, it is a blade that seems to glow when drawn from its black sheath. It has been blessed to retain its cutting edge, as long as its wielder holds no hesitation in their heart.
Battojutsu
Arata's swordmanship follows the philosophy of 'one strike, one kill'. Thus, he is the strongest when his sword is in his sheath, and his fighting abilities afterwards is rather crude after the opening gambit.
Snow blanketed the town and silenced the roads.
The sky was clear, a dark blue that accentuated the glow of the moon and snow. Many have already treated into their homes, charms of warmth and protection keeping winter's grasp away from their body. Lanterns lit up the streets with incandescent flames, and snowmelt dripped from the tiled roobs.
Izumo was a seaside town, and its climate was as cruel and beautiful as ever. If it wasn't for the blizzard that had struck during noontime, perhaps he would have already been on the road out of town by then. But, alas, stuck here for another day, the white-haired youth no longer had any money left, and, with no money, there was only one place left for him to stay in.
The lord of Izumo was a man that enjoyed a bloodbath, a noble warmonger who oversaw duels on a daily basis. It wasn't something that Arata really wanted to be a part of, but he was hungry, and he needed money, so being a rich man's evening entertainment was something he was willing to put up with. If he had been a bolder man, perhaps he would have entertained the idea of staging a one-man attack on the lord's castle, and stealing some money, but the half-youkai swordsman wasn't simple-minded enough to think that it would work.
His straw sandals were soggy by the time he reached the castle door, his feet red and numb. It was an inconvenience he could bear with, however. The oaken gates were not guarded by any soldiers, and, when he placed his hand against it, Arata could tell why.
It was reinforced with magical charms that strengthened it and repelled supernatural abilities.
"A challenge of strength alone then…"
He smiled, his right hand wrapping around the Yami no Inazuma.
A flash of light bisected the door, before a metal clink could be heard, followed by a spray of sparks. Arata sheathed his blade once more, rolling his right shoulder in a satisfied manner. Then, he kicked open the door and smiled at the guards waiting behind it.
"Hello, I heard the lord of this castle was willing to trade a meal and a room for a fight?"
​
Last edited by a moderator: