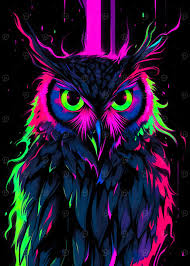 RADIOACTIVE OWL GHOUL
Original poster
ADMINISTRATOR
MYTHICAL MEMBER
Invitation Status

Not accepting invites at this time
Posting Speed

1-3 posts per week
Slow As Molasses
Online Availability

10AM - 10PM Daily
Writing Levels

Adaptable
Preferred Character Gender

Female
Genres

Romance, Supernatural, Fantasy, Thriller, Space Exploration, Slice of Life
Brown furry paws padded through a light dusting of snow covered dark rich dirt. Between her legs darted a smaller form, all fluffed up with young fur and not watching where he was leaping. When the adult stopped, he'd crash in to her legs and roll over the ground. Suddenly, she paused. Her body lowered slightly as it grew taunt. Her steady stalking pace giving him the hint that he should do the same. Ears twitched this way and that, listening to the sounds of soft humming. Some silly popular tune that was way over played on the radio lately.
There it was. The human. Hanging up laundry that made the wolf's nose twitch from the flowery scent.
The wolf growled, suddenly leaping from the cover of bushes and trees. She landed on the human, causing them both to roll. The young pup bound around them, barking and yipping.
Suddenly there was a
click
the female wolf found herself nose to nose with a handgun. The human scowling.
"Sara, what the hell are you teaching my kid?"
Snorting, the wolf backed off. She trotted away, her brown fur form disappearing as she stepped behind one of the already hung sheets. In moments, a very naked Sara was leaning her arms over the laundry line and smirking back at Grace.
"How to hunt like a proper wolf. He might be good at it one day if he'd stop yipping like a girl."
"I don't yip like a girl!"
came a young boy's voice. The wolf pup was now a five year old boy with shaggy brown hair. He didn't seem to mind he was standing stark naked in the back yard, either.
Grace put the gun away and rose to her feet. Dusting snow and dirt off her jacket, she brushed a hand over the boys head and tilted her own towards the door.
"Go on inside, Daniel, and get some clothes on. It's freezing outside."
He huffed, but he hopped on in the house. Grace then turned to Sara, who wasn't making any motion to clothe herself.
"Do you not give two shits about the neighbors seeing you streaking across the damn yard?"
Grace snatched her sheet off the line, almost as if she thought Sara was going to get her cooties all over it.
Sara smirked again and shrugged.
"Doesn't matter. They think we're sisters, not lovers, meatbag."
Her smirk finally dropped and Sara's expression switched to something more serious.
"He's weird. The kid. Not bad though... I'd feel better if I could get my paws on Noel, though."
"As long as he doesn't have that curse you keep grumbling about under your breath, I don't care. We'll manage."
"Yeah, manage..."
Sara had some other things on her mind, but that wasn't any of Grace's business. Though Grace had been a part of the pack for the past five years, Sara wasn't keen on the woman. There was only room for one Alpha, and Grace had that way of being a real bossy bitch for a human.
And a human could never understand what is was like being Were...