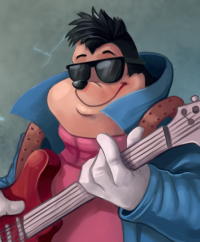 The Janitor Bear of Iwaku
Original poster
Invitation Status
Writing Levels

Give-No-Fucks
Adept
Adaptable
Preferred Character Gender

No Preferences
Genres

Horror, Modern, Modern Fantasy, Multiverse/Panfandom, Mystery, Paranormal, Scifi, Survival
Please see the group's General Chat / RP Discussion / Discord Server for OOC talk.
Please see the wiki for more info.
This roleplay is the 14th in a series of fandom crossover RPs referred to as the Murder Series, named such due to most of the games carrying a murder mystery theme or something similar. This particular iteration is based off elements from the Danganronpa series, the Alan Wake series, and series inspired by Twin Peaks. Absolutely zero knowledge of the canons involved or the previous RPs are or will be required for this game.
You wake up on a school bus driving down a lonely road deep in the Pacific Northwest. You're not sure how you got there or why-- you just
don't
remember. Were you kidnapped? Is it memory loss? What else could it possibly be? As you try to wrack your brain for answers, you can't help but notice that this bus is packed with other people and you likely don't recognize a single one of them.
As the bus winds its way along the forest road, you soon find it's on its way toward a quaint little town called Bright Falls. No one can be sure if they've heard of it, and it's not entirely clear if the town is everything it seems...
"Hey! Wait a minute!"
"That sounds way too sinister! No, Usami is here to help! I may not look like it, but I am your squeezably soft teacher, and I am your chaperone for your school trip! I'm going to accompany you students on the trip of a lifetime! You'll take in the scenic sights of Bright Falls while you enjoy yourselves some authentic outdoors living in the town's national park! Let your heart embrace a simple lifestyle in order to cleanse your soul!

So, just have fun!"
Every single character will be referred to as a "student", but they have no real role. In that sense, essentially, there are no roles in this game and so everyone is on equal ground.
However, this does not mean the game won't involve murder mysteries. Unlike past games, NPCs are the characters the players have to mistrust. In this game, the NPCs (played by myself and my co-GMs) will be the murderers, and the players will be roped into investigating their crimes.
The plot of the game will revolve around this string of murders and the tone of the ending will rely on the players' ability to investigate the clues and pinpoint which NPCs committed the deeds.
"Wait! No way! No one will die, that's ridiculous! There's nothing dangerous about Bright Falls! Everyone is so nice and welcoming! Besides... we won't even have to run into any of them! We're just camping out in the woods! Fun!

Please, everyone, don't worry about a thing!"
1. You must follow in accordance to Iwaku's rules.
2. No OOC talk in the IC. Please take all OOC discussion to the group's
General Chat
and all roleplay discussion to the group's
RP Discussion
.
3. No godmodding or metagaming. It is heavily preferred that most discussion related to the RP's investigations occur IC as opposed to OOC. If you're unsure what godmodding or metagaming is, refer to either
[BCOLOR=transparent]WORKSHOP - Godmodding and Metagaming[/BCOLOR]
or
this blog post
.
4. Players of any writing ability and preferred post length are free to post how they like. One or six paragraphs, as long as it's in-character, it's fine. I also have no qualms with players wishing to use pictures or gifs in tandem with their posts, but do please keep image spam to a minimum and try not to use very large pictures. If you do use a picture, please make sure to include text as well, as posts consisting of just a picture/gif, no matter how in-character, will be considered OOC talk or spam.
[BCOLOR=transparent]5. More of an addition to the above rule, do try your best with spelling and grammar. It doesn't have to be perfect, but it needs to be understandable. An on-site guide to grammar you can[/BCOLOR][BCOLOR=transparent] read [/BCOLOR][BCOLOR=transparent]through for help can be found here: WORKSHOP - Grammarholics Anonymous - Your Grammar Guide!.[/BCOLOR]
6. Some certain actions and events might require dice rolls, but only if I say so. It won't be a common thing.
7. Due to the speed of the game, it is practically a requirement to seek out other users to be your 'posting partners' so that you have some people you can stick with. Using the tagging system is absolutely required. This is actually
very important
. It's fine (and encouraged) to only keep up with a few characters/players for the majority of the game, as that is far easier than trying to keep tabs on everyone. Summaries and important GM posts will be made prominent.
8. I won't be allowing duos for this game. Only one character can be applied for.
9. OCs are allowed, but only up to a limit of five. I would rather fandom characters outnumbered OCs.
10. All character powers, no matter how big or strong, will be removed. This basically includes any supernatural or fantastical ability beyond that of a regular human/alien/robot/whatever you choose. Characters that require their powers to live or project themselves in some manner will be able to live/take on that form without the use of their powers. There will be an in-character reason for these power nerfs.
11. Please post once a chapter. Chapters will generally last from a few days to a week in length, though that time will likely increase as the RP goes on. Not doing so will result in your character possibly being removed from the game. At the very least, PM me if anything comes up and I'll do my best to keep you around.
12. Be respectful toward everyone! Have fun!
"Everyone, I have some of my own rules in place to promote a peaceful environment and healthy living! Please keep them in mind!
1. Extreme violence is prohibited on this trip. Please live peaceful and relaxing lives with your fellow students.

2. Be considerate of each other and work together!

3. Littering is not allowed. Let us coexist with the forest's bountiful nature in "mutual prosperity".
4. Destroying any National Park property is expressly prohibited!

5. The chaperone cannot directly interfere with the students. An exception to this rule is made if any student violates a rule!"
[BCOLOR=transparent]My Co-GMs will be @Jeremi / @Josh M / @Ringmaster / @T.O.M. / @Verite[/BCOLOR]
[BCOLOR=transparent]They all will be playing NPCs at various points in the RP on top of their main characters.[/BCOLOR]
This is covered in the rules above, but remember that only one character may be applied for and that all characters will have their special abilities and powers nerfed.
Appearance:
Name:
Age:
Origin:
[Where they live/come from]
Occupation:
[What they do for a living]
Character History:
[Only a link to a character's wiki page is required. If they have no page, make one on
our wiki
or
provide a brief summary here.
If your character has history extending beyond their canon (Such as having them be a member of the
United Nations
/
Coalition
, having them meet another character in a side story, or some other kind of addition), then that must be noted here]
Ultimate Title:
[Think of a title that either embodies your character's personality or something that they are exceptionally good at, such as "Ultimate Positivity", "Ultimate Carpenter", or "Ultimate Hero". You may not use a title someone else in the cast is already using]
Item of Importance
: [
ONE
item of importance that means something to your character. This is the only item they may have on them when they appear in the game. It
can't
be a weapon]
Canon:
[What they're from (Such as Game of Thrones/Kingdom Hearts/Resident Evil/etc.)]
Other Details:
[Optional. Extra stuff or info you may want to add that isn't covered by the application]
***
CAST LIST
@C.T.
as
Arya Stark
"Ultimate Killer" [Game of Thrones]
@Yang Lee
as
Bolin
"Ultimate Earthbender" [The Legend Of Korra]
@Atomyk
as
Byakuya Togami
"Ultimate Affluent Progeny" [Danganronpa]
@Kaykay
as
Chikage Kushinada
"Ultimate Jujutsuka" [History's Strongest Disciple Kenichi]
@T.O.M.
as
Catbug
"Ultimate Cutie" [Bravest Warriors]
@GlassTrinity
as
Citizen Snow
"Ultimate Snowman" [Original Character]
@Minerva
as
Corrin
"Ultimate Protector" [Fire Emblem]
@DapperDogman
as
Darv
"Ultimate Saltborn" [Salt & Sanctuary]
@Yun Lee
as
Edmond Honda
"Ultimate Sumo Wrestler" [Street Fighter]
@CCC Kouhai
as
Five
"Ultimate Game Master" [
Zankyou no Terror
]
@BarrenThin
as
Genji Shimada
"Ultimate Forgiveness" [Overwatch]
@Krieg
as
Isaac "Felix" Gates
"Ultimate Bounty Hunter" [Red VS Blue]
@The Tactician
as
Jack
"Ultimate Samurai" [Samurai Jack]
@york
as
Jack Frost
"Ultimate Funhouse" [Rise of the Guardians]
@Dec
as
Jacket
"Ultimate Overkill" [Hotline Miami]
@Verite
as
Kyoko Kirigiri
"Ultimate ???" [Danganronpa]
@Gummi Bunnies
as
"Lapis Lazuli"
"Ultimate Crystal" [Original Character]
@Melon
as
Leonidas
"Ultimate King" [300]
@LuckycoolHawk9
as
M. "Stiles" Stilinski
"Ultimate Sarcasm" [Teen Wolf]
@Crow
as
Morikubo Nono
"Ultimate Wallflower" [THE iDOLM@STER]
@Archwar
as
Noble Six
"Ultimate Lone Wolf" [Original Character/Halo]
@Jeremi
as
Poison
"Ultimate Manager" [Street Fighter]
@ShiroKiyoshi
as
Rant T. Mouse
"Ultimate Rat Mouse" [Original Character]
@Hazel-rah
as
Ringabel
"Ultimate Vagabond" [Bravely Default]
@Josh M
as
Scarlet Witch
"Ultimate Witch" [Marvel Comics]
@Crimson Spartan
as
Seamus "Sledge" Cowden
"Ultimate Breaching Charge" [Rainbow Six: Siege]
@Hospes
as
Tarlotte
"Ultimate Tantrum" [Kyoshiro to Town no Sora]
@CrunchyCHEEZIT
as
Tekhartha Zenyatta
"Ultimate Teacher" [Overwatch]
@The Spartan Potato
as
Terezi Pyrope
"Ultimate Justice" [Homestuck]
@DBZ7
as
Tharja
"Ultimate Hextress" [Fire Emblem]
@Nater Taters
as
Tomoko Kuroki
"Ultimate Loser" [WataMote]
@A Tiny Fool
as
Victoria Maribeth Chase
"Ultimate Bitch" [Life is Strange]
@Takumi
as
Yurick
"Ultimate Arcanist" [The Last Story]
@Klutzy Ninja Kitty
as
Zinnia
"Ultimate Lorekeeper" [Pokemon]
OC Slots available: 1
/5
​
Last edited: