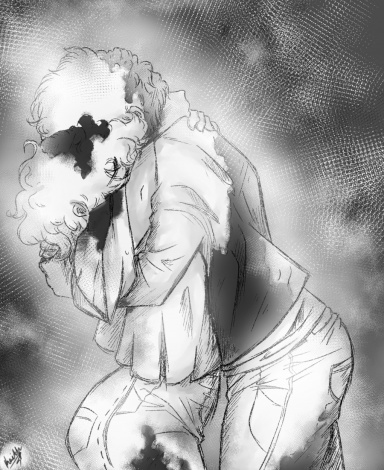 Consume. Smother your doubts. Be fulfilled.
DONATING MEMBER
Roleplay Invitations

Group Roleplays, One on One Roleplays, Private Convo Roleplays
Posting Speed

A Few Posts A Day, One Post a Day, A Few Posts a Week
Writing Levels

Intermediate, Adept, Advanced
Genders You Prefer Playing

Male, Female, Primarily Prefer Female, No Preferences
Playing Style- Passive or Aggressive

A bit of both, lean more towards passive.
Favorite Genres

Modern, Romance, Fantasy, Scifi, Drama, Action.
Genre You DON'T Like

Horror, Mystery (I like them, just not good at it)
[fieldbox="Beatrice Kolkowsky | Mechanic's Shop
| Early Morning, goldenrod, solid"]
Interactions

: Winslow

Bea nodded in response to Winslow's question. She wasn't fine and it was obvious. But she lied. Telling him the truth was not wise. He cared about her, which was good. But also bad. It was good because it ensured her chances of survival. An extra source of reliability. Then it was bad because care lead to expectations such as sharing feelings. Bea did not want to share feelings. They were troublesome and fuzzy and hard to grasp. An reasonably insane. It would drive away her reliable crutches.

She nodded and looked at Winslow.

"

Yes, I need more rest. Just five minutes.

" Bea scooted away from Ringo and laid down. She faced away from Winslow. Her eyes closed, but sleep didn't come. Nor peace. It was numbing silence, despite the others talking. She tried to be patient, to wait for relaxation. For it to settle deep into her bones and warm the marrow, there it would spread throughout the rest of her. Maybe, just maybe, hopefully, it would fend off this cold and metallic shell encasing her soul. Was she being too cheesy? Over-reacting? She didn't feel like she was. This desperation ate away at her like a rabid...well, like a rabid zombie. What better analogy than the hungry dudes (and dudettes, she would not discriminate) stalking around with extended bellies and yellowing eyes? Exactly. Bea knew what the frick she was talking about! Okay, fine, she could admit that 89.97777% of the stuff that came flapping out of her mouth had less credibility than a champion rooster at a local cockfight, but still--

"

Oooooh

SHIT I'M BACK!

" Bea exclaimed while shooting up, both arms in the air like a referee calling Touchdown.

Her chest heaved with erratic breathing as her wide eyes shifted back and forth frantically. Oh God. Oh crap. Holy freaking cow! What the hell had happened to her?! Did she take drugs without realizing it? That was it, wasn't it? Did Red Satan slip cocaine into her soda? No, wait, that was dumb and fell flat. That...weird, robotic, and detached feeling...it had been plaguing her mind far before she met any of these people. Only this time, it had fully closed its teeth upon her like a Venus flytrap.

Okay. Alright. So I'm losing my mind...sweet, Bea concluded in what she hoped to be dry humor, but she wasn't stupid. She knew herself. She recalled the absolute horror and confusion burning her insides to ashes as her internal self clawed at its restraints. That was...She could still hear her own screams echoing through her skull. Seriously...w-what the heck is wrong with me? Deciding instantly that she had no plans of traveling down that ominous road, she sheepishly faked a yawn and moved her arms into a stretching motion (I know it doesn't look believable, cut me some slack here!).

Yeeeeep. Yep. She was totally cool. Just chillin'. Fine like smooth wine~...Was that how the saying went? Screw it. That was how it went now, so decreed by Beatrice (Ew, let's stick with Bea) Kolkowsky, Ruler of the Desolates!

Pulling from her chaotic thoughts, Bea spun around to face Win and flashed a goofy grin, praying that it hid her anxiety. "

Uh...rain check on that nap?

"

---
Inventory
On Person
1x - Hunting Knife
1x - Water Canteen (half full)
3x - Protein Bar
Uke the ukulele
1x - First Aid Kit
Bloodied Finding Nemo shirt
5x - Needles
3x - Hospital Rags
1x - Change of Clothes (Black long-sleeved shirt and black pants)

Internal
(Undiagnosed) Depersonalization Disorder
Secrets boi (I'm not telling!)
PIC with Winslow
Non-serious crush on Evangeline

[/fieldbox]​
1