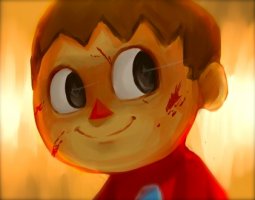 Hi-def
Original poster
LURKER MEMBER
FOLKLORE MEMBER
Preferred Character Gender

Male
Genres

Fantasy, Horror and Sci-fi. I'll try basically anything though. I also love strange and unusual RP genre concepts. Different is good!
~MISCA~
(Introduction By Loveless)

This is a story about a young planet, soon yet to be discovered by mere….. mortals..

Misca, a planet of which no human would ever dream of seeing, or could ever imagine. In fact, it's not a planet at all, it is in fact a whole new world. A world with unimaginable creatures and plants, a world of which there are no seasons, and there is no night and day. The skies are always a purplish/blue/ orange color, and the life is always hidden.
Mikurs are always on the look out for anything that moves, as they will eat it. Mikurs are young, swift, beautiful creatures that stand to six feet tall, sometimes even larger depending on their rank in combat. They are like dogs to their masters, their masters? They are an organization, who exactly, built this new world.

They are not human, they are not aliens. They aren't even living souls, they aren't robots or androids, they aren't hybrid. They themselves don't know what they are. They think they are the dead souls of once human beings. But are they? They do not know. Each one of them has an element they control, and that is how they made this world. But rather, it is how Misca made herself. Misca is powered by these elements.
She takes them in and lives off them, she in fact controls the organization. Could she have made them? For her own use perhaps? There is much unknown about this world. Until now. . .

~ ~ ~

"Sir! There is news that I bring!" A man dressed in ……………>_>, and who had blue eyes with blond hair came running down the hall through big doors, that stood to twelve feet tall. He took a breath before bowing in front a man who wore a great robe with a sword, and who had long black hair and black eyes.
The man spoke, "Yes, what is it, Tesame?"

Tesame bowed once more before saying, "I have received news that apparently humans have entered the veins of the heart."
"Impossible! Do you deceive me, Tesame? How in Misca's name, did mortals enter the barrier, in better recognition, how did they even come past the illusions? Merely impulsive!"
"That is the news I have received. I did not see the proof."
"Tell me, Tesame, who has told you this?"
"Zibrex, the Gate Keeper, did Sir. He is the Eye Watch 'round here. He sees everything."
"Zibrex… Ah, yes. Is he quite sure that they were humans? Eye Watch…Eye Watch… Bring him to me at once, Tesame. This is urgent."

"Yes, Sir." Tesame bowed before leaving out the doors once again.

The man watched as Tesame left, before turning 'round, and facing out a crescent shaped window.
"Misca, what have you done now?"

AMHe said to himself with a deep sigh.
The leaves bristled in the winds below, as if Misca was trying to respond in her own ways. The man put his hands on the ledge of the window. "Right…," he sighed to himself, "as if the winds will tell me anything. But I trust your plans Misca, though I do not understand them. Letting humans in this world? I hope you know what you are doing, I'm not cleaning up after your mess, dear I say it!"
------------------------------------------------------------------------------------------------------------------------------------------
(October Knight)
Meanwhile, hundreds of miles of any known coast, a large passenger ship sailed onward. While its immediate destinations is unimportant the fact that a large storm was headed directly in it's path was. Although the captain had enough warning of the storm to turn the ship around, he pushed on. It was too apparent that he was endangering the lives of all his passengers, but apparently not to him. He was more concerned with making good time, docking the ship and getting drunk at the local pub. One mans stupidity would be the possible death of hundreds.

Just ahead of the ship the skies were blacker than the darkest, light less night. It was almost like a pitch black "presents" more than it was a cloud formation. In the distance long blueish white streaks of electricity could be seen shooting across the sky. Heavy rain poured down. The noise it made hitting the water was tremendous, seconded only to the periodical explosion of crashing thunder. By this point every passenger aboard the ship was well aware of the impending fate. As many preyed for their lives, twice as many ignorantly ignored it. Surly the captain wouldn't sail straight into the storm?

Little did the passengers know, they would all die.

All except two.


​