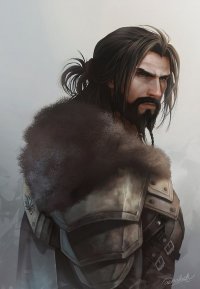 I'm one of those "details and implications" guys.
Original poster
Invitation Status
Posting Speed

1-3 posts per week
One post per week
Online Availability

I work swing shift, schedule changes daily.
Writing Levels

Adept
Adaptable
Preferred Character Gender

Primarily Prefer Male
Genres

Medieval Fantasy. Or pirates. Pirates are always good. When it comes to reading, however, a good steampunk is always great. Above all, however, I would definitely have to say my favorite is Dark Fantasy.
Original:
Mat and Meg | IwakuRoleplay.com
Just like that, the fight was on and she was definitely willing to act her part. Her little taunt made him smile ever so slightly, it was a little bit of laughter creeping up though his throat. "You really think I'm pretty?" He had a very hard time preventing his laugh from creeping through, a little bit of a snicker escaped from his lips. "Shouldn't you be the pretty one?" It was a gentle tease, hopefully she wouldn't feel insulted with him throwing her words back at her. Then again, if she found it offensive she'd likely just take it as a bit more taunting to make it seem more real, as it should. Mat laid himself on the bed and let his body rest before the fight.
_______________________________________________________________________________________
The wait for this fight was very stressful, it had been 3 days since he asked Meg to a duel. Finally the two were ready to be thrown into the arena, Mat would have to win but he knew that if the fight were to look real, he'd have a hard time making it believable. She had a reputation, killing anyone that faced against her, and Mats reputation was the opposite. There were many guards, most wielding powerful dual elements, one of which was a reputable mind wielder. That made sense, if Mat used his Omniscient element to pull a mind trick that particular guard wouldn't be fooled.
"This skinny kid wants to fight that other little girl, what was her name," Spoke one of the guards in a deep and rough voice
Shortly after, another guard spoke up, this one wielding fire. "Her name is Meg, right boy? You're gonna get your scrawny ass broken. We'll have a body to clean up after this for sure!" The taunting was followed by a loud belting laugh that seemed to vibrate the room. This guards mistake was that he tried talking so big while being a fire wielders. Fire wielders were all the same, arrogant jackasses just wanted to look like they were on top. No exceptions.
Mat smiled and spoke back with sarcasm, "Only if you intervene, but I don't think you've got the balls to do that!" That was a very odd feeling, talking back to a guard like that was very unlike Mat. It came with a certain rush, it felt good. But the punch coming towards his face didn't feel nearly as good as it drew blood from his lip.
"Shut up you whelp! I could burn you to ashes!" Veins popping from his skin, the guard was unreasonably angry from such a little comment, but he succeeded in making Mat quiet down. For now, Mat grabbed his old blades and mounted them on his arms like always, testing if they still worked. They worked, but not like they used to. The springs were wearing out and there was nobody to properly maintain such a unique weapon other than himself. It was such a shame, but should this fight go well, he might not need to use them at all. He stepped out into the arena, the sun burning on his skin at first as he had been under the shadow of the prison for so long now. On the other side of the arena he could see the opponents gate, but the darkness contrasted from the light and he was unable to see any figures emerging, but he knew she was there, and she was just as ready as he was.
Last edited by a moderator: