A former executive or something.
Original poster
Invitation Status
Posting Speed

Slow As Molasses
Online Availability

NEVER
Writing Levels

Adept
Douche
Preferred Character Gender

Primarily Prefer Female
Genres

Surrealism, Surreal Horror (Think Tim Burton), Steampunk, Sci-Fi Fantasy, Spaghetti Westerns, Mercenaries, Dieselpunk, Cyberpunk, Historical fantasies

[BG="black"]
CHAPTER THREE: DREAMS OF TRESPASS
[/BG]
[BG="black"]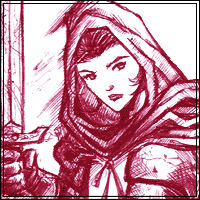 Location:Unknown, Time Unknown
Like all tales of heroics, it is important to take time to look back at the past. Since this tale is about the Knights of the Seasons, one should understand where they came from. I will first start with Gin the Knight of the Spring.

He was born a little more than twenty seasons ago. There are some around us that have made up rumors that he is actually older than this. I laugh at such tales. For that would make me an old maiden. Heh, though there are some around that would say that I am. Oh, I am sorry. I have a tendency to digress.

Gin was born into a small, poor family. Much of the Kingdom of Odoaker is open fields and like most people in the region, they were farmers that grew crops to sustain themselves. However, when he was a lad, he had desires to be something greater. You see, back in those days it was very uncommon for people to advance out of their castes. Determined to help himself and his sister, he enrolled in school; as did she. Both became highly educated. How they got into school has never been revealed though it is believed that they had help from the local charities.

Gin showed himself to be a skilled swordsmen. His sister became well known for her control over the elements. As time progressed, they were both made into Knights of the Seasons. You see, to be a Knight of the Season was the highest honor one could strive for. You received a piece of land to call your own....

Oh my. I'm acting like this was all the long ago past. How silly of me. I must apologize. I have been travelling for quite some time now...I really must catch up on my rest. We will chat again. Do not worry. More will be revealed as time goes on.


[/BG]