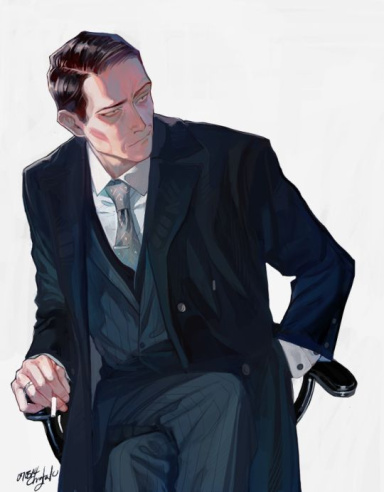 Deus Ex Machina
Original poster
Invitation Status

Looking for partners
Posting Speed

One post per day
Multiple posts per week
1-3 posts per week
Writing Levels

Adept
Advanced
Prestige
Adaptable
Preferred Character Gender

Male
Genres

Sci-Fi, Modern, Horror, & Romance
11° 19′ 47.65″ N, 142° 11′ 57.5″ E

There is one place that strikes fear to all who hear its name. Challenger Deep Penitentiary is the largest maximum security prison in the entire world, and it houses the world's worst criminals at the bottom of the ocean.

Imagine if all the world's criminals converged on a single location. Imagine if that location was under the watch of the most cruel and corrupt guards on the planet. Imagine if you were sent to Hell on Earth. The year is 2046, and crime rates run rampant in every country. The United Nations thought it was fit to begin designing a prison large enough to contain these criminals, but eventually, the plan was altered slightly. Not only is Challenger Deep Penitentiary the world's largest prison, it is completely inescapable. Inmates have resorted to calling it 'The Kraken's Jaws'. The prison is built directly onto the side of the Mariana Trench, descending into complete darkness, until the only outward light comes from the monstrous lifeforms that reside outside the airtight walls. The entire facility is powered by thermal vents dotted at the trench's floor.

At the very bottom of the trench is Sector Zero, reserved for only the worst of the worst. Terrorists, crime lords, serial killers, and much more take residence in Sector Zero, 10,898 meters beneath the surface. Rumors tell of prisoners going mad from torture or isolation; sometimes both. It's no secret that many inmates have stayed long after their sentence was completed. Murder, gambling, and drug trafficking are simply a way of life in Sector Zero. Occasionally the guards set up deathmatches between prisoners, placing bets ranging in the millions. Anyone caught past curfew are sent to the Sinful Circus. Simply put, no one wants to be in the Sinful Circus, because if you are, your odds of coming back are nil.

The Sinful Circus is Challenger Deep's main source of income. It is a coliseum-like arena where tourists can watch the scum of the Earth fight for their lives, usually in sadistic obstacle courses. The winners are permitted to return to their cell block unscathed, while the losers are slightly less fortunate, assuming they survive. Researchers with little regard for ethics are rather fond of taking prisoners for live experimentation. Anesthetics are optional, of course. Inmates who have returned from these experiments come back as broken shadows of their former selves, curiously missing several body part in addition.

​
Rules
1. Thou shalt not oppose the GM.
2. All Iwaku rules apply. Hopefully this shouldn't be too difficult.
3. No god-modding, seriously. No RPG's in a maximum-security prison.
4. Mary-sues will be fed to any nearby aquatic life form(s).
5. If it seems like I'm making up the rules as I go along, it's because I am.
6. At least one paragraph (3+ sentences) per IC post.
7. Remember when I said the prison is inescapable? Well good. Because it is.
Character Sheet
Name:

Appearance:

Age:

[if prisoner] Crime you've committed (or if you were framed):

[if not a prisoner] Role in penitentiary (such as guard or medical staff, etc.)

Bio:

Personality:

Likes:

Dislikes:

Skills:
--
Paolo Delucci & Ayanna Dawson-
@Uncle Legens Legentis
Elaine Gadriel-
@TheForbidden8thPosition
Irenka Dvorak-
@Lady Martinet
Killjoy- @The Original Gravedigger
Arianna "Rabbit" Olivera-
@Alexstrasza
Nicholas Vogel-
@FrostedCamel
Celio Jeon-
@Telfair
Charlotte Elizabeth Rose-
@XWhySoSeriousX
-Cassandra Flint-
@Cybermoon
Name:
Paolo Delucci
Appearance:
​
Age: 28

[if prisoner] Crime you've committed (or if you were framed): Murder, Arson, Kidnapping, Extortion, Drug Trafficking

[if not a prisoner] Role in penitentiary (such as guard or medical staff, etc.)

Bio: Paolo Delucci, known in the criminal underworld as the Chain Noose, was practically born into a life of crime. He was the son of an influential mob boss, who was more than eager to pass on a legacy of fear onto his child than raising him to be ethical. Paolo learned the basics of crime early on. He'd chase down deadbeats who refused to pay their dues, and always made sure they regretted it, sometimes through burning their homes down. Dozens more disappeared whenever they crossed the Delucci family. Unfortunately for the young boy, Paolo's father was gunned down in a street shootout with police, traumatizing him for life.

With very big shoes to fill, Paolo organized his mob family to become the most infamous in all of NYC. Under the guise of a loan company, he was able to get away with the most heinous of crimes for nearly half a decade. Countless small businesses found themselves under forced 'protection' as the Delucci family continued to expand. Throughout his career, Paolo worked through countless aliases to evade the FBI at every turn. Rival mobsters were killed in his favorite method of execution, which was strangulation by chains, thus inspiring his fitting nickname. Paolo was always on the move, making sure that the police could never truly discover his location, always shifting between alternate estates.

The mafia boss' luck ran out one day, however, during a routine drug trade in a downtown garage. Despite warnings from his advisers, Paolo decided to personally oversee the black market transfer with another gang. Heroine, methamphetamine, and cocaine were the products of that evening. The Delucci's were hopeful of making a quick sale then and there. As fate would have it, a nearby witness caught sight of Paolo's face as he entered the building. A swarm of police encircled the area and arrested every gang member present. Hundreds outside the courthouse of his trial begged the judge to give him the death penalty, though the judge had a different opinion on the matter. He knew well that life imprisonment in Deep Challenger Penitentiary was a fate worse than death.

Personality: Despite his reputation and background, Paolo speaks like any regular businessman would, albeit with a thick Italian accent. He retains the image of an educated person, though his ruthless cunning gives the impression that he is highly passive-aggressive. Not even solitary confinement has brought him in line with the other inmates. Paolo has the constant desire to show his dominance, both to prisoners and guards alike, yet it is rare to see him engage in physical combat.

Likes: Reading, coin collecting, marine biology

Dislikes: Knives, solitary confinement, liars

Skills: Planning and strategizing are Paolo's specialty. He is keen to focus on small details, acting as though he were a human lie detector. That being said, he is more than willing to throw potential allies under the bus if it means another day living.​
Last edited: