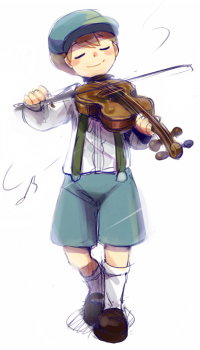 Coup de Gravy!
Original poster
Writing Levels

Intermediate, Adept
Preferred Character Gender

Male
Genres

Fantasy, Scifi, Mystery
||
About Magic
||
World Lore
||
Spell Index
||
Character Index
||
IC
||
OOC
||
Part 1
||
Part 2
||
Rules
Follow the CS guidelines on the bottom. If you need any clarification, don't shy away from asking.
Color-code dialogues

"like this"

in any colour you want. (However, keep in mind that most people use the default layout! So try not to use colours that are too dark.)
Do your best to avoid meta gaming and power gaming.
Short posts are acceptable-don't feel obligated to write extremely long posts on your own- but try to have at least one good paragraph that adds to the situation somehow.
Try to post regularly - or if you can't, try to keep in touch about your situation so we can plan accordingly.
All IC posts must be written in third person.
Romance is great! But if things get too 'heated' then please fade out and take it to PM's.
No photos: for all character descriptions, use drawings, please. If you struggle to find anything, I could try to make something or give you some references to use.
No "chibi" characters, which is to say characters that look like children, but are adults.
Character Creation Guide
​
Schools of Magic​

More information about the lore of magic can be found on the magic lore page.
When creating your character, you will be picking which skills your character is proficient in. When doing this, you can allocate a total of 10 points to start with. NOTE: Any single category cannot exceed 5 points when the character is first created!. Characters will get the chance to increase their skill levels over time.



Metaphysic deals with the alteration of physical properties of objects and recreating the effects of physical objects through magic. This kind of magic includes archetypes such as abjuration and transmutation.
Spatial Magic is the art of manipulating space. Spatial magic is mostly used to teleport, or create objects. Its archetypes include chronomancy, creation, and conjuration.
Telepathy concerns any kind of magic that affects or uses the sensory perceptions or the minds of living beings. Such archetypes include illusion magic, bewitching magic, and beast taming magic.
Nature Magic communicates with the world, and the magic in both non-living and living beings. Not to be confused with telepathy, nature magic communicates with the magic of beings, rather than the beings themselves. It is often associated with many types of healing magic as well. Its archetypes include divination, technopathy, and floral magic.
Evocation is the manipulation and transformation of the magic within the non-living world. This school of magic is best known for the telekinetic magic archetype, but also includes elemental magic archetypes such as pyromancy, aerothurgy, and hydromancy.
Life Magic concerns communicating with and manipulating "souls", or rather the raw magic of a living being (or a being that was once living). This magic includes archetypes such as necromancy, and spectromancy.

Creating Spells​

Name: The name of the spell. The spell doesn't need to have a name in-universe, but it should have one for OOC referencing.
Expertise: Levels of expertise range from 1 to 10, 10 being the highest. This is not an in-universe metric, but rather a general way to denote someone's knowledge in a skill.
School of Magic: If the spell belongs to a specific school of magic, the user needs to have a level of expertise in that school of magic equivalent to the level of the magic. Otherwise, the user's highest level of expertise in any given school of magic is compared instead.
Spell Type:

Instant: Instant spells are cast-and-forget. Spells whose effects behave autonomously to the caster belong in this category. This includes enchantments, and most conjurations, as well.
Continuous: Effects last only as long as the user is conscious and continuously using the spell. These spells can be disrupted if the caster gets distracted. Spells that allow the user to magically influence their effects after they are cast belong in this category.
Ritual: These types of spells require an amount of time to cast. After a ritual spell is cast, the spell behaves like an instant spell, meaning the caster has no direct control over the effects of the spell after it is cast.

Casting Methods:

Verbal: Spells that require verbal trigger. The verbal requirements are often incantations, but can also be a description of directions, or some sort of communication. Illusion spells often require a description of the kind of illusion to be created and charming spells often require the target to be able to understand the caster's directions.
Formulaic: Spells that require some sort of expression of a formula that describes the spell. This requirement can be fulfilled using magic tomes that have drawings of the formula circles, or by being drawn on the air or a surface. The caster must fully understand how the spell functions, and what the formula means in order to cast the spell. Enchantments also fall under this category.
Somatic: Spells that can be cast through physical movement. These movements aren't set in stone the same way some formulaic spells and verbal spells require a specific key to cast the spell, but rather require the caster to "conduct" the magic to do what they want.

Duration: The length of time that a spell and its effects endure after being cast.
Description: Explain what the spell does, and if applicable, provide the following:

Range: How far away from the user can the spell take effect?
Area of Effect: At the point where the spell is cast, how much of the surrounding area is affected? If the spell only affects the target hit by it, the spell's area of effect is simply "targeted".




Code:

[b]Name:[/b]
[indent]<Name of the spell>[/indent]
[b]Expertise:[/b]
[indent]<1-10>[/indent]
[b]School of Magic:[/b]
[indent]<Optional. See the magic index for a list of existing schools of magic>[/indent]
[b]Spell Type:[/b]
[indent]<Instant, Continuous, Ritual>[/indent]
[b]Casting Methods:[/b]
[indent]<Verbal, Formulaic, Somatic>[/indent]
[b]Duration:[/b]
[indent]<How long does the spell's effect linger?>[/indent]
[b]Description:[/b]
[indent] <Describe the spell here>
[i]Range:[/i]
[indent][/indent]
[i]Area of Effect:[/i]
[indent][/indent]
[/indent]

Creating Magic Aspects​

Name: The name of the Magic Aspect.
School of Magic: If the aspect belongs to a specific school of magic, the user needs to have a level of expertise in that school of magic equivalent to the level of the magic. Otherwise, the user's highest level of expertise in any given school of magic is compared instead.
Expertise: The level of expertise required in the school of magic to acquire the aspect
Description: A description of the benefits and detriments the aspect grants to the mage (and/or those around them).


Code:

[b]Name:[/b]
[indent]<Name of the Aspect>[/indent]
[b]School of Magic:[/b]
[indent]<Optional. See the magic index for a list of existing schools of magic and archetypes>[/indent]
[b]Expertise:[/b]
[indent]<1-10>[/indent]
[b]Description:[/b]
[indent]<Describe the Aspect here>[/indent]




Mental and Social Prowess​

Each character can be proficient in certain areas of study. These proficiencies can help characters discern things others might not deduce, or do something that requires special knowledge. None of these will directly affect combat, but can help with non-combat situations. Also, things like persuasion, intimidation, and deception cannot be applied on other player characters. Just like magic, these levels of proficiency ranges from 1 to 10. When creating your character, you can allocate a total of 10 points to start with. NOTE: Any single category cannot exceed 5 points when the character is first created!. Characters will get the chance to increase their skill levels over time. At higher levels of proficiency (6-10), these proficiencies manifest as magic abilities. These proficiencies are divided up into the following categories:


Investigation is a proficiency for characters that have strong deductive and investigative skills or intuition. This proficiency can allow you to receive hints about a mysterious situation from the GM. With high proficiency, characters can receive hints about larger mysteries of the world.
Perception allows characters to notice difficult-to-catch details about the world around them. This proficiency will allow your character to realize subtle details or changes in the environment or people's physical behaviours. With high proficiency, characters can notice details that would normally be undetectable.
Persuasion is for characters that are good at breaking down people's arguments and constructing irrefutable logic to convince people. This proficiency allows your character to have a better chance of persuading people into believing something using logic. With high proficiency, characters can have a chance to persuade people even when they might otherwise be unwilling to listen.
Characters with high intimidation have a terrifying or imposing presence that can allow them to terrify people into backing down. This proficiency allows your character into scaring people into submission. With high proficiency, characters can intimidate people without having to talk to them, meaning some people might be afraid to maliciously approach them.
Deception is a proficiency for natural liars and tricksters. This proficiency allows your character to more easily convince someone of a lie, or something that the target doesn't believe to be true. With high proficiency, characters can trick people into believing increasingly ridiculous things.
Insight allows characters to use their intuition to understand how people are feeling. This proficiency can allow you to receive hints about what people might be thinking about or how they're feeling, that might not be immediately obvious. With high proficiency, characters can intuit the nature of the events and environments.
Performance is a proficiency for characters with a dramatic flair. This proficiency allows you to command a crowd more easily, using charismatic and tactful performance instead of using reasoning or convincing. With high proficiency, characters can charm larger crowds by using their wily charms instead of having to appeal to their intellect.

Physical Prowess​

Each character can be proficient in certain physical skills. Just like magic, these levels of proficiency ranges from 1 to 10. When creating your character, you can allocate a total of 10 points to start with. NOTE: Any single category cannot exceed 5 points when the character is first created!. Characters will get the chance to increase their skill levels over time. These proficiencies are divided up into the following categories:


Acrobatics allows characters to move more freely and nimbly.
Sleight of Hand gives characters a better chance at being able to achieve acts that need good fine motor skills. This includes pickpocketing, lock picking, or even juggling.
Stealth allows characters to avoid being seen, or heard, even avoid magical detection at higher levels.
Heavy Weaponry proficiency allows characters to more skillfully use heavy weapons such as swords, hammers, heavy bows, or shields. Any weapon of equivalent weight would fall in the same category.
Fine Weaponry proficiency allows characters to more skillfully use weapons that require good fine motor skills such as knives, or bows.
Unarmed proficiency allows characters to brawl up close without weapons.

Character Questions​

You can choose three of these questions and give brief answers about your, instead of writing a personality paragraph. If you would prefer, you could also write a paragraph describing your character's personality instead. You can change the questions to better fit your backstory if you want. Otherwise, you could also come up with your own questions if you would prefer.

These questions are all hypothetical situations, so they don't necessarily have to be things that happened in your character's past.


You had a wonderful dream last night where you were living the best life you want for yourself. Who did you see in that dream?
You had a horrible nightmare last night where your greatest fears came to fruition. Who did you see in that dream?
While you were at the tavern last night, a pair of drunk patrons knocked over your table while fighting each other. What do you do?
You and another player character (your choice) had an argument. What was it about?
You and another player character (your choice) fell into a pit trap. Your allies are on the way to get you out of the pit, but you have a few hours before they get to you. What did you two do?
You meet another player character (your choice) for the first time sitting across you on a train ride. What do you think of them, based on their appearance and demeanor?
While you were travelling in the kingdom of Aepia, a wounded rebel soldier pleaded for you to hide them. You knew that a kingdom patrol was about to come by this route, and if they saw you helping the rebel, you could be arrested as well. What did you do?
As a child, you learned that your bully, who at every turn has tried to hurt you and your friends, was secretly a polymorph. If you tell the Templars, they will arrest them. What did you do, and how do you feel about what you did after all these years?




Code:

[center][img]*Appearance image here* (If you have difficulty finding images, you can come to me. I might be able to help you find one, or draw one for you!)[/img] 
[/center]
[tabs]
[tab='[ Personal Information ]']
[color=][b]Name :[/b][/color]
[indent]
[/indent]
[color=][b]Gender/Sex :[/b][/color] (whichever you prefer to mention)
[indent]
[/indent]
[color=][b]Age :[/b][/color]
[indent]
[/indent]
[color=][b]Physique :[/b][/color] 
(Is your character ginormous? Tiny? Do they have horns, wings, tails, extra limbs, extra eyes…What's their build like? Their height, weight, etc)
[indent]
[/indent]
[color=][b]Background :[/b][/color]
(Where did your character grow up? What events lead to them becoming who they are now? Go into as much detail as you feel is necessary, but don't feel pressured to write an enormous backstory! Just try to have some substantial events about your character's past that had an impact on how their personality developed.
Is there any specific thing you want to know about the world for your backstory? PM me and I'll get something to help you along.)
(I would recommend going through the questions in this blog entry (https://dndduet.com/10-backstory-questions/) to have an easier time coming up with interesting details about how your character grew up and what made them who they are today, though this is not necessary.)
[indent]
[/indent]
[color=][b]Affiliation :[/b][/color]
(Is your character part of an organization? Optional: If yes, what's their role within that organization?)
[indent] 
[/indent]
[color=][b]Character Questions :[/b][/color]
(Briefly answer three questions from the Character Questions tab about how your character would behave under certain circumstances. This is just to make the character creation more fun, but if you would prefer, you can write a paragraph about your character's personality instead.)
[indent] 
[/indent]
[/tab]
[tab='[ Skills and Talents ]']
[color=][b]Physical Prowess :[/b][/color] 
(What physical abilities is your character skilled in?  You can allocate a total of 10 points. NOTE: [u][b]Any single category cannot exceed 5 points when the character is first created![/b][/u]. Characters will get the chance to increase their skill levels over time. You can find a list of skills in the Character Creation Guide's Physical Prowess tab. This is mainly to show what your character is capable of generally.)
[indent]
[/indent]
[color=][b]Mental and Social Prowess:[/b][/color]
(What physical abilities is your character skilled in? You can allocate a total of 10 points. NOTE: [u][b]Any single category cannot exceed 5 points when the character is first created![/b][/u]. Characters will get the chance to increase their skill levels over time. You can find a list of skills in the Character Creation Guide's Mental and Social Prowess tab. This is mainly to show what your character is capable of generally.)
[indent][/indent]
[/tab]
[tab='[ Magic ]']
[color=][b]Schools of Magic :[/b][/color] 
(What schools of magic is your character knowledgeable in? You can allocate a total of 10 points. NOTE: [u][b]Any single category cannot exceed 5 points when the character is first created![/b][/u]. Characters will get the chance to increase their skill levels over time. You can find the schools of magic in the magic section of the lore page, or in the Character Creation Guide's magic tab. You can learn spells in your respective schools of magic)
[indent]
[/indent]
[color=][b]Sopia :[/b][/color]
<N\A if your character is not a polymorph>
(Is your character a polymorph? If so, what kinds of Sopia do they have? What do these essences allow them to turn into, or what buffs/debuffs do they get from them? You can have one Sopia active at a time, but you can have up to two non-active Sopia.)
[indent]
[/indent]
[color=][b]Spells and Aspects :[/b][/color]
(What spells does your character know? What magic aspects do they possess? You can create your own spells and aspects from the Magic tab of the CCG, or pick those from the magic index page.)
[indent]
[/indent]
[/tab]
[tab='[ Other ]']
[color=][b]Gear :[/b][/color]
(A musical instrument? Weapons? Notebooks? Motorbike keys? Clothes?)
[indent]
[/indent]
[color=][b]Other :[/b][/color]
(Anything else you want to mention? You can also make your own categories like this, if you want to expand on something specific, say, your character's [color=][b]Relationships :[/b][/color])
[indent]
[/indent]
[/tab]
[/tabs]
Last edited: