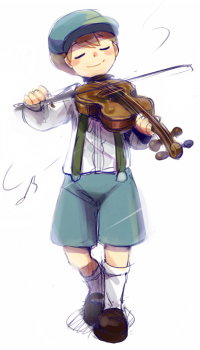 Coup de Gravy!
Original poster
Writing Levels

Intermediate, Adept
Preferred Character Gender

Male
Genres

Fantasy, Scifi, Mystery
|| Roster || OOC || Character Index || Expanded Lore Index ||
Credit for art to Takeda11
[font=Courier_New]Sophian Ocean - The Wingless Wyvern[/font]
​
[spacer]The Wyvern had set sail nearly a week ago. The overcrowded ship had been floating clumsily to its destination much to the dismay of most of its land-roaming passengers. On a rare quiet night, the ship fell silent with the exception of the creaking wood. The soldiers from the Orcish Clans seemed to be in a deep slumber. Even the crew was out cold. The quartermaster had fallen asleep at the helm, the captain, in his chambers. The deck was mostly empty except for the body of the unbothered watch cracked and broken on the wood.[/spacer]
[spacer]Below the deck, however, the scattered and -by all appearances- lifeless bodies riddled the wooden floor and hammocks, leaving room only for the nimblest men and women to make their way out onto the deck without stepping on anyone's head. As the strayskins and humans on board fell into the dreamlands, those of the Daemons who had been asleep woke up to a strong and sudden jolt of pain coursing through their bodies. [/spacer]
[spacer]A small source of light oozed from inside the captain's quarters on the deck, but its effect grew dim as a strange blue light started dancing in the sky, leaving a long winding shroud of celestial lights behind it. Attached to the captain's door, there was a map all too familiar to those who had been on the ship throughout their brief journey. That of the Fifth Pillar, visible from beyond the mountains ahead. Some of the light in the sky seemed to slowly wrap around it and the Second Pillar they left behind them. The captain had guessed they would be in the gulf of the Fifth Pillar within another week, but both pillars could be made out in the distance without much difficulty even over all the miles of ocean and mountains between the ship and the pillars.[/spacer]
(There's something crudely scribbled on the map in orcish: "That ship is just for aesthetics! We're not there yet!")
[font=Courier_New]Ark Petyr[/font]
​
Ark flew up with a knife in hand, out of breath, almost falling. He shot a gaze around and saw the uncharacteristic scene. The strayskin soldiers still had their half spilled mugs of grog in their clutches even as they slept. He looked down from the hammock to see one of the soldiers collapsed right next to him on the floor. Still, for all the giant strayskins on the ground, there was a distinct scarcity around the Daemons as usual.
The young man slid his feet off the hammock and jumped on the floor, landing his bare feet on either side of the soldier below him. And just as he got another look around, he noticed that had not been the only one to wake up…
yasei no shika
Snowflake
@Crono

Hieronymous Phantom
Last edited: