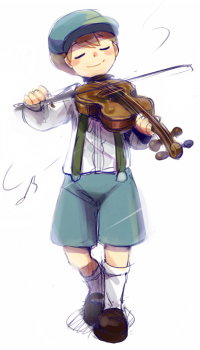 Coup de Gravy!
Original poster
LURKER MEMBER
FOLKLORE MEMBER
Writing Levels

Intermediate
Adept
Preferred Character Gender

Male
Genres

Fantasy, Scifi, Mystery
| Roster | OOC | Accepted CS Dump | Collaboration Site |
The white robed devout men and women started to leave the building in the center of the settlement with a serene grace until only two people remained inside. A strange noise came from each, almost as if they were speaking in a crude language.
As the sound of chanting echoed from the Church throughout the entire Settlement, in the Outer District, the next day's Hunt's members gathered at the mess hall. With the screeching cacophony setting the mood, the fresh and old Hunters alike were waiting to start enjoying their meals. Some of the people in the room would have their first hunt the next day. The nervous faces could be distinguished with ease as very few seemed to be trying to suppress their fears. On the other hand, some seemed rather excited and joyful, in contrast to their morose counterparts.
Leaning on a stick, a kindly old man with a very distinctive, wide scar going over the left side of his face, disappearing behind his cloak walked in through the door as one of the Hunters opened it for him. The Hunters and Huntresses turned, staring at the man as he seemed to taste the air, closing and opening his mouth a few times. He walked towards the opening at the center of the room with a sheet of paper in his hands.
The man's name was revered even among the inner district's citizens. One of the few Hunters ever to get a chance to retire of old age, Fjolnir was the Elder in charge of the Hunters' expeditions.
"Looks like we have some new... eh... new Hunters among us, heh?"
The man spoke out, chuckling lightly.
"Eisenfier, Marche, Jarkus, Cian, Valeria and Emer."
The man paused for a moment.
"You will be with... Ceolwynn during tomorrow's Hunt, so I suggest you get acquainted, eh?"
He gave a warm smile around before continuing with his counting.​